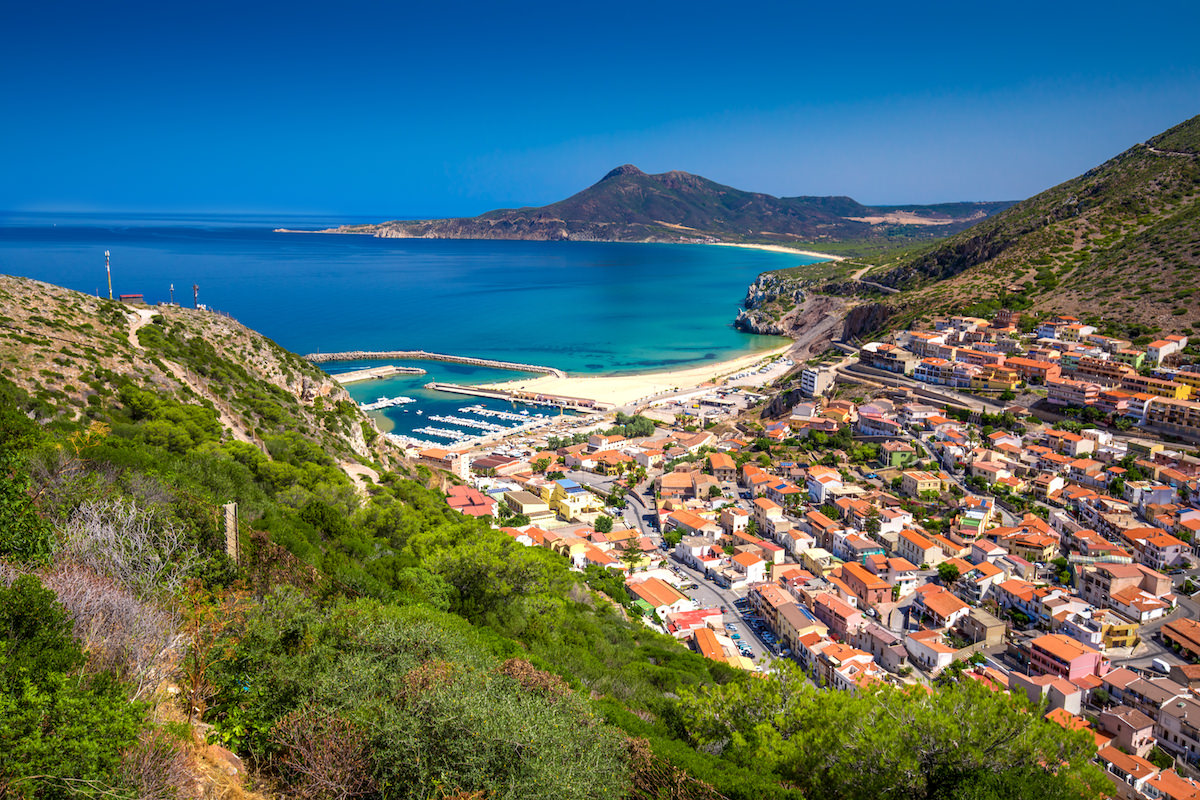 About Buggerru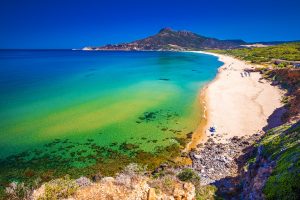 Stretching nicely along the beaches of a mining village on the coast of southwest Sardinia, Buggerru is genuinely an exciting and idyllic place to visit on the Italian island. The seaside town lies hidden deep between a mountainous area and a beach known for shallow water and a sandy seabed. Since the last mines closed down in 1980, Buggerru has become a popular tourist destination with some surviving miners acting as tourist guides throughout the region. A descending winding road surrounded with breathtaking mountainous scenery welcomes you to Buggerru and at the center of the village is a lovely port overlooking the Galleria Henry, one of the most visited mines in the area, where a steam train used to travel carrying the minerals that were extracted from the mines. Tourists visiting the tunnel will be led into its entrance, and some former miners will introduce the area and share some fascinating history of the place. The village is pretty small and will give you a first impression of being mundane, but once you reach the mining area and get a peek into the enormous cliffs of Buggerru that are splendidly surrounded by the bright blue sea, you'll understand why this place is becoming an increasingly popular tourist destination in south Sardinia. As for the coastline, the beach of Buggerru is one of the reasons why tourists would flock to this place. It's close to the mining village, so all the main tourist services are at your disposal. The coastline is long and reaches as far as Capo Pecora, which is a southernmost locality of the Costa Verde. Nearby, you'll find the stunning inlet of Cala Domestica. This beautiful small cove is known for its lovely blue waters and lovely white sand. There's also a smaller cove at the right that can be reached through a path that goes into the rocks. Furthermore, in the north, check out the towering dunes of San Nicolao. Behind it is an impressive area of pines reforestation, an ideal place for bike excursions. Further up, there's Portixeddu, another lovely beach in the area known for its pristine white sand and crystal clear waters. Indeed, Buggerru is the best destination for tourists who wanted to explore a distinguished territory that's rich in history and filled with adventure and beautiful scenery.
Buggerru Map
✔ Use the Google and Booking map below to explore the area.
✔ Fill in your holiday dates to get an accurate view of available accommodations near Buggerru.
Where to Stay in Buggerru - Our Top Picks
Rifugio sotto le stelle Portixeddu
A 4 star Villa in Buggerru, 6.2 kilometers from the center of town (about 3.8 miles.)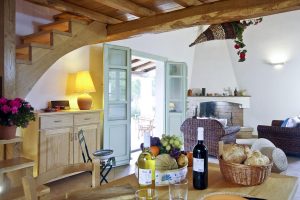 Rifugio sotto le stelle ("refuge under the stars") is an authentic villa in Buggerru located in a beautiful place that's sheltered among the junipers of Portixeddu. Surrounded by the lovely views of nature, this villa is definitely the perfect place to stay for a relaxing holiday in South-west Sardinia. An architect who has a fondness for the countryside was the brain behind the beautiful villa. It comprises of two double bedrooms, and one room has a loft in it. Thus, the entire villa is capable of accommodating up to 5 guests. Aside from the two bedrooms, the air-conditioned house also comes with a living room and a fully equipped kitchen. The villa has one spacious bathroom, which comes with a bathtub. Furthermore, the home offers access to a beautiful veranda that's facing the sea, and with a few deck chairs arranged in it, you can enjoy the Perseid meteor shower that will burst into light in August, while you enjoy a glass of wine. There's also an indoor fireplace to keep the place warm and cozy in winter. The charming villa is set in a one-hectare land area, and you have everything available on site for a relaxing holiday experience. The holiday home is 58 kilometers away from Cagliari Elmas Airport, in the locality of Piscina Suigas, and there is free parking available on site, perfect for those who are taking their car for their vacation in south-west Sardinia.
La Rosa Dei Venti
A 4 star Hotel in Buggerru, 1.1 kilometers from the center of town (about 0.7 miles.)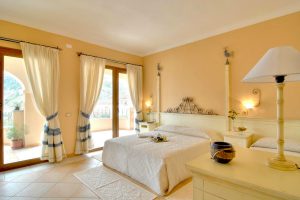 La Rosa Dei Venti is a 4-star hotel in Buggerru located just across the harbor and only a few minutes walk away from the beach. Its strategic location makes it an ideal starting point for your holiday in southwest Sardinia. As for the rooms at Hotel La Rosa Dei Venti, they open up to the gulf and to some of the scenic views of the mining town of Buggerru. From the balcony of your room, you can admire the splendid panorama of the sea and soak up the enchanting Mediterranean views. All rooms are furnished with utmost attention to detail. They are decorated in a traditional Sardinian style and furnished with elegant wooden furniture and fixtures. The rooms are equipped with modern amenities such as air conditioning system and Wi-Fi, and offer comfort and relaxation for all guests. Each private bathroom is equipped with free toiletries and a hairdryer. A sweet and a savory breakfast buffet is served on the spacious terrace on the third floor of the hotel, which opens to the panoramic view of the Gulf of Buggerru. Guests can also choose to enjoy their meals on the balcony of their room. La Rosa Dei Venti has its own in-house restaurant serving traditional Mediterranean cuisine in a setting that's surrounded by the striking scenery of the former mining village.
More Places to Visit Near Buggerru
Buggerru Restaurants - Where to Eat
La Baia da Torre (Seafood)
🏠
68
,
Via Roma
,
Buggerru
,
Sardegna
,
09010
,
Italy
.
📱 Telephone:
+39 0781 54205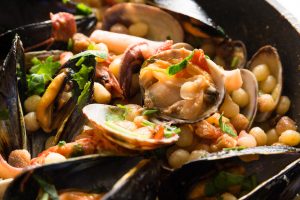 La Baia da Torre is one of the few restaurants in Buggerru and certainly one that stands out with a mouthwatering lineup of seafood dishes. Whether you opt for succulent seabass, grilled calamari, or fregola with vongole, online reviews attest to the high quality that you can expect from every item on the menu. The many locals who frequent this Buggerru restaurant help create another appealing feature as the venue are often busy and the atmosphere is always friendly. La Baia da Torre is a fantastic eatery that gives visitors a real taste of Sardinia and the local area. As for the interior, this local restaurant keeps things clean and simple, while allowing for ample space between groups and tables. In terms of service, the bar also remains high and the staff are not only attentive but also friendly, helpful, and knowing when it comes to explaining the menu.
Galleria 13 Bistrot (Seafood, Pizza)
🏠
38
,
Via Diaz
,
Buggerru
,
Sardegna
,
09010
,
Italy
.
📱 Telephone:
+39 347 982 7871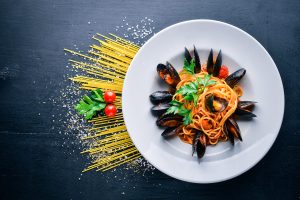 Galleria 13 Bistrot is a restaurant in Buggerru that specializes in seafood and pizza but that's just part of the story because guests can expect a range of traditional cuisine and also vegetarian, vegan, and gluten-free options on the menu. It's not often you can find this range of options in Sardinia but this shows how Galleria 13 Bistrot has kept up with the times. This is also a family-owned restaurant and the kind of place that tourists can mix with the many locals that frequent the eatery. The atmosphere might be described as more lively than noisy on weekends and pleasant during the week. Meanwhile, the interior feels fresh and vibrant and this helps facilitate an atmosphere that resembles the laid-back nature of Buggerru. But what about the food? You will find everything from carbonara pasta and seabass to mini seafood kebabs with prawns, calamari, and swordfish on the menu. Guests are also quick to compliment the desserts and you will find several local beers and wines from which to choose. With this fine selection and comfortable surroundings, guests can also expect a warm welcome from staff and a vibrant experience that will leave them wanting more.

Ristorante Pizzeria La Privilegiata (Seafood, Pizza)
🏠
98
,
Via Roma
,
Buggerru
,
Sardegna
,
09010
,
Italy
.
📱 Telephone:
+39 0781 548030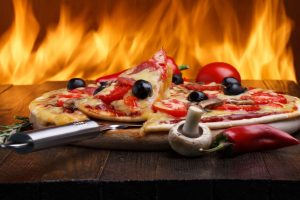 Ristorante Pizzeria La Privilegiata offers a lot more than pizza as this place to eat in Buggerru also focuses on a range of seafood and European dishes. This restaurant is beautifully furnished with paintings and lamps on the walls and then simply yet attractive tables everywhere in between. Simply put, this decor helps create a homely vibe and local feel which goes on to resemble the food experience. It's true, the home-cooked food in this eatery is evident in every meal. While pizza is an obvious choice for some guests, many dishes receive five-star reviews online such as the spaghetti vongole or the calamari. And then there is the immaculate affogato dessert and the delectable tiramisu. As for refreshments, La Privilegiata offers a glass of sublime house wine and then also fino sherry or cordial. With such fine food and reasonable prices, locals are just as eager as tourists to frequent this place to eat in Buggerru. It's located in a convenient location and the staff is as friendly and helpful as they are knowledgeable about the items on the menu. If you are looking for a real experience that offers a little bit of everything, the combination of fine food, friendly staff, and attractive decor makes this an obvious choice among the restaurants in Buggerru.