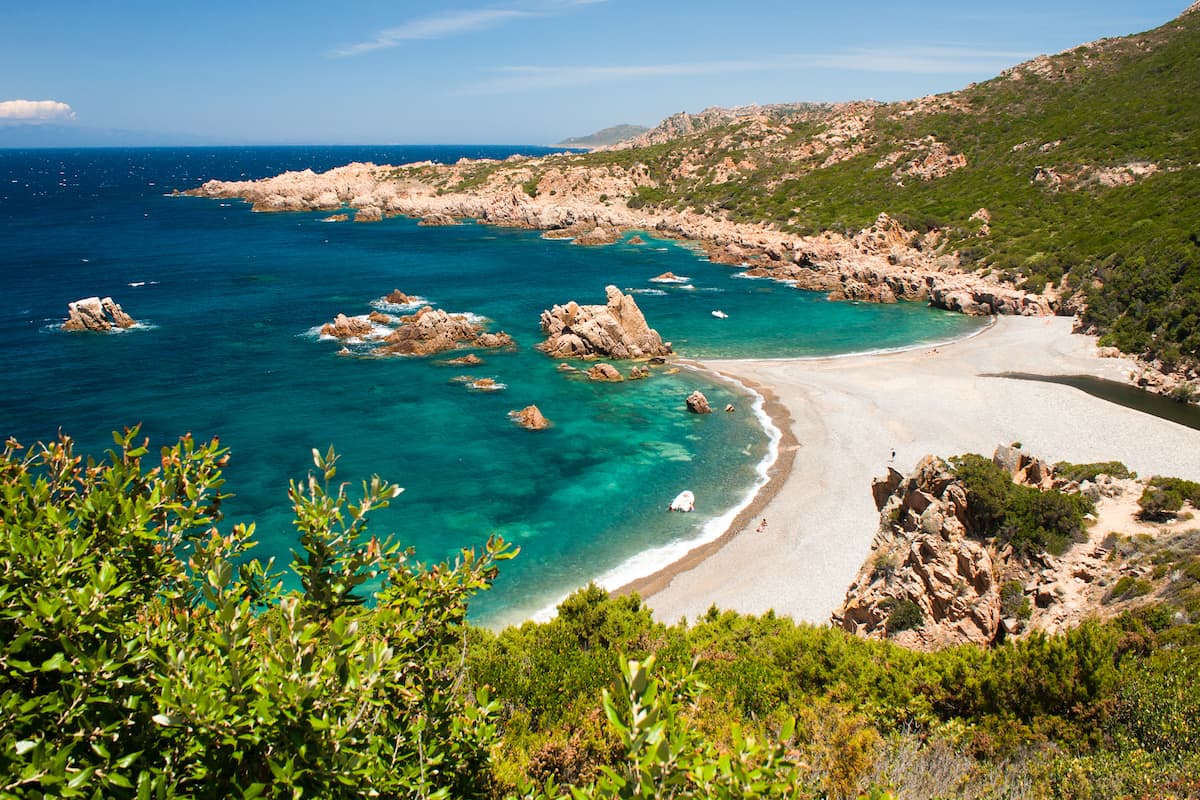 About Spiaggia di Tinnari
near Trinità D'Agultu e Vignola, Province of Olbia-Tempio, North Sardinia, Italy.
None. You'll want to bring some amenities.
snorkelling.
17:52 PM
08:36 AM
260 meters.
suitable for families with children.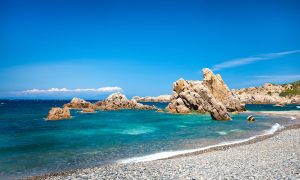 Tinnari beach (Spiaggia di Tinnari) is just one of those beaches of Sardinia that make the northern part of Sardinia such a great choice for your holiday in Sardinia. It's a beautiful and quite secluded cove located on the pristine and solitary stretch of coast between the village of Costa Paradiso and Cala Canneddi in the area of Isola Rossa, in the municipality of Trinità d'Agultu, province of Olbia-Tempio.
Facing north with a length of 260 meters, this beautiful beach is mostly made up of small pebbles carried by the Riu Pirastru river, and can be reached via a walk of about 30 minutes that descends along the slopes of Mount Tinnari. Tinnari beach is immersed in the typical scents and colors of the Costa Paradiso, and it is an ideal destination for those looking for tranquility and peace during their beach holiday in northern Sardinia. Just make sure you bring proper footwear and your own amenities, as Tinnari beach has no facilities. Nevertheless, this beach is our top pick on our list of Best Beaches of North Sardinia!
Places to Stay near Spiaggia di Tinnari
Stazzo Isola Rossa di Gallura
A 3 star Holiday Home 4 kilometers from Spiaggia di Tinnari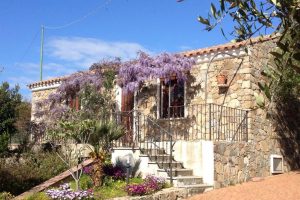 Just off the Strada Provinciale 90 to Santa Teresa Gallura, you'll find Stazzo Isola Rossa di Gallura, a traditional vacation home in Trinità d'Agultu e Vignola. A 'stazzi' (from the Latin word "statio"), is a typical granite country house, where local shepherds used to live before the Emerald Coast was developed in the early 1960s. Stazzo Isola Rossa di Gallura is what you might consider a 'home away from home' with a rustic interior and a beautiful garden surrounding the house. Situated high up on the hillside, you can expect mountain-views in every direction while the garden itself can feel like a hideaway from the busier villages. Stazzo Isola Rossa di Gallura is nicely located within easy reach of the beach and features all the conveniences you might want from a holidy in Sardinia. With a fully equipped kitchen, satellite television and a beautiful lounge area, this is the ideal place in which there is really no need to leave. There is one comfortable bedroom with a spacious bathroom and all considered, this is an attractive traditional Sardinian home which offers a local experience which is very much a contrast to the nearby hotels. The house is located just 1 minute from the small town of Paduledda where you'll find a few shops.
Residence Stella Maris
A 3 star Apartment 4.2 kilometers from Spiaggia di Tinnari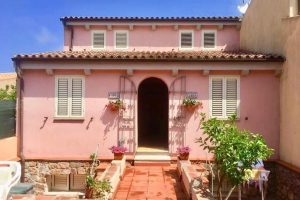 Residence Stella Maris is a beautifully presented accommodation near Isola Rossa with stunning sea views and a fantastic location. This apartment in Trinità d'Agultu e Vignola is just a few kilometers from the center of Isola Rosa and some of the beautiful beaches in Sardinia. Featuring either a private terrace or patio, the apartments have the perfect vantage point to see the ocean and a communal terrace is also down below with tables, chairs and even barbecue facilities. What's more, the above-mentioned balcony also has an outdoor table and chairs where guests can enjoy their meals with spectacular views of the surrounding area. Residence Stella Maris has a fully equipped kitchen and a small seating area indoors. Meanwhile, the bedrooms might be somewhat simple but the rustic nature of this apartment also has a sense of character that can make this feel like a local homestay.
Calarossa Village
A 3 star Holiday Home 5.2 kilometers from Spiaggia di Tinnari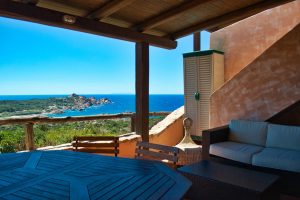 When it comes to location, Calarossa Village features the most incredible ocean views you are likely to find with a vacation home in Trinità d'Agultu e Vignola. The spacious terrace area is the perfect place to enjoy these panoramas and arguably the highlight of the entire home. Featuring a fully equipped kitchen, free WiFi and a 24-hour reception, this is also a home with the kind of convenience you will simply not find in a hotel. What's more, a luscious garden offers the perfect place to enjoy some quiet and there are also hiking trails just a few feet from the front door. The simplistic yet attractive interior makes this a very 'homely' place to stay in Trinità d'Agultu e Vignola and the three bedrooms provide plenty of space for groups or families. With this in mind, it may not be the most luxurious vacation home in Trinità d'Agultu e Vignola but it still offers more than enough charm and elegance.
How To Get To Spiaggia di Tinnari
Along the SP 90, towards Castelsardo, turn right following the signs for Cala Rossa, then to the Hotel Tinnari. You can park your car at the end of the dirt road, and then you will have to continue on foot for about 1 kilometer. The trail is clearly visible but it is quite a hike so make sure you're well prepared. Tinnari beach can also be reached by boat from the Club Nautico Costa Paradiso. A dinghy operates a regular connection with the beach.
Map
Use the Google and Booking map below to explore the area.
Fill in your holiday dates to get an accurate view of available accommodations near Spiaggia di Tinnari.
Beaches Near Spiaggia di Tinnari