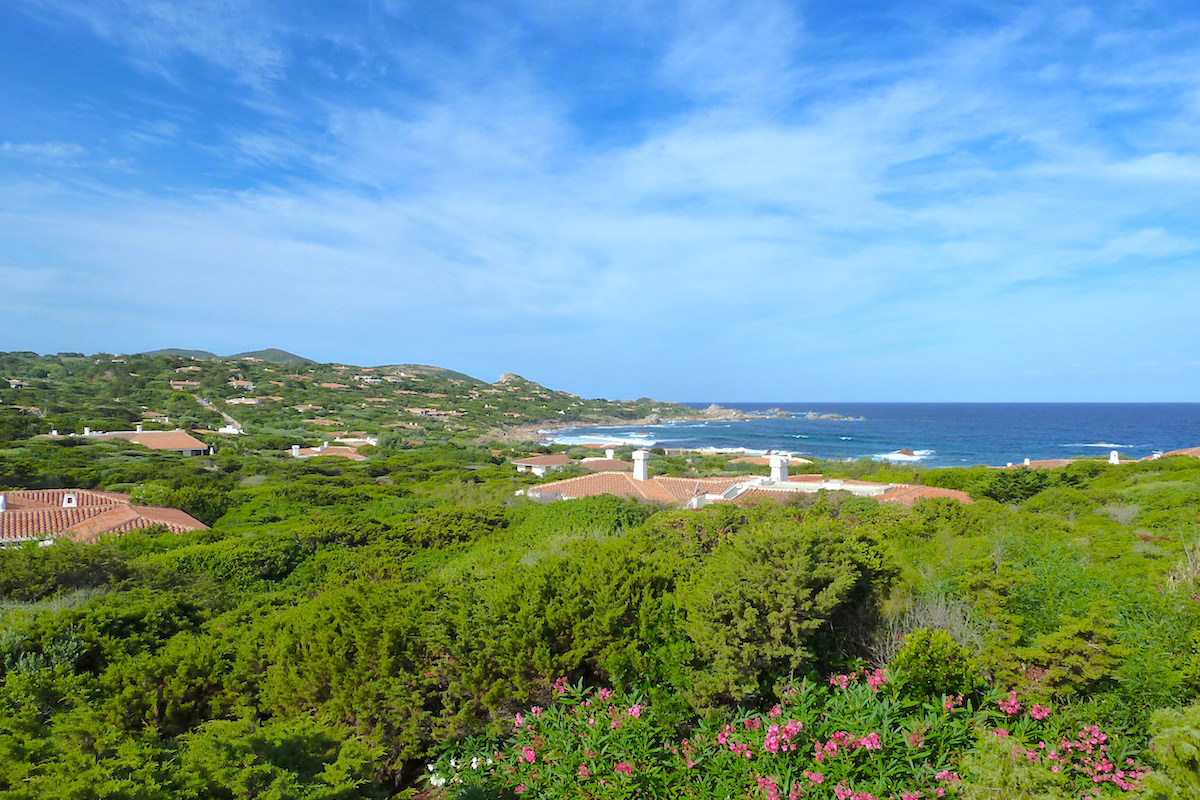 About Portobello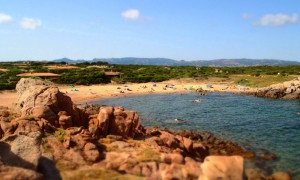 Sardinia has some of the most dramatic coastlines in Europe and is a top holiday destination for those who love the sun, water sports and a touch of exclusivity. There are several busy resorts in Sardinia, but if you are looking for a beautiful location with sandy beaches and a quieter environment, then north Sardinia is ideal. Portobello is one of the best places to go in this area and is perfect for a chilled out holiday with a welcoming vibe. One of the best things about Portobello is the way in which any developments are in complete harmony with the environment. When the villas were built here they had to leave the maquis (the shrubs and small trees, characteristic of Mediterranean coastal regions) intact. Portobello has an exclusive village for visitors that is just over 20 years old, but is as popular today as it was in the 1990's. In the area around Aglientu, there are beautiful accommodations to rent out for a vacation where you can enjoy an exclusive holiday in Sardinia for a good price. Portobello di Gallura has facilities only open to residents, so you can enjoy the peace of a holiday away from all the mass tourism. There are shops, good restaurants, and tennis courts. Or, you can buy food in the local markets and cook your own meals. In Portobello you can be as active or as relaxed as you like. The area has excellent hiking trails along the coastline with its pink granite cliffs and in the forested areas nearby. There are water sports too, from swimming at the beaches, to windsurfing and snorkelling. In nearby Santa Teresa Gallura there is scuba diving in the clear waters of the Mediterranean. The beaches are a big reason to come to Portobello and even in summer they can sometimes feel deserted. Portobello beach is exclusively for residents of the village and is so beautiful you won't want to leave. Just 4 kilometers away, Vignola Beach is an easy walk and a lovely spot for a swim. Monti Russu is another popular beach nearby and famed for its sunsets. There are small towns and villages within a short drive of Portobello, making them perfect for a day away from the beach. Santa Teresa Gallura is 20 kilometers away and is a picturesque village. Olbia is an hour away by car and renowned for its historic town centre, wine bars, and restaurants. Portobello is a charming place for a holiday and is ideal for friends wanting to chill out together, or for families and couples looking for a tranquil break in the sun.
Portobello Map
✔ Use the Google and Booking map below to explore the area.
✔ Fill in your holiday dates to get an accurate view of available accommodations near Portobello.
Where to Stay in Portobello - Our Top Picks
Villa La Marinella
A 4 star Villa in Portobello, 0.9 kilometers from the center of town (about 0.6 miles.)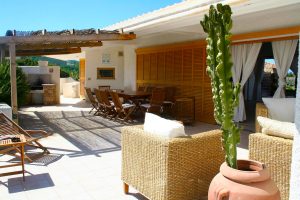 Situated in Portobello Residential Park in Aglientu, Villa La Marinella is a stunning and incredibly spacious villa. Featuring a very rustic yet modern interior, this particular accommodation offers a home away from home for visitors taking a trip to Portobello. The full range of facilities in this villa add further to this homely feel, for the kitchen and variety of furnishings are far beyond what you would expect to see in a tourist property. Furthermore, the living area is open planned and holds more than enough space to facilitate the eight people capacity of the villa. As for the rooms, there are many options with the en-suite making the master bedroom especially impressive. There is also a queen sized room and two more bedrooms with single beds which are decorated and arranged in much the same way. Overall, the standard of these rooms is superior to most villas, and the very bright nature of the decoration is most appealing. With the fast internet and a genuinely enjoyable veranda, the villa is full of surprises, while the wooden furnishings and immaculate tiled floors are further testament to the quality you will find throughout the property. As mentioned, this design has quite a rustic feel, but the overall theme is very much contemporary and set to the highest possible standards. All considered, there is every reason to stay and relax in the villa but with the beach just a few minutes' walk away the strategic location of Villa La Marinella is the icing on the cake.
Mariu e Amelie
A 4 star Villa in Portobello, 0.7 kilometers from the center of town (about 0.4 miles.)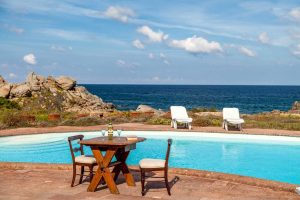 Greuli is another small and unassuming destination in Sardinia where sublime sea views and pristine coastline sit right next to Mariu e Amelie. Consisting of bright and modern design, this stunning villa with pool is a rather luxurious example regarding where to stay in Portobello. At the same time, there is something very primitive and simplistic about this accommodation which is possible due to the way in which it was constructed. Embedded into the side of a cliff, this villa feels very minimalistic in spite of the superior comfort throughout. That is to say, many of the features or furnishings in Mariu e Amelie are made of rock, but the modern décor brings light and comfort to these features at every turn. Consisting of a large kitchen, flat screen television, and a host of modern conveniences, this enchanting accommodation is a perfect getaway for visitors and one which is sure not to leave them wanting for the comforts of home. And then there is the large swimming pool which sits beautifully on the edge of the cliff; you will do well to find a pool with the same luscious surroundings or the even the same views of the sea. While the interior of Mariu e Amelie is undoubtedly impressive, the terrace, barbecue, and outdoor seating areas are just a few of the features which help this property stand out as one of the unique and exciting places to stay in Portobello. Furthermore, the majestic views and isolated nature of Mariu e Amelie make this a worthy contestant for the best place to stay in Portobello.
Agriturismo Nuraghe Tuttusoni
A 4 star Agriturismo in Portobello, 2.1 kilometers from the center of town (about 1.3 miles.)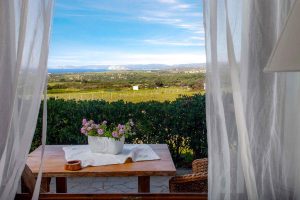 Located in the midst of the Sardinian countryside, Agriturismo Nuraghe Tuttusoni offers quite a different experience to most accommodation in Portobello. Situated in a peacefully quiet and remote landscape, you will find this beautiful home is also a lot more private than most tourist-orientated properties. With this in mind, the property is divided into cabins for extra privacy, and the furnishing in these rooms provides exceptionally comfortable living space. From the coffee, tea, and fruits to air conditioning and supremely comfortable beds, these conveniences are mostly small yet extremely practical for the visitor. After all, these are some of the little details which are often overlooked by properties and then missed the most by the homesick traveler. However, the outdoor balcony is a real treat to wake up to in the morning, and the small dining area is perfect for a quiet breakfast if you prefer to skip the restaurant. Whether you choose to cook in the evening or venture into town, the local food is fresh and wholesome, while the absence of crowds is often what makes a stay here so memorable. At the same time, the restaurant in Agriturismo Nuraghe Tuttusoni is available upon request, and the buffet breakfast is often the subject of five-star reviews for this charming place to stay. All considered this is arguably one the most alternative and unique accommodations in Portobello and a great place to get-away from civilization while still retaining the same comforts and luxury of home.
Things to Do in Portobello
Visit Chiesa di San Silverio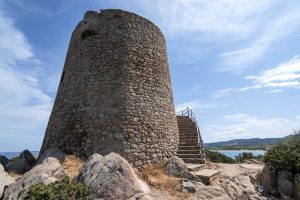 Chiesa di San Silverio is a small seaside church located about 2 kilometers north-east of Portobello and a few hundred meters south-east of Punta di li Francesi. As the story goes, the church was built by two local fishermen who spent most of their working lives on a nearby beach named Spiaggia San Silverio, catching lobsters and sea bass. The little church is well preserved and serves as a lovely backdrop for some holiday pictures. The surrounding area is beautiful to explore at the end of the afternoon, and it's a beautiful spot to enjoy the sunset. There's a parking lot just a few hundred meters behind Spiaggia San Silverio, from where you can also visit Torre di Vignola on foot. The entrance to the ancient watchtower is free. North of the tower, you'll find a few more rocky coves that are visited by very few people. The best time to visit is when it's not too hot. If you're planning to go hiking here, bring proper footwear and water.
More Places to Visit Near Portobello
Portobello Restaurants - Where to Eat
Agri Ristorante Tuttusoni (Traditional Sardinian Food)
📱 Telephone:
+39 079 656830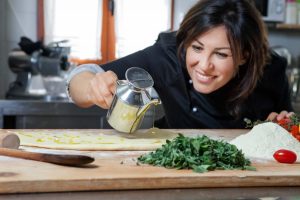 Agri Ristorante Tuttusoni in Portobello di Gallura is an eatery based on a farm of the same name. The farm at Tuttusoni is entirely organic and refrains from using any non-natural produce. For this reason, you can expect fresh ingredients and natural products at every turn on the menu. What's more, Tuttusoni specializes in "Agri-food" and some sublime options for breakfast in particular. For instance, you can decide between sweet or savory food from the morning buffet, and both options are the subject of frequent five-star reviews. As for lunch and dinner, a wide range of meat and vegetarian ingredients are skillfully put together, and most of these dishes derive from the Gallura region. As for the setting, the dining area at Ristorante Tuttusoni is a beautiful mix of wooden, marble, and concrete-slab furnishings. Staff is known for being friendly and attentive, while the food presentation is one of the best that you will find at any restaurant in Portobello di Gallura.
The Restaurant at Club House Portobello (Traditional Sardinian Food, Vegetarian)
🏠
portobello di gallura
,
Portobello di Gallura
,
Sardegna
,
07020
,
Italy
.
📱 Telephone:
+39 079 656707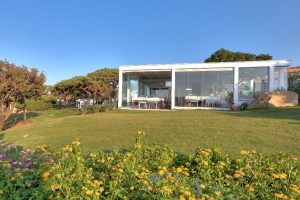 Located in Portobello di Gallura on the north in Sardinia, Portobello Restaurant cites a "respect for nature" and focuses on family values as being the driving force behind the eatery. With a menu packed full of wholesome food and exciting dishes, it's also hard to argue that the Club House Portobello is home to one of the more exciting restaurants in Portobello di Gallura. For instance, a lineup of regional dishes with local meats and seafood take prominence and highlight the freshness of locally produced ingredients. On the other hand, there are more than enough vegetation or even vegan options on this same menu. As if that's not enough, a series of large windows give way to a bright and warm dining area, and an exceptionally excellent place to witness a sunset over dinner. Meanwhile, this is also known as a restaurant with the highest regard for service and their loyal customers. You might come for the food, but Portobello Restaurant will leave a lasting impression that speaks volumes about the excellent food and relentless hospitality in Sardinia.
How To Get To Portobello
Have you thought about arranging a rental car in Sardinia?
For some great deals, check out our Sardinia Car Hire page!
The nearest airport to Portobello is Olbia Costa Smeralda Airport, at a driving distance of about 75 kilometers. First take the fastest route by following the Strada Statale 125 in the direction of Arzachena. Once you've reached the area of Arzachena, head west by following the Strada Provinciale 14 to Logusantu. Continue on the Strada Provinciale 5 in the direction of Portobello and Vignola Mare. The road trip shouldn't take longer than 90 minutes to complete.