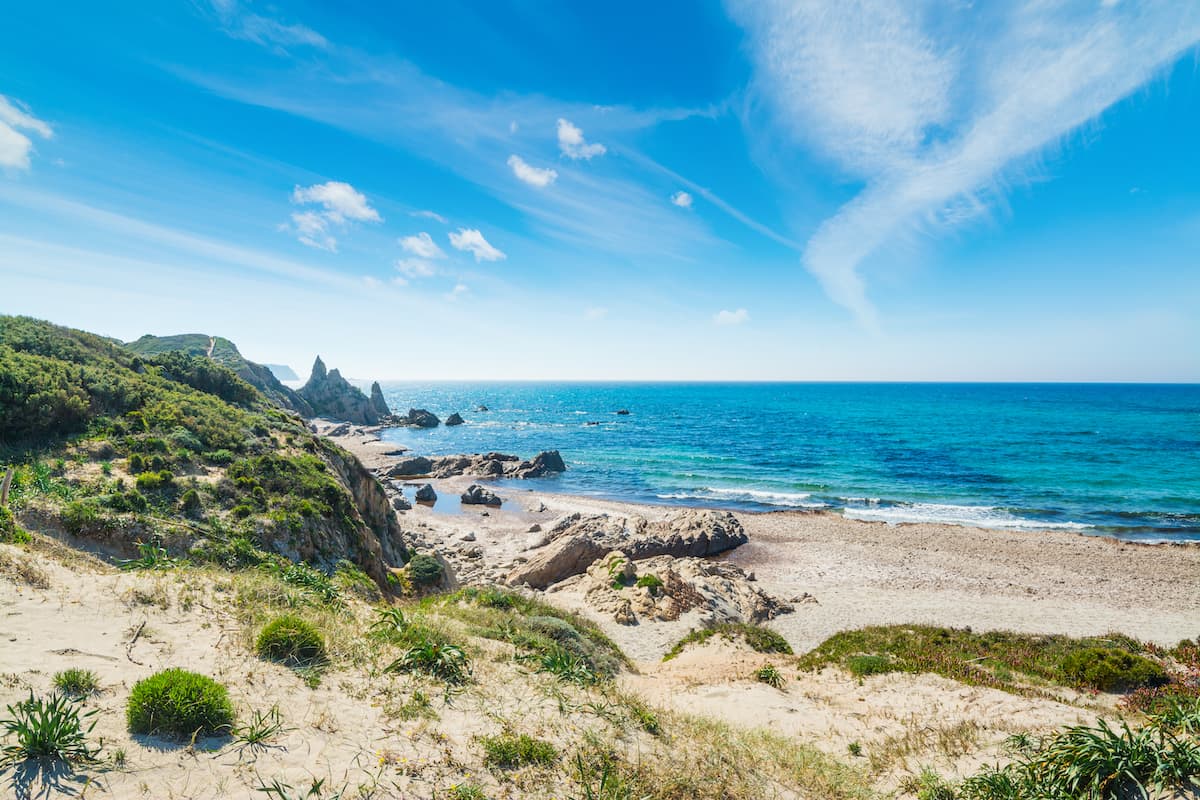 About Rena Majore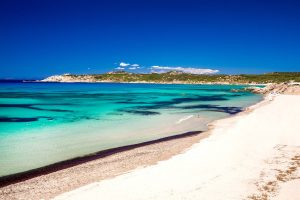 Rena Majore is a small seaside village that's located 8 kilometers south of Santa Teresa Gallura, in the community of Aglientu, Olbia-Tempio, in north Sardinia. It is the largest tourist resort in the community of Aglientu. Located a few hundred meters from the sea, the village is characterized by a healthy and thick pine forest that divides the village from its beaches. Services in the village include a pharmacy, several restaurants and bars, a pastry shop, a market, a tobacco shop and a newspapers shop. At the Centro Turistico Sportivo Neulaghe sports facility you'll find three tennis courts, two soccer fields, and a swimming pool. Access to the beaches near Rena Majore is free, and they can easily be reached from the village, either on foot via the Via della Pineta, or by car.
Rena Majore beach gets its name from Rena Majore village. It faces northwest and is the most famous beach in the area. Many families with children prefer this area since the waters are more shallow than in surrounding areas, and there are more services near the beach. Spending the day here allows you to alternate between your time on the beach and browsing through the many shops, markets, bars, and restaurants. Rena Majore beach draws in larger crowds than the surrounding beaches but makes up for it with its vast span and many secluded areas. There are also a wide variety of activities, including scuba diving, surfing, kitesurfing, hiking, and windsurfing. The beach of Rena di Matteu is still relatively untouched and maintains much of it's natural serenity. While fairly small, the beautiful sand dunes and lovely pine forest make for an enchanting day. Many who frequent this beach enjoy snorkeling in the crystal waters or hiking along the rolling sand dunes. End the day here by visiting the bar and watching the sun set on the ocean. The Piero Mancini Vineyards are one of the best vineyards you'll find in north Sardinia. Located a little over half an hour away from Rena Majore, this vineyard is a must see for all wine connoisseurs. Those who have visited speak very highly of the tour that accompanies the wine tasting and were particularly fond of the platters of Sardinian antipasto. Spend an amazing two hours touring their beautiful property and sampling their delicious wines under an ancient olive tree!
Rena Majore Map
✔ Use the Google and Booking map below to explore the area.
✔ Fill in your holiday dates to get an accurate view of available accommodations near Rena Majore.
Where to Stay in Rena Majore - Our Top Picks
Villa Stazzo Dell'Antica Trebbia
A 4 star Villa in Rena Majore, 19.8 kilometers from the center of town (about 12.3 miles.)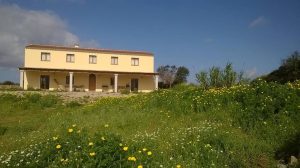 Located in the locality of Ciuchesu, Villa Stazzo Dell'Antica Trebbia is a four bedroom, private property on a large private country estate. The accommodation is suitable for up to eight adults and this four bedroom house can be rented out for a minimum stay of one week, meaning you will have to plan your trip to the area accordingly. However, this also means you get to spend a week in a vast and luxurious house with gorgeous surroundings, and spend time with family and friends, so the choice is yours. The house consists of four bedrooms, each with an en-suite private bathroom and air-conditioning, making it an excellent choice for a stay during the hot summer months. Villa Stazzo is also split over two levels, with the bottom level containing a lovely bright lounge area, dining room, kitchen, and fireplace area. The upstairs area is reserved for the four bedrooms and bathrooms, making the accommodation suitable for light entertaining, without disturbing others upstairs. Another highlight us the kitchen which is fully equipped with everything you would need for a self-catering holiday. Suitable for hosting, this villa is the perfect place to invite your friends and neighbors over for a dinner party while it is also pet and child-friendly, making it the perfect place to take an extended family vacation. Located in a luscious environment with many options for taking scenic walks, the villa is a nice option for an isolated getaway in some truly relaxing surroundings. At the same time, you can also find activities to do here as there is always the opportunity for swimming or relaxing on the beach, the house is also ideally located for this, being less than a 1 kilometer walk away.
Residence Rena Majore
A 4 star Holiday Home in Rena Majore, 0.3 kilometers from the center of town (about 0.2 miles.)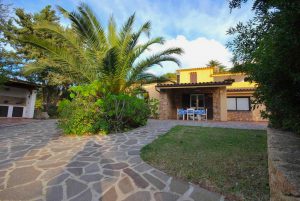 Residence Rena Majore is a beautiful holiday home complex located in the Rena Majore region. There are seven holiday homes on the property, making it the ideal location for large groups who wish to travel and stay together. Featuring a swimming pool, a barbecue area and communal gardens, the house is graced with many attractions making it an ideal place to have a small gathering or entertaining guests outdoors. Situated just a short walking distance from the beach, Residence Rena Majore is also ideally located for a beach vacation as you are just minutes away from the shore and the sand. Another highlight is the surrounding area as the home itself is located in a very lush and green area, so a walk around the compound is a charming and easy way to relax and take in the scenery. And then there are the incredible facilities, for each apartment has a fully furnished patio or balcony, as well as a fully equipped kitchen which even includes an oven which makes outdoor eating and entertaining a dream. Many vacation homes in Sardinia are suitable for honeymoons, couples and small families, but you will find a wide variety here which can cater to large groups while each accommodation is a nice size for entertaining. Ranging from small studios and one bedroom to two and three-bedroom accommodations, there is a choice of seven homes to rent and the property can cater for up to six adults. If self-catering is not your thing, or you would prefer to eat out, there is also a restaurant located on the compound where you can order breakfast, lunch, and dinner during your stay. There is free parking available at the accommodation, and it is an hour's drive from the closest airport - Olbia Costa Smeralda located in Olbia, Sardinia.
Holiday Home Audrey
A 3 star Holiday Home in Rena Majore, 2.2 kilometers from the center of town (about 1.3 miles.)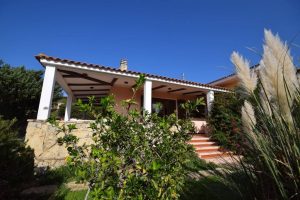 For a quick and convenient stay in Case la Bandera, the Vacation Home Audrey comes highly recommended. This two bedroom property is a beautiful holiday house, with a large terrace perfect for outdoor relaxation, and outdoor entertaining. The accommodation is suitable for families and can accommodate up to six people in one group. Private and clean, this beautiful home is surrounded by a luscious garden, with a furnished patio equipped with a barbecue grill. And then there is also an outdoor dining and lounge area which is the perfect place to stay during the summer months and ideal for an outdoor event or family engagement. If it is a beach holiday that you are after, Audrey guest house is located conveniently close to a white sandy beach which is easily accessible from the property both by car and on foot. Wi-Fi is available throughout, and if you would like to bring your pet on holiday, there is also an option to place a special request to the accommodation manager, although there may be an additional cost involved. Equipped with a small kitchen, suitable for making lighter meals, the home is suitable for quick meals as opposed to entertaining but there is a fridge, stove top and kettle available for your convenience, and an indoor and outdoor dining room to use at your leisure. Vacation Home Audrey is wheelchair-friendly and located entirely on the ground floor. If you are coming with a large family, the property is suitable for up to six people, four adults, and two children. Extra cots or beds for small children can be sorted out before your arrival, and you will be charged an extra four Euro for the use of these.
Things to Do in Rena Majore
Explore Lago di Liscia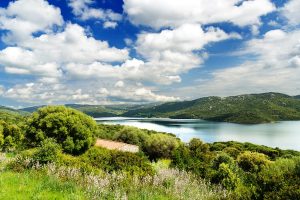 Lago di Liscia (Liscia Lake) is a dazzling blue lake amid lush green trees, tall mountains, and evergreen fields located just a short ride from Rena Majore. The lake is undoubtedly one of the hidden treasures of this part of Sardinia and a human-made wonder. Constructed in 1963, Lago di Liscia is 69 meters deep, 8 kilometers long, and is the only water reservoir for the north-eastern towns of the Gallura region. Near the lake, you can enjoy some of your best moments in Sardinia at the Olivastri Millenari di Santo Balto. The Olivastri Millenari consists of a group of thousand-year-old olive trees. According to scientists from the University of Sassari, the oldest olive tree here is 3800 years old. Do you remember the giant tree named Whomping Willows, outside the Hogwarts? It won't be wrong to say that wild olives in Olivastri can give you Harry Potter vibes. The unspoiled and natural beauty of Lago di Liscia is also an invitation for hiking, bird watching, and closer contact with the wildlife of Gallura.
Visit Museo del Banditismo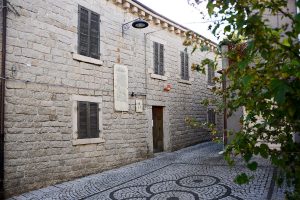 The Museo del Banditismo (The Bandit Museum) is a great place to visit near Rena Majore to witness the evolution of Sardinian culture. From the sixteenth century to the mid-nineteenth century, Aggius was the banditry hub in the Gallura region. In 1726, the authorities of Aggius issued a report that banditry had become a noble crime. Sardinians perceived the bandits as ordinary people who became rebellious due to the influential yet corrupt leaders' atrocities. That is why banditry is an essential part of Sardinian history. Established in the ancient Pretura in the beautiful village of Aggius, the museum has four exhibition halls. It also features a dedicated section to a local bandit named Sabastiano Tansu, who inspired Enrico Costa to write his famous novel "Il Muto di Gallura." Along with the rich bandit history, you can explore Sardinian handicrafts and workshops of traditional bread making and the processing and weaving of pure wool. Carpets are one of the unique crafts of the inhabitants of Aggius. The museum invites scholars to study the bandit history of Sardinia to understand human behavior better. A noble cause, indeed!
More Places to Visit Near Rena Majore
Rena Majore Restaurants - Where to Eat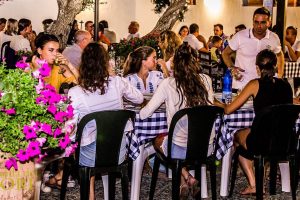 Locanda dei Mori is a charming seafood restaurant near Rena Majore and one of many reasons to visit this beautiful pocket of Sardinia. You will find an impressive number of five-star reviews for the food and service, along with just as many intricacies to pay a visit. Featuring a long lineup of Gallura cuisine, you will find exciting appetizers and desserts that bring a real, local essence to this dining experience. Every dish is carefully crafted with a delightful fusion of modern and traditional style cooking. Fresh fish is most certainly the focus of the menu and something that visitors never fail to compliment at Locanda dei Mori. What's more, the interior is immaculate and tasteful in every way, with the restaurant located inside the confines of an old farmhouse. More specifically, you will find friendly staff and bright checkered tablecloths stretching from one side to the other. Meanwhile, a beautiful outdoor terrace is arguably one of the main reasons that guests will remember Locanda dei Mori more than any other restaurant in Rena Majore.
Agriturismo Sardo da Paolina (Traditional Sardinian Food)
🏠
Località Saltara
,
Santa Teresa Gallura
,
Sardegna
,
07028
,
Italy
.
📱 Telephone:
+39 0789 755487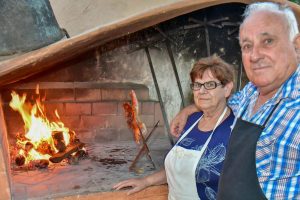 Agriturismo Sardo Da Paolina is a restaurant near Rena Majore with a near-perfect reputation and colorful past. In other words, this family-run eatery has been passed down from one generation to the next, while maintaining the highest standards of five star food and service. When it comes to unique flavors and twists, you can expect surprises on the menu. After all, every dish is infused with local and natural products and the same recipes that impressed upon every other previous generation. So that you know, the owners are always present in the restaurant, which brings an extra sense of warmth to the experience, and the friendly staff is still eager to make guests feel welcome. Featuring wide-open spaces and a beautiful interior, this is also a comfortable dining experience that helps keep the bar high for restaurants in Rena Majore. On the other hand, maybe you want some delectable Sardinian food? In this case, Agriturismo Sardo Da Paolina is a world-class experience when it comes to taste and a real gem on the coastline of North Sardinia.
How To Get To Rena Majore
Have you thought about arranging a rental car in Sardinia?
For some great deals, check out our Sardinia Car Hire page!
Rena Majore is in the northern region on the island of Sardinia. You can reach the seaside village by taking a ferry to Olbia from Civitavecchia or flying into Olbia International Airport. From Olbia, take Via Nanni Alessandro to Via Principe Umberto and turn right. At the roundabout, take the fourth exit and follow the signs for Tutte le Direzioni. Turn right onto the ramp to Arzachena and then merge onto Banchina Isola Bianca and take the SS 125 as far as Palau before turning left toward Santa Teresa. After about 8 kilometers turn left onto SP 70. Travel another 1.5 kilometers, and you'll be on your way to Rena Majore!