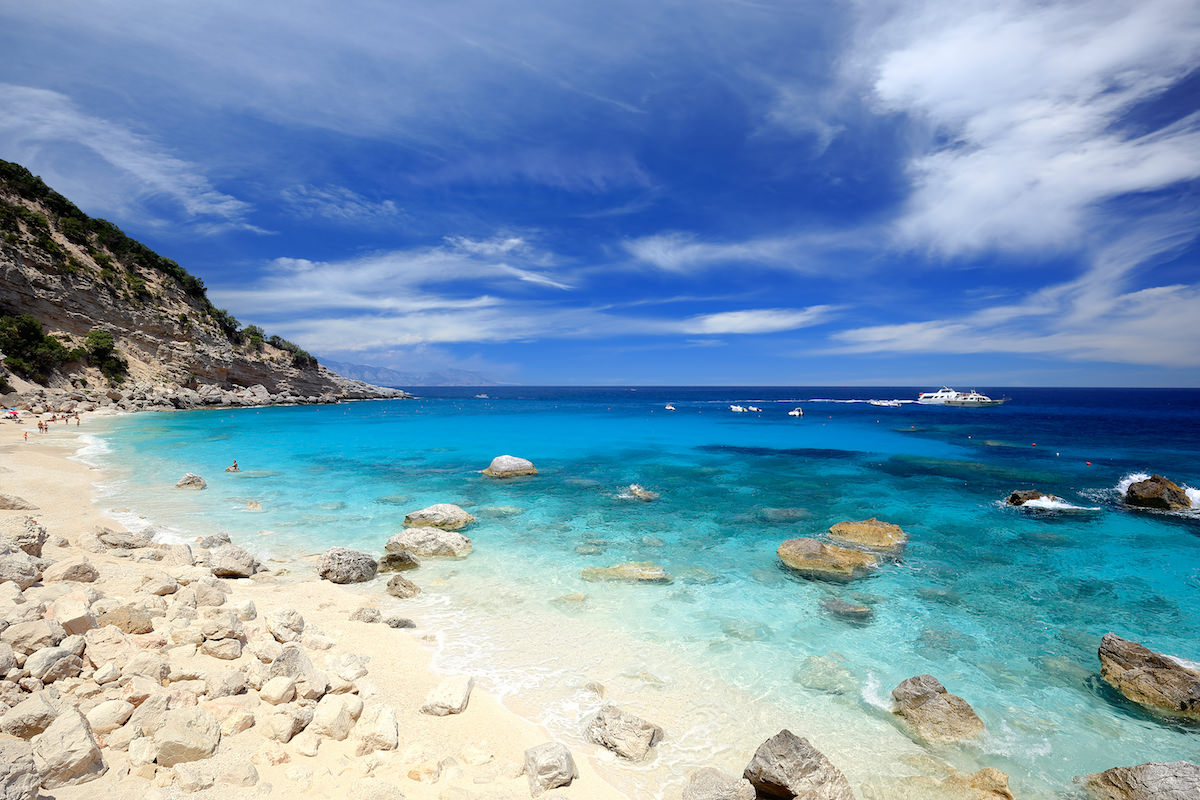 A clear horizon of cloudless skies, deep blue waters, and miles of mesmerizing coastal landscapes basking in the sunshine of the warm and pleasant Mediterranean sun… Welcome to sardinianbeaches.com – your home to the best beaches in Sardinia, Italy! Situated in the deep blue waters of the Mediterranean Sea, Sardinia is a serene and secluded island famous for some of the cleanest and the most mesmerizing beaches, with gleaming turquoise waters and pearl white glittery sands. Check out some beaches below or browse the site's top menu. Whether you want to sit back and relax on the sunny, sandy beach or delve into the most thriving waterfront fun, you will find everything you need about the best beaches in Sardinia.
Latest Articles
North Sardinia
Heading north? We'll give you a few teasers to get you started. Splendid beach holiday in northern Sardinia, guaranteed.
North-East Sardinia
Isola Maddalena
The Maddalena Archipelago boasts crystal-clear waters, stunning beaches, and breathtaking landscapes. Experience the unique beauty of its islands and immerse yourself in the rich culture and history of the region. Indulge in mouth-watering cuisine, hike scenic trails, and create unforgettable memories in this paradise. Don't miss out on this unforgettable travel experience.
Costa Smeralda
You've heard the stories. You've seen the pictures. Indeed, some of the best beaches in Sardinia can be found on the renowned Emerald Coast. The Costa Smeralda, between  Baja Sardinia and Porto Rotondo villages, consists of miles and miles of picture-perfect bays, secluded coves, and white sandy beaches. As if that weren't enough, the perfectly clear turquoise waters seem to come straight out of a Caribbean daydream. They're just waiting to be scratched off anyone's bucket list.
Beyond The Emerald Coast
Have you been dreaming of beach holidays in Sardinia lately?
There are more Sardinian beaches to explore in the Northeast, beyond the Costa Smeralda.
East Sardinia
Hiking through the long canyons, narrow gorges, and valleys of the jagged Supramonte mountain range. Boat trips from Cala Gonone and Santa Maria Navarrese. Mother Nature sure has her way: some of the best beaches in Sardinia are just a bit harder to reach. But the rewards are worth the effort, and the memories are priceless. Cala Mariolu, Cala Goloritze, Cala Luna, Cala Fuili… This is East Sardinia!
South-East Sardinia
Near Costa Rei, just an hour's drive away from Cagliari: Cala Sinzias and the beach of Scoglio di Peppino. Not to mention Cala Pira and Spiaggia delle Ginestre.
South Sardinia
Southern Comfort
Caribbean-colored waters, and gorgeous beaches stretching for miles and miles. Sugar-fine sands and grandstand views over the Mediterranean Sea. Majestic dunes, masterpieces of nature, forever whipped by the warm winds of the southern Sardinian summer. Lagoons with flamingos, searching for a summer home. Dolphins graciously swimming in the exquisite celestial-blue waters. Spending your summer vacation on some of the beaches in south Sardinia isn't about season or climate. It's about dimension.
South-West Sardinia
On the southwest side of Sardinia, you'll find the quiet coastal stretches of the Costa Verde. With their wild natural beauty and ever-restless seas, Costa Verde beaches are some of the most unspoiled beaches of Sardinia.
West Sardinia
Get to know the rougher side of Sardinia.
North-West Sardinia
In the northwest, three Sardinian beaches to remember near Alghero: Le Bombarde, Maria Pia, and La Speranza. In Stintino, lest we forget, La Spiaggia della Pelosa, one of the best known beaches in Sardinia.
Sardinia Beaches Fun Facts
Spiaggia Ira is the only beach in Sardinia named after a person. It got its name from European actress Ira von Fürstenberg.
Given its exotic qualities and astonishingly blue waters, the beach of Cala Brandinchi in San Teodoro is dubbed "Little Tahiti".
One of the most popular and famous beaches in Sardinia is Spiaggia del Principe. It's also the favorite beach of Aga Khan, who carved out the stretch of paradise known as the Costa Smeralda for his close friends in 1962.
The smallest beach we've discovered in Sardinia is Cala Greca, with a length of only 15 meters.
Sardinia's widest beach is Spiaggia di Piscinas, near Guspini, in the southwest. Its sands trace up to 2 kilometers into the mainland.
One of the largest natural bridges of Sardinia can be found at Spiaggia S'Archittu, in Oristano, west Sardinia. The arch is 15 meters tall and a very popular diving spot.
Over 40 Sardinia beaches are less than 200 meters long.
Over 20 Sardinia beaches have a length of more than 2 kilometers.
Compared to 2016, Sardinia comes in fifth in the FEE (Foundation for Environmental Education) rankings, with an additional nine Blue Flag beaches in 2017.
Seven Blue Flag beaches can be found in the northeast of the island of Sardinia, in the region known as Gallura.
In 2017, Santa Teresa Gallura is a clear winner with three Blue Flag beaches. They are Rena Bianca, Rena di Ponente, and Rena Levante near the headlands of Capo Testa.
Sardinianbeaches.com is your free travel guide to the best beaches of Sardinia. The perfect gateway to your beach holiday in Sardinia! This website offers a comprehensive and easy-to-browse list of the most beautiful beaches of Sardinia, the second-largest island in the Mediterranean Sea. The island of Sardinia proudly offers over 200 beaches and coves ranging from shores with silky white sand to picture-perfect pebbly beaches with stray rocks spread along the coastline. When it comes to natural beauty, Sardinia beaches effortlessly compete with those on the coasts of Ibiza, the French Riviera, and even with top Caribbean beaches.
With so many beaches to visit, Sardinia is a destination you'll happily come back to.