For many people, the lighthouses in Sardinia are not the reason for visiting this beautiful island.
However, these iconic towers will often leave footprints in visitors' minds, such is the magical nature of their appearance.
That said, there is also a lot of history behind these lighthouses and the surrounding area. But what lighthouses should you actually know about? In this article, we take a look at the most beautiful Sardinian lighthouses.
The Most Beautiful Lighthouses of Sardinia
Faro Capo Spartivento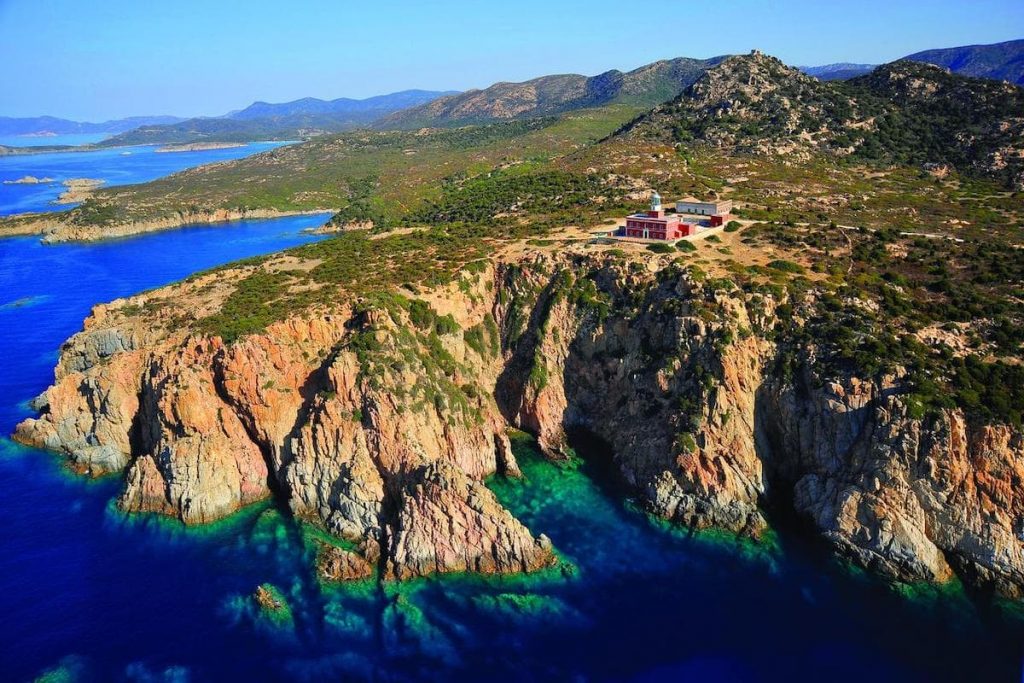 Faro Capo Spartivento is a gorgeous lighthouse in Chia, in south-east Sardinia. The establishment is located only an hour's drive away from Sardinia's biggest airport, Cagliari Elmas Airport.
This prime location and epic scenery is just the tip of the iceberg. The unique thing about this lighthouse is that it allows you to spend the night on the premises of a five-star hotel – your personal Lighthouse Experience in Sardinia!
The restoration of this 1950s landmark is the pride and joy of Sardinia's naval brigade. The nautical team has made sure that despite the archaic history, the hotel has everything a modern hotel can offer.
This includes suites with parquet floors, stocked mini-bars, and air-conditioning and attached bathrooms.
Isola dei Cavoli Lighthouse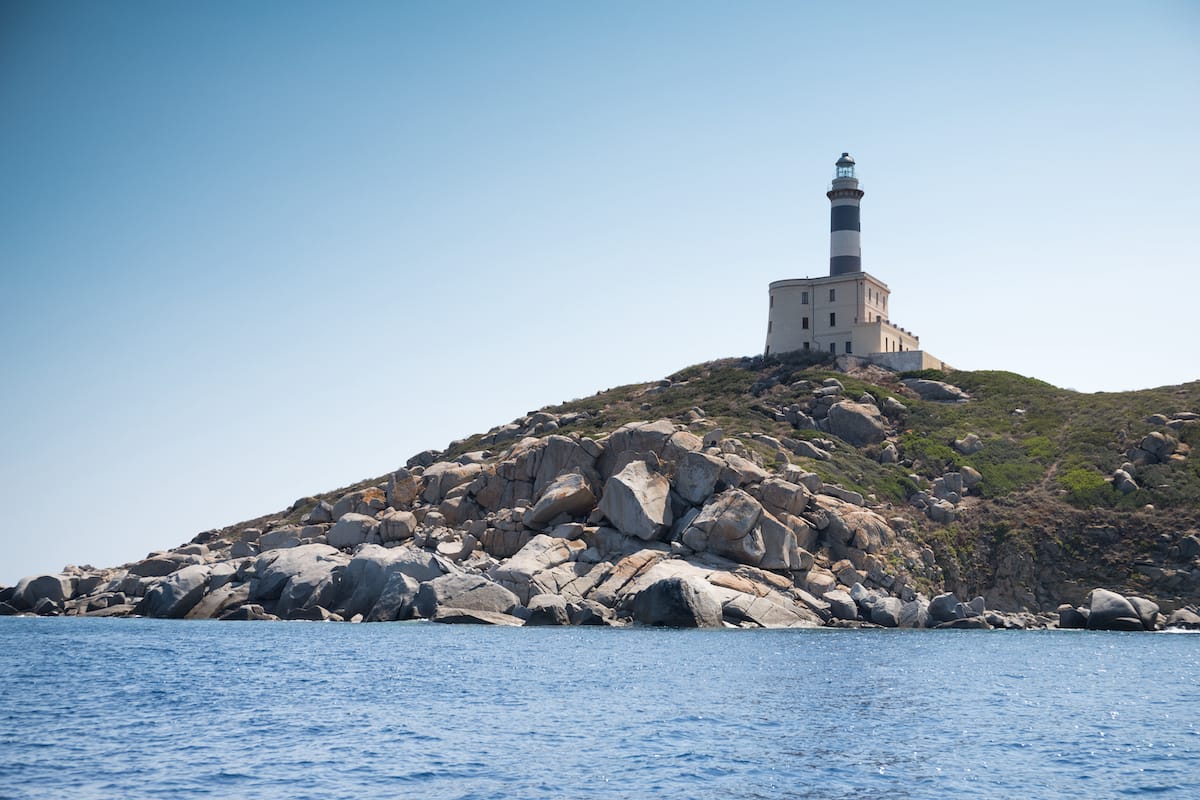 The Cavoli lighthouse is located in a protected marine park called Capo Carbonara, on the eastern end of the Gulf of Cagliari, south Sardinia.
It features a 16th-century tower, but the lighthouse was actually built back in the mid 19th century.
This lighthouse stands 37 meters above the ground. It is one of the most iconic lighthouses in Sardinia and sits beside a beautiful stretch of coastline.
The outer walls consist of a mosaic with vibrant colors that really make it stand out, and although now automated, the lighthouse is still active and worth a stop for visiting tourists.
Faro di Capo Comino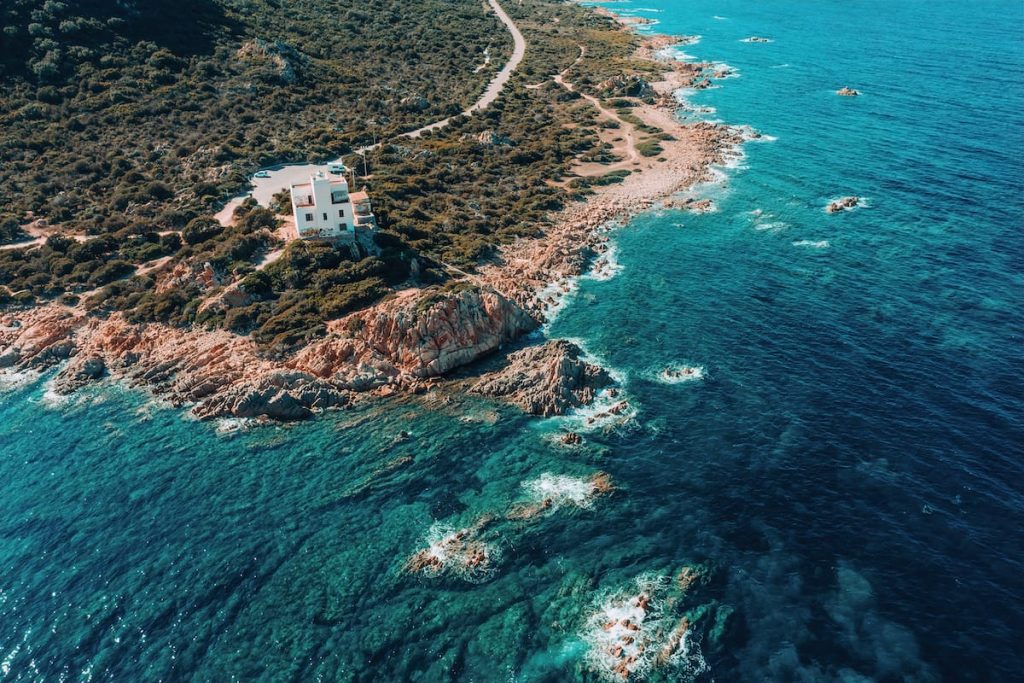 Located about 20 kilometers north-east of Orosei, the lighthouse of Capo Comino was built in 1903. It features a 20-meter high tower with a balcony and a large lantern attached.
Being an entirely white three-story lighthouse, it's rather noticeable from the road, but this is also because of the precise location.
Faro di Capo Comino is situated 28 meters above the sea it emits a dazzling light after dark.
This is also another automated lighthouse in Sardinia which never fails to delight those who come to visit.
Faro di Punta dello Scorno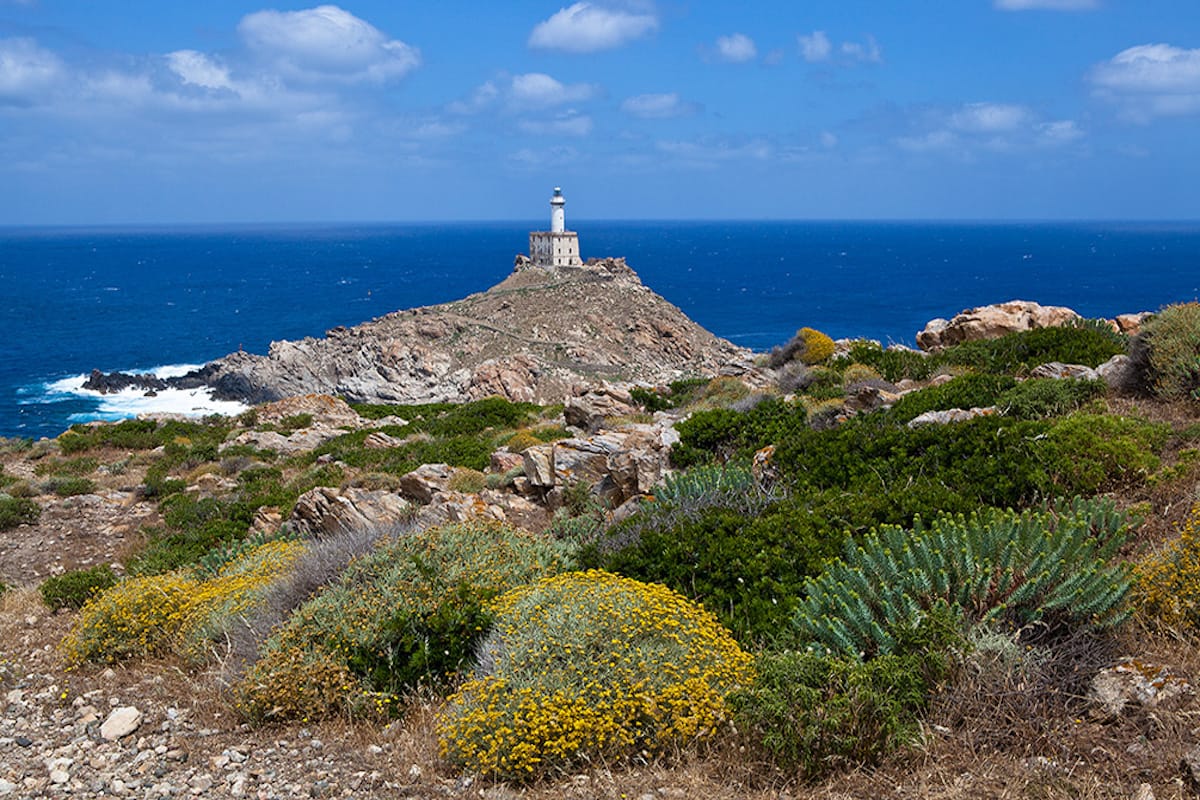 Faro di Punta dello Scorno is located in Asinara National Park, near Stintino. This lighthouse stands alone next to the ocean and dates back to the 19th century.
There's an interesting story behind this one in which the daughters of the lighthouse managed to save three people from a small boat at sea.
The surrounding park is stunning at every turn, and it's so remote that Parco Nazionale dell'Asinara was once the location for a maximum-security prison.
Capo San Marco Lighthouse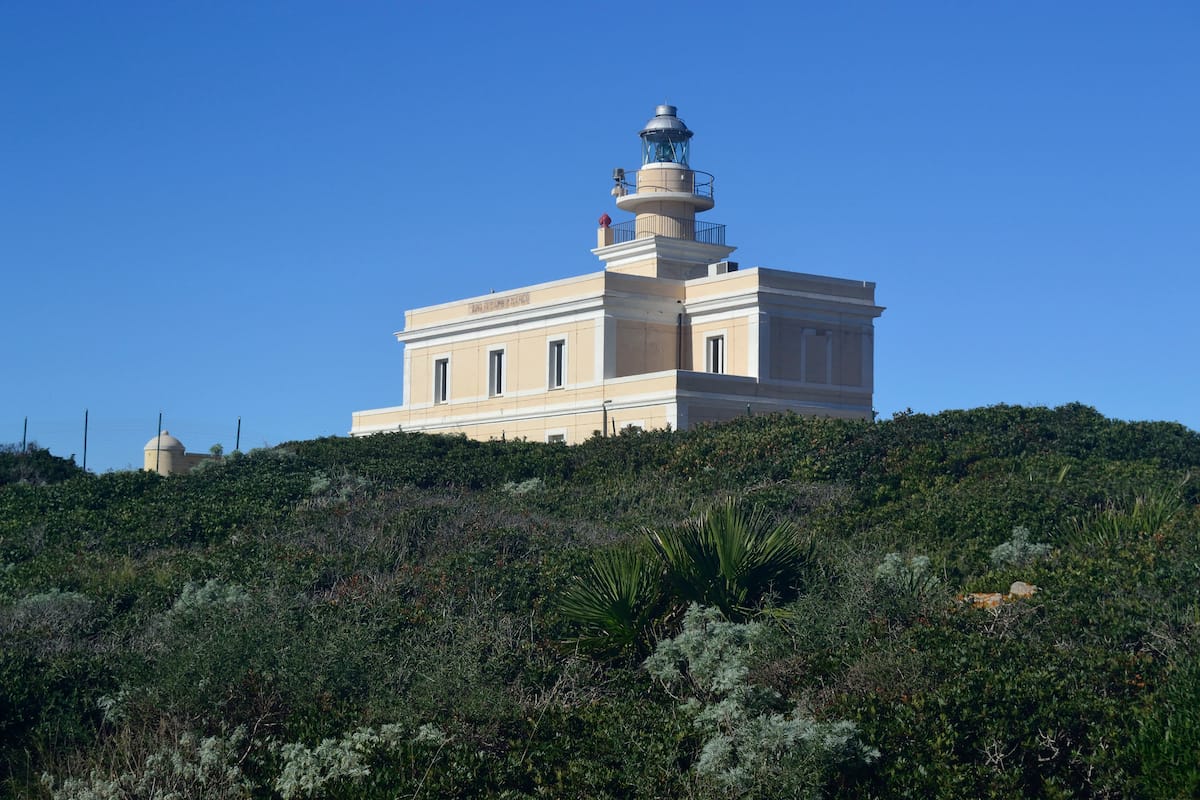 The Capo San Marco lighthouse sits on the Sinis Peninsula near Oristano, and there's a popular path nearby that runs through some ancient ruins (Tharros).
You will also find white powdered sands and beautiful sand dunes here, while fauna is present due to the quiet nature of the area.
There are also more ancient monuments in the area that date back to Nuraghic times, but even just the sight of this lighthouse makes it worth checking out.
With this in mind, Capo San Marco is one of the most beautiful and exciting lighthouses in Sardinia.
Sant'Elia Lighthouse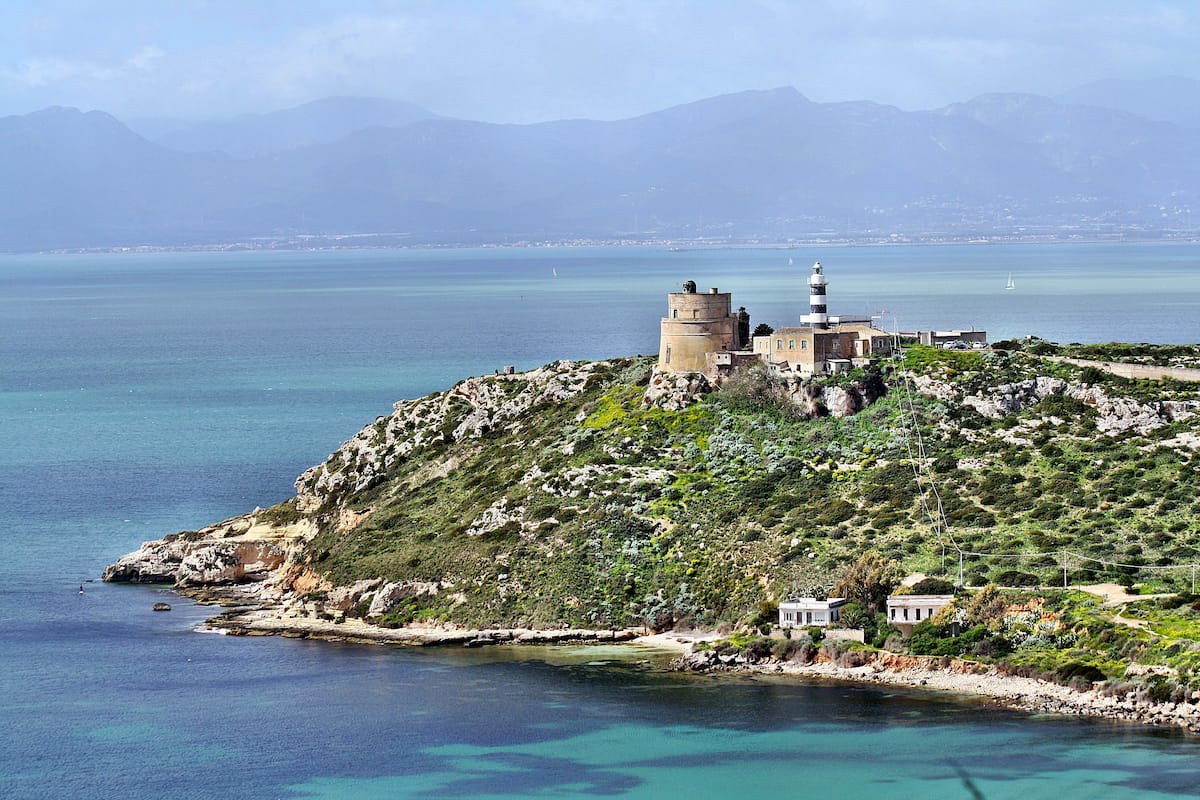 The Sant'Elia lighthouse is one of the oldest leading lights in Sardinia.
Built back in 1850 next to Calamosca Bay in Cagliari, this lighthouse features a cylindrical tower with zebra-like black and white stripes.
After dark, the light can be seen for more than 20 miles and watches over Golfo degli Angeli.
There are also some ancient remnants on a nearby hill, including rock paintings, mosaics, and Roman cisterns.