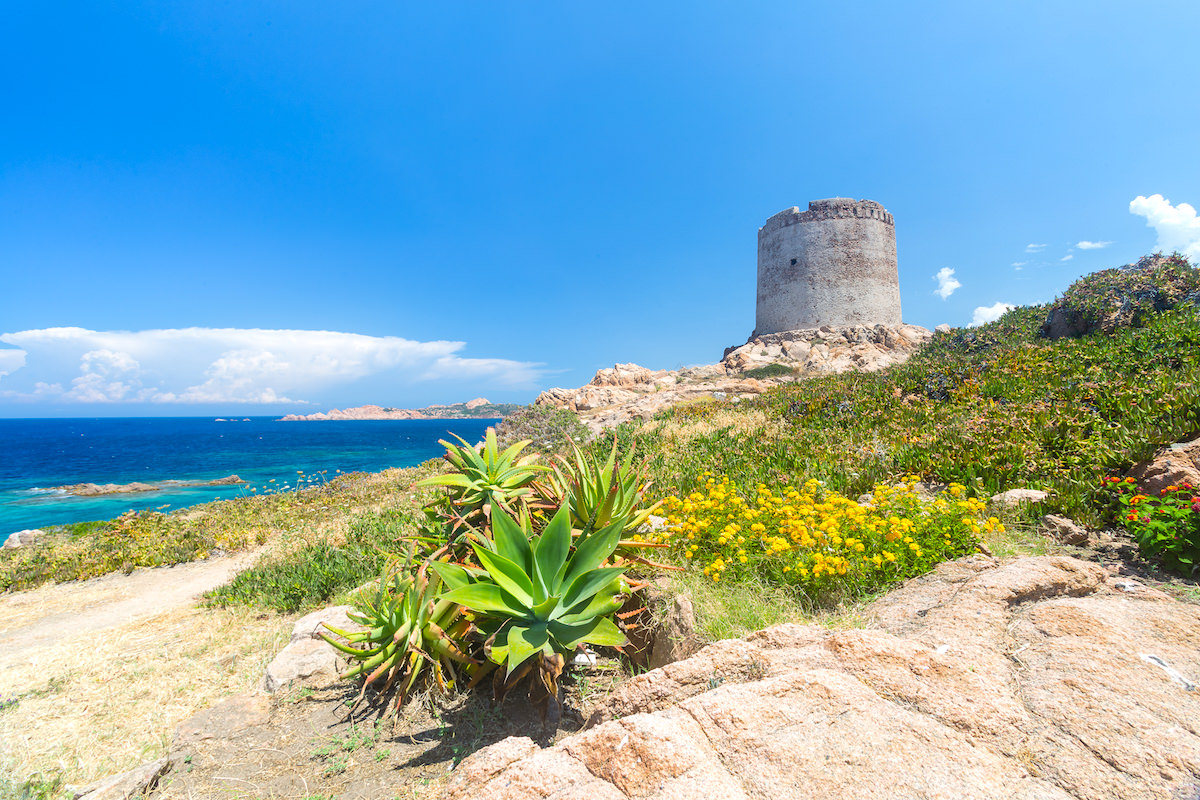 About Isola Rossa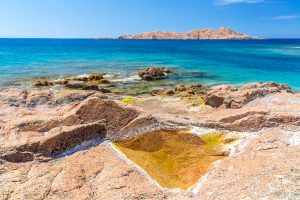 Named after the 400 meter long granite rock that sits 500 meters off the Costa Rossa, Isola Rossa is also known as Red Island, although this is not an island at all. It is a charming seaside village in north Sardinia with magnificent views of the Gulf of Asinara, which is located between Asinara Island, Capo Falcone and the historic town of Castelsardo. The stunning beaches and sleepy nature of the village make Isola Rossa one of the most beautiful places to visit in the north. If you yearn to encounter a sleepy Italian town with a laidback feel, Isola Rossa is the perfect destination. You will see fishermen casting off from the harbor and a tranquil ambiance throughout the town. The village comes to life with several family-run pizzerias along with local bars, restaurants, markets, and local stores. At lunchtime, visitors can head over to one of the local restaurants and feast over a handful of home-cooked Sardinian cuisines. Most of these restaurants are overlooking the beautiful bay, which makes for an even more stimulating dining experience. After lunch, you can go for a walk in the village and check out some of the local attractions nearby, such as the Spanish watchtower named Torre Aragonese, which dates back to 1595. Aside from the Spanish watchtower, there are several other interesting sights to check out in Isola Rossa and the inland areas of the Gallura region. The strategic location means everything is within easy reach, from archaeological sites to some of the most significant historical sights in the north. Among the most popular attractions in the comune of Trinità D'Agultu e Vignola are the beaches, the rocks of the Valle della Luna, the authentic old town of Aggius, the Monte Pulchiana monolith, the Nuraghe Majori at Tempio Pausania as well as the beautiful towns of Stintino, Santa Teresa Gallura and Alghero. Although Isola Rossa was once an ancient fishing village, it has now become one of the most picturesque tourist villages in Sardinia. However, in spite of the growing number of hotels and a vibrant water sports scene, this is still one of the most authentic coastal villages you'll find. Bordering the modern marina with moorings for pleasure yachts and small boats is the beautiful beach of Spiaggia Longa (Funtana 'Eccia), and the cream-colored sand that arcs around a crescent-shaped bay means this is a favorite for visitors. Furthermore, the shore is dotted with sun loungers and parasols, and there are a couple of bars nearby serving ice-cold beers. On the north-east part of the village is Spiaggia La Marinedda, another beautiful beach known for its ivory colored fine sand and emerald green waters. Surfing enthusiasts would flock to this beach, where there is a surf camp nearby offering surfing lessons to all kinds of tourists. There are also some diving centers within the village that offers diving lessons to interested tourists. Diving at Isola Rossa takes guests to some exciting pockets of the Costa Rossa where sea bass, tuna, and massive schools of barracudas are common. Other activities include windsurfing and pedal boarding. Overall, this range of activities and beautiful scenery ensure the village of Isola Rossa is one of the most exciting places to visit for a seaside holiday in north Sardinia.
Isola Rossa Map
✔ Use the Google and Booking map below to explore the area.
✔ Fill in your holiday dates to get an accurate view of available accommodations near Isola Rossa.
Where to Stay in Isola Rossa - Our Top Picks
Hotel Corallo
A 4 star Hotel in Isola Rossa, 0.3 kilometers from the center of town (about 0.2 miles.)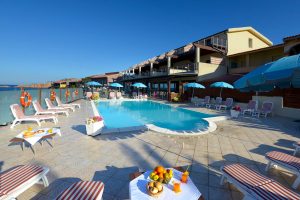 Hotel Corallo is a charming four-star hotel in Isola Rossa, in north Sardinia. Situated next to the sea in the authentic fishing village, it is an ideal base for a vacation in Sardinia. Built in 1964 as a restaurant, this establishment has been welcoming guests for more than 40 years and was run by three generations of family. In 2007, the hotel underwent a major renovation and was developed and modernized to meet four-star standards. Hotel Corallo has 35 guest rooms and suites, which include Superior, Deluxe, and Junior Suite rooms. Some rooms come with their own private terrace that opens to the breathtaking views of the sea. There are also several rooms with a balcony that overlooks the stunning sixteenth-century Spanish Tower nearby. Each room is furnished in a Mediterranean and contemporary style and fitted with modern facilities, such as air conditioning, Wi-Fi, and satellite TV. Furthermore, each room has an en-suite bathroom with free toiletries, and a delightful Italian breakfast is served to the guests in the morning. Hotel Corallo offers an outdoor pool set amidst a beautifully landscaped garden with sun decks and relaxing areas. There is also a poolside bar serving refreshing drinks and food, and the friendly staff is always quick to provide service to guests at the poolside. With a strategic location on the Costa Rossa, the hotel is only a few minutes away from the beautiful sandy beaches of Isola Rossa and the very best local restaurants. Overall, this is a truly memorable hotel in Sardinia with friendly staff, beautiful décor, and a reputation for living up to the expectations of its guests.
Hotel Gabbiano
A 3 star Hotel in Isola Rossa, 0.1 kilometers from the center of town (about 0.1 miles.)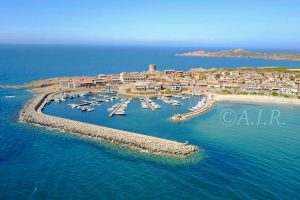 Hotel Gabbiano is a three-star hotel located just one hundred meters away from the marina and town center while the stunning beaches of Isola Rossa are just a stone's throw away. The hotel is situated halfway between Santa Teresa Gallura and Alghero, and provides the perfect starting point for a vacation in north Sardinia. The family-run hotel is decorated in a traditional Mediterranean style with pastel interiors and classic style furniture that live up to the three stars above the door. There are 17 private rooms , and each room is furnished with air conditioning, TV, telephone, safe, and a minibar with fridge. Each room also has a private bathroom with free toiletries. Moreover, some of the rooms come with their own balcony that opens to the lovely views of the surrounding area. Meanwhile, you will find a TV lounge next to reception and Wi-Fi access is available for all guests to use free of charge. Run by locals and a team of friendly staff, Hotel Gabbiano is one of the highly rated hotels in Isola Rossa regarding customer service. You can rest assured that the knowledgeable staff is always happy to provide assistance on how to get to the nearby beaches or other tourist attractions and excursions in Isola Rossa. With this in mind, if you need help in booking guided tours and boat rentals, the concierge is often the subject of five-star reviews, and with its central location, the hotel is arguably the perfect base for day trips to the beautiful island of La Maddalena.
Things to Do in Isola Rossa
Go Sports Fishing on a Luxury Boat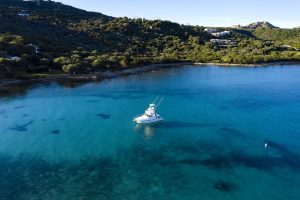 North Sardinia offers a fantastic opportunity to experience some big-game fishing and Poseidon is a professional outfit that can make it happen. Located at Cala Capra Marina and the harbor of Isola Rossa, the company is ideally situated to explore the Straits of Bonifacio in the north. Even though this is one of the most popular things to do in Isola Rossa, the fishing village itself is worth the visit alone. To get out on the open seas and witness the beauty of the Mediterranean is yet another excuse to head off in search of the marine life beneath the surface. You can expect to encounter many species, and the size is usually something that also lives up to expectation. As if that's not enough, Poseidon is willing to collect guests from any port along the north coastline and goes to every effort to ensure the most convenient logistics for every client. Big-game fishing is not just one of the best things to do in Isola Rossa but also one of the most exciting activities in the beautiful north of Sardinia.
Wine tasting at Cantina li Seddi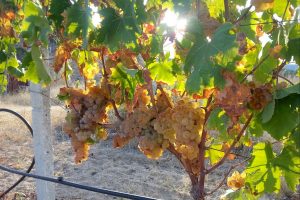 Let's be honest, wine tasting is a fun thing to do almost anywhere in the world, but the truth is, the superior quality often ensures wine tasting in Sardinia is often more memorable. Situated in the midst of the countryside, Cantina li Seddi is proud to offer some of the best wine tastings in Sardinia and one of the most enjoyable things to do in Isola Rossa. Needless to say, many visitors arrive for the wine itself, and in this sense, the wide selection never fails to disappoint even the highest of expectations. The surrounding vineyard is especially impressive with endless juniper, mastic and strawberry trees stretching as far as the eye can see. As for grapes, you can smell them in the air, and the quality of this product is evident in every last sip of every single wine. Featuring an authentic wine cellar and an amiable owner, this is not just a wine tasting tour but also an educational insight into the passion and history behind winemaking in the local area. Interestingly, there are also two structures on site and guests can take a look inside the production area where the rich aroma and fine tasting wine is preparing itself for the eager visitors outside.
Explore the Nuraghe Majori at Tempio Pausania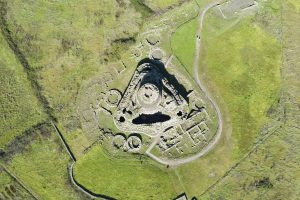 Located just a short distance from Isola Rossa, the Nuraghe Majori at Tempio Pausania is another fascinating place to visit. This is one of the most iconic remnants of Nuraghic culture on the island. Surrounded by holm, oak, and ash, the structure is hidden in the forest and strikes a memorable sight when it first appears through the trees. The immense size and historical significance of the nuraghe is most certainly the highlight. The Nuraghic people lived in this part of Sardinia many thousands of years ago, and the ruin is said to be over 3,000 years old. An old torch lights the way for a massive edifice inside and just so you know, this ancient structure is also home to a rather harmless colony of bats. Whether you want to visit the nuraghe independently or on tour, you will need a ticket (€3) and at least one hour to explore the ruin in full. Either way, this is a fascinating insight into ancient Sardinia and an exciting way to better understand the rich and ancient culture behind life on this beautiful island.
More Places to Visit Near Isola Rossa
Isola Rossa Restaurants - Where to Eat
Gastronomia Isola Rossa (Seafood, Traditional Sardinian Food)
🏠
2
,
Vial lungomare San Cottoni
,
Isola Rossa
,
Sardegna
,
07038
,
Italy
.
📱 Telephone:
+39 079 694110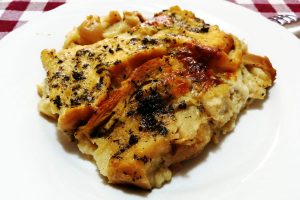 Gastronomia Isola Rossa is one of the top-rated restaurants in north Sardinia. This family-run restaurant has been in the business for 30 years, and its staff is known for their excellent use of fresh local ingredients in preparing their sumptuous recipes. Every summer, Gastronomia Isola Rossa serves their loyal customers the tastiest of all traditional Gallurese cuisines using fresh and local ingredients that are obtained directly from the restaurant's small garden. Some of the most famous specialties are the Gnocchetti Sardi and Ravioli Galluresi. Both pasta dishes are prepared using handmade portions of pasta. Their customers also love the octopus salad, mussel spaghetti and the Zuppa Gallurese, a typical 'lasagna' from the Gallura sub-region that consists of several layers of bread. Gastronomia Isola Rossa is also one of the best-rated restaurants in Isola Rossa regarding service. A team of professional and friendly locals runs the place, and they would be happy to offer excellent suggestions on what to order and eat. The location is small but cozy, with only a few tables and chairs.
Ristorante La Torre (Seafood, Italian Food, Pizza)
🏠
15
,
Lungomare Cottoni
,
Isola Rossa
,
Sardegna
,
07038
,
Italy
.
📱 Telephone:
+39 079 694058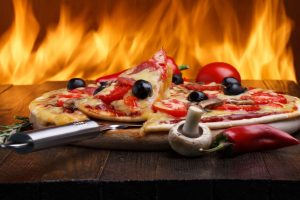 Ristorante La Torre is another excellent restaurant in Isola Rossa and finds itself right next to the marina. The restaurant has a beautiful outdoor terrace that overlooks the nearby sea and offers the perfect place to unwind while sampling the most delicious Sardinian dishes. The interior is just as inviting with warm colors and nicely organized furnishings. As for the menu, this consists of seafood and classic Italian dishes. Furthermore, they also have a wide variety of pizzas and a good selection of local and international wine. Some of their favorite most popular recipes are the grilled fish, lobster pasta, and the starter of cold meats and cheeses. Ristorante La Torre is located in a stunning location that overlooks the scenic Marina Isola Rossa, so this is indeed a romantic place to dine with your partner while taking in some truly magnificent sunset views.
How To Get To Isola Rossa
Have you thought about arranging a rental car in Sardinia?
For some great deals, check out our Sardinia Car Hire page!
The nearest airport to Isola Rossa is Costa Smeralda Airport, located in Olbia. To get to the village by car, head west via the Strada Statale 127, then continue on the Strada Provinciale 38. This is the fastest route, it will take you about 90 minutes to reach Trinità D'Agultu e Vignola and Isola Rossa.