Staying at a bed and breakfast in Sardinia can provide a unique and personalized vacation experience. Bed and breakfasts in Sardinia are often located in charming historic buildings, offering a glimpse into the island's rich cultural heritage.
One of the main benefits of staying at a bed and breakfast is the personalized service provided by the hosts. Guests can receive helpful tips and recommendations on local attractions, restaurants, and activities, allowing them to experience Sardinia like a local.
Moreover, bed and breakfasts in Sardinia often offer homemade breakfast made with fresh, locally-sourced ingredients, providing a delicious taste of the island's cuisine.
Additionally, bed and breakfasts in Sardinia are often located in quieter areas, away from the busy tourist areas, providing a more peaceful and relaxing vacation experience.
Overall, staying at a bed and breakfast in Sardinia offers a personalized and unique vacation experience, allowing guests to connect with the island's culture, cuisine, and way of life, making it an excellent choice for those seeking a more intimate and authentic holiday.
Porto Istana
B&B Villa Smeralda
A 3 star Bed and Breakfast in Porto Istana, Olbia-Tempio, North-East Sardinia, Italy.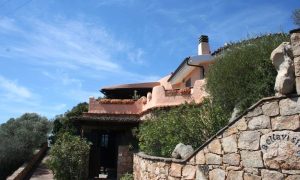 In Murta Maria, less than 2 kilometers from Porto Istana and only 10 minutes away from Aeroporto di Olbia-Costa Smeralda, you'll find B&B Villa Smeralda, a picturesque bed and breakfast with a modern interior design. It is the perfect place to explore the wonderful region of Porto Istana, popular for snorkeling and horseback riding. Villa Smeralda is nestled on a green hillside and offers magnificent views of the sea and Isola di Tavolara. Surrounded by a manicured garden, Villa Smeralda offers terraces, areas to relax, and a barbecue area. Your hosts, Carine and Dominique, will do everything they can to make your stay at their bed and breakfast as enjoyable as possible. B&B Villa Smeralda accommodates adults only.
Capo Testa
Maison Sara
A 3 star Bed and Breakfast in Capo Testa, Olbia-Tempio, North Sardinia, Italy.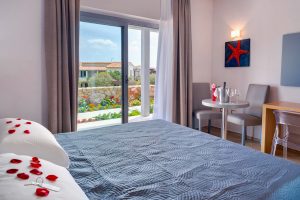 Situated on a rocky peninsula next to the Strait of Bonifacio, Maison Sara is a trendy family-owned bed & breakfast in Capo Testa. Its location is perfect for escaping the crowds but also ideal for visiting some of Sardinia's beaches in the north and venturing into the cafés in town. While hotels are probably the most popular type of accommodation in Sardinia, Maison Sara is a bed and breakfast which goes ever so slightly against the grain. In this respect, the accommodation is very much focused on providing a more localized experience for the visiting tourist. The sea views are impressive, and the rooms are fully equipped for a comfortable stay. Featuring a small swimming pool and a lovely leafy garden in which to relax, the accommodation is rather quaint. However, the bright rooms and modern fixtures will ensure a comfortable stay at a much lower cost than the five-star hotels up the road. All considered Maison Sara is a wonderful place to escape the noise and relax in comfortable surroundings. If you wish to visit the surroundings, everything is nearby, and when it comes to hospitality, you can be sure that this family-owned B & B in Capo Testa will make its guests feel right at home.
Torre Delle Stelle
Bed & Breakfast Villa Verde
A 3 star Bed and Breakfast in Torre Delle Stelle, Cagliari, South Sardinia, Italy.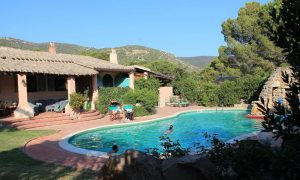 Villa Verde is one of the top picks for a bed and breakfast in Torre Delle Stelle. Renowned for classic and furnished rooms, as well as its continental breakfast, the hotel offers a range of rooms with scintillating views. Take for example the Double Room with Garden View, the Deluxe Double Room with Pool Access, or the Superior Double Room with Pool View; each of these promises a refreshing sight when you wake each morning. Located close to Cala Sinzias and Cagliari Elmas Airport, the hotel is ideally situated to reduce travel time and is a convenient option with all the necessary features including free Wi-Fi, free public parking and excellent multilingual staff who can speak Russian, Dutch, Italian, French, and English. Bed & Breakfast Villa Verde also offer a shared lounge with television, an airport shuttle service, shuttle service, an air conditioning area, and a rental car service. Aside from the above, this accommodation has some unique attractions such as the water slides which lead into a pristine outdoor pool. And then there are the nearby attractions, for Villa Verde also offers some day tours and activities. Bluemotion diving is available with courses for beginners and professionals while the reception can organize excursions for guests to uncover hidden Sardinia, whether this is on a horseback riding tour with the Boia Chi Loa Mangia stables, an archeological trip, or adventures involving food and wine itineraries.
Torre Delle Stelle
Bed & Breakfast Alchimissa
A 3 star Bed and Breakfast in Torre Delle Stelle, Cagliari, South Sardinia, Italy.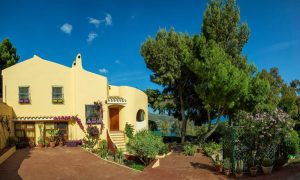 Alchimissa is an enchanting adult-only bed & breakfast in Torre Delle Stelle which is just a twelve-minute walk from the beach. Managed by Valentino & Lucia, it is known for being a beautiful villa surrounded by a spectacular sea view and colorful flora, and the hotel environment is replicated in a bright and spacious interior. The yellow color of Alchimissa is almost symbolic of the sunshine and vitality which is common in these parts of South Sardinia, Italy. There are many species of flowers and plants while each of the rooms is complimented by a private garden corner that ensures access to a peaceful and quiet space. The B&B is also very close to the Da Palmira and Solanas markets. There are nearby restaurants and cafés such as the Ristorante Gennemari, De Barbar, and Baccusardus. Located just a few minutes away from the natural wonders of Mediterraneo, Area Marina di Villasimius, Parco Naturale dei Sette Fratelli and Cagliari Mountain; you can understand why this charming bed & breakfast in Sardinia is frequented by locals just as much as foreign visitors. Interestingly, there is a library within the accommodation, which is perfect for bookworms while the breakfast received excellent reviews, whether you choose Continental, Italian, Vegan, or a Gluten-free style. Other highlights are the outdoor pool, sun terrace, and shared lounge while the air conditioning, heating area, and non-smoking rooms are all attractive features of this modern and charming B&B. Pets are not allowed inside the premises, but there is reliable free Wi-Fi and free parking on-site, while a wide range of activities can be enjoyed in the area surrounding Torre Delle Stelle such as snorkeling, horse riding and hiking.
Porto Pozzo
Villa Nicoletta
A 3 star Bed and Breakfast in Porto Pozzo, Olbia-Tempio, North Sardinia, Italy.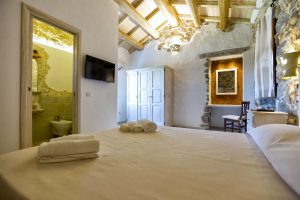 Villa Nicoletta is a nicely decorated B&B and an ideal small hotel for couples in Porto Pozzo. This B&B was a renovated structure from a building that dates back to 1800. Located in the municipality of Santa Teresa di Gallura in Porto Pozzo, this building is set in a four-hectare private property. Boasting a spacious veranda where guests can have breakfast every morning, Villa Nicoletta is indeed a relaxing place to stay for your holiday in north Sardinia. You can enjoy a cup of tea at the veranda while gazing out to the sea. The rooms are all fitted with a private bathroom and shower, and furnished with modern amenities, such as Wi-Fi, an air conditioning system, minibar, safe and satellite TV. Free toiletries are also provided. Decorated in a true Sardinian style, some rooms open up to a beautiful view of the garden and the sea. With its strategic location, Villa Nicoletta is just a few minutes away from the beautiful beaches of Porto Pozzo. It's located in a village that's surrounded by natural fjords, numerous restaurants, local markets, and a marina. In fact, the beautiful marine park of La Maddalena can be easily accessed from this place by boat. The port town of Porto-Vecchio is only 45 km away from the hotel and Olbia is 50 km away. If you're arriving at the Olbia Costa Smeralda Airport, the hotel is only less than an hour drive away. For those who are taking their rental car, they can take advantage of the free parking within the property.
Spiaggia di Porto Pino
Guesthouse Medusa
A 3 star Bed and Breakfast near Spiaggia di Porto Pino, , Sardinia, Italy.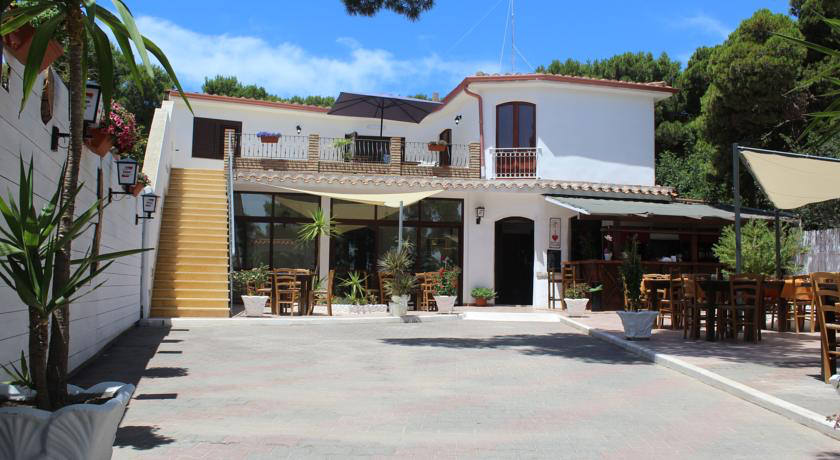 Also near the northern section of Spiaggia di Porto Pino, on Via del Porticciolo 16, you'll find the Medusa guesthouse. It is a nice location, just a few minutes' stroll from the beach. This adult-only accommodation offers a Bed & Breakfast experience with just 5 air-conditioned rooms. All rooms have modern furnishings, and a private bathroom. Room types include a King Room with disability access, Double Rooms and a Twin Room. Guesthouse Medusa has recently been renovated. Parking is free.
San Teodoro
Il Viandante
A 3 star Bed and Breakfast in San Teodoro, Olbia-Tempio, North-East Sardinia, Italy.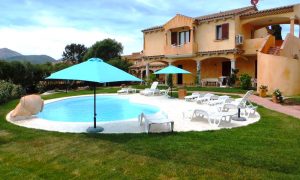 Known for its enchanting vibes, Il Viandante sits perfectly in the center of San Teodoro, just 23 kilometers south of Olbia Costa Smeralda Airport. Your stay will surely prove to be fun and enjoyable with retail shops, restaurants, pizzerias, and boutiques nearby. Go for a walk for about 800 meters, and you can visit the astonishing white sand beaches of La Cinta and Cala d'Ambra. Il Viandante provides a great stay for business, holiday, event, or a simple weekend break. The hotel guarantees high-quality service at the lowest price. There is a swimming pool that is heated during the low season, sun loungers, parasols, and showers. Each room comes with colorful furnishings and general equipment to ensure comfort and convenience. With its fine design and authentic Sardinian style, the accommodations take you closer to the general ambiance of the surroundings while the romantic atmosphere is also something you do not want to miss. With thirteen rooms available for guests, everyone can enjoy the panoramic view and visit the town center of San Teodoro with little effort.
Dorgali
Casa Piredda Icoré
A 3 star Bed and Breakfast in Dorgali, Nuoro, East Sardinia, Italy.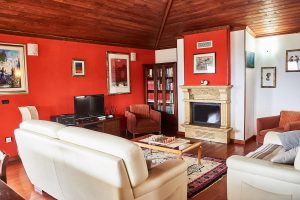 Casa Piredda Icoré is perfectly located for a stay in Dorgali, and a stay in this family-run bed and breakfast is likely to involve an encounter with the famous hospitality in Sardinia. In fact, many online reviews are quick to point out the excellent location of the house which is rather peaceful and conveniently situated in proximity to nearby attractions. At the same time, arguably the most prominent highlight of the house is the solarium on top of the house, most often referred to as a sun terrace. Whether you spend an early morning enjoying the sunrise or an evening drink with the sunset, there are few places to stay in Dorgali which offer such an impressive feature. However, this should not take away from the stylish interior, for Casa Piredda Icoré is infused with color and intricate design at every turn. When it comes to the private bathroom, this intricacy is evident with beautiful wooden fixtures blending seamlessly with the tiles. Furthermore, these vibrant colors extend the bedroom itself, where modern furnishings and an extremely comfortable bed offer a supremely relaxing hideaway for guests. Cala Luna Beach and the stunning coastline are within easy reach of the house along with many more attractions, but the warm atmosphere and peaceful nature of this bed and breakfast in Dorgali ensure it is one of the most sought-after places to stay for a good reason.