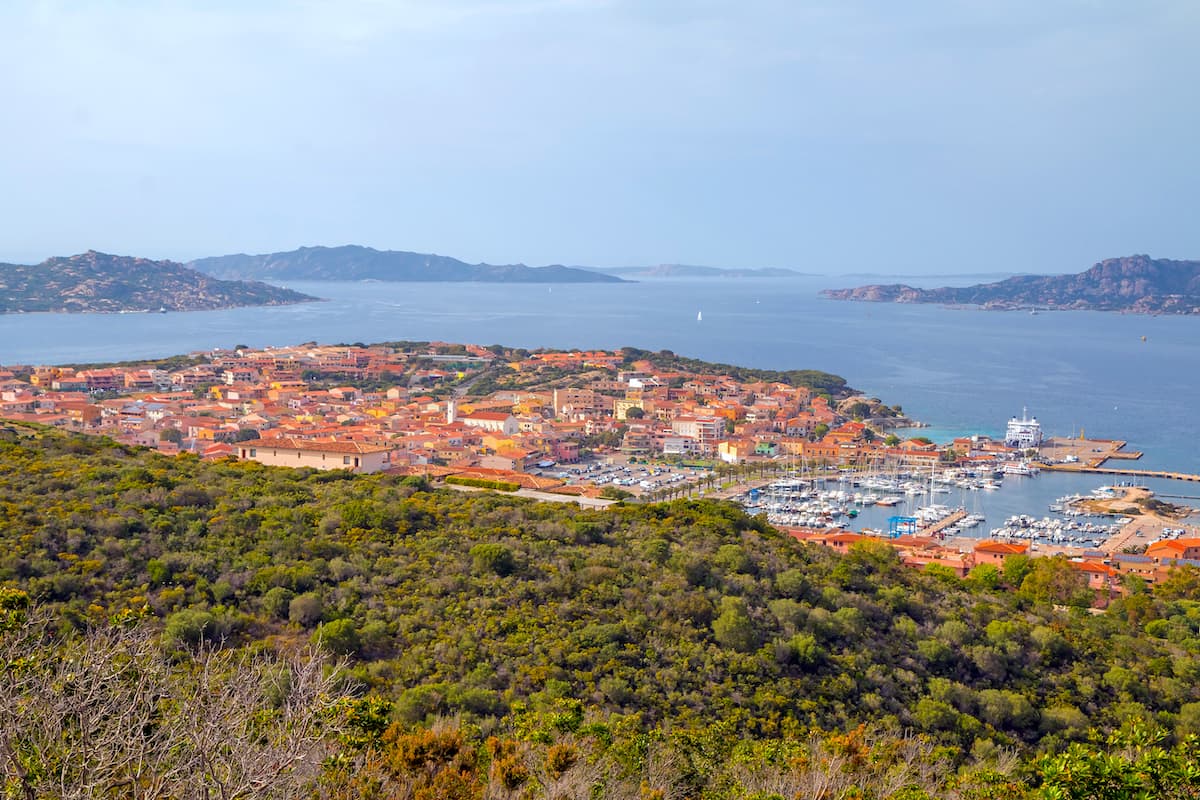 About Palau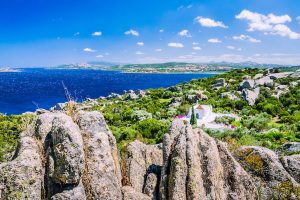 Established by shepherds in the late 1800's and situated in the province of Olbia-Tempio, Palau is small seaside village which is best known for the nearby Capo d'Orso (Cape of the Bear) formation on the northern tip of Sardinia.
With the majestic company of stunning Mediterranean seas, Palau proves to be more than just a port island, for this charming town with colorful boats is also perfectly located to explore the surroundings. Along with Tempo Pausania, the road to Castelsardo is also among the most sought after destinations in Palau and the many quaint villages, religious remnants, and the valley of the moon make this a unique place to visit in Sardinia.
Conveniently, Palau also serves as a ferry gateway to Isola Maddalena and the Maddalena Archipelago so you can enjoy a sightseeing trip near the infamous Garibaldi house or even go for a drive through the mountains to reach Arzachena. Just outside town you can find the Fortezza di Monte Altura which is a popular day trip for tourists and locals alike while the aqua park near Porto Cervo is a favorite with families.
As for cuisine, Palau is also home to some world class restaurants which feature authentic Italian dishes from pizza, pasta, and a variety of seafood. Furthermore, water based activities are another attraction with scuba diving being the most common of these while nearby markets and souvenir shops ensure there is everything else you could need in the one place. Featuring a wide range of restaurants and accommodations, the unassuming nature of Palau should disappear after just a couple of days and make way for a memorable experience. When you consider the above and fact that Palau is ideally located to take adventures in the local area, it is unsurprising that this is one of the most sought after destinations in north Sardinia.
Palau Map
✔ Use the Google and Booking map below to explore the area.
✔ Fill in your holiday dates to get an accurate view of available accommodations near Palau.
Where to Stay in Palau - Our Top Picks
Things to Do in Palau
Visit Fortezza di Monte Altura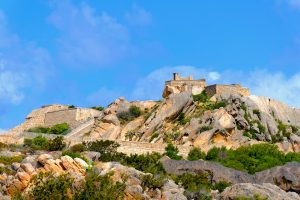 Fortezza di Monte Altura is a massive bastion which was constructed as a means of defense in the very north of Sardinia. At that time, many invasions occurred on the Maddalena Archipelago, and these imposing towers provided the perfect sweeping views of the surrounding area. As you might expect, this is now a tourist attraction and one in which you can even take an organized tour. Upon reaching the hill, more than 170 steps need to be climbed, and considering the warm Mediterranean climate, this is quite the feat for your average tourist. This stunning fortress was once home to soldiers, and on a tour, you can learn all about the array of weapons which they used. Furthermore, local tour guides will explain what daily life was like back then and how every aspect of the interior was utilized. At the same time, this is also just a spectacular sight as the bastion provides an epic subject for photography. Located high above the rugged coastline, the backdrop is special, but the fortress is undoubtedly a unique encounter.
Day Trip to the Maddalena Archipelago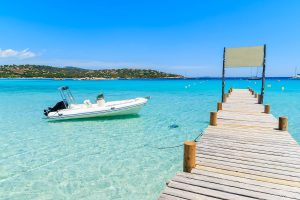 The Maddalena Archipelago is an enchanting National Park where beautiful islands are characterized by white powdered sands, and crystal blue waters provide relaxation in between. You can take a boat trip through this stunning region and drink in the scenery from the comfort of a boat. While Sardinia is famous for coastal scenery and ocean views, this pristine pocket is one of the more accessible places to explore on the island. As you might expect, visitors are always made to feel welcome on this tours and a part of the overall experience. Featuring professional guides and luxurious facilities, these vessels are arguably the best way to gain a different perspective of the scenery. As for the food, cured meats, and local cheese never fail to impress the guests, but there is also pasta, wine, and freshly baked bread. In most cases, guests will embark on a trip to various locations, and while some are quieter than others, the itinerary is the perfect mix of solitude and social interaction.
Scuba Diving and Snorkeling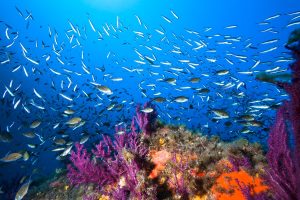 As you may know, this enchanting destination in the north of Sardinia is hugely popular for scuba diving. In fact, the Maddalena Archipelago consists of more than forty separate dive sites and easy access to some fascinating marine life. At the same time, Diving Palau Sardegna is also known for having a professional approach with excellent instructors and the highest quality equipment. Diving in the Lavezzi Reserve is just as popular and one of the best things to do in Palau. In this respect, Palau is ideally positioned to access the most popular dive sites throughout the region, and in most instances, these sites are also relatively close to the shore. With this in mind, there is little time spent on travel and more time spent underwater. Although this diving center is equipped to cater to beginners, even the most advanced divers are often impressed with the setup. Furthermore, having explored several dive sites in the region, it is clear that northern Sardinia is one of the best places to dive in Europe. Finally, if you fancy the idea of swimming next to dolphins or witnessing these creatures in their natural habitat, Palau us the perfect base from which to start your diving adventure.


More Places to Visit Near Palau
Palau Restaurants - Where to Eat
La Gritta (Seafood, Traditional Sardinian Food)
🏠
8
,
Via del Faro
,
Palau
,
Sardegna
,
07020
,
Italy
.
📱 Telephone:
+39 0789 708045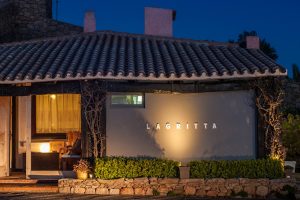 La Gritta is a family run restaurant in Palau and one with a great deal of history. After all, this eatery has graced the area for more than thirty years and is still the charming establishment which was first created in 1987. The menu has moved with the times so you will find both modern and authentic food on it. In fact, La Gritta is a Michelin Star restaurant, and this is usually evident in every dish from freshly made pasta to the local seafood. In case you might be asking yourself, this is not one of the cheapest places to eat in Palau, but the excellent standards are often the subject of five-star reviews. As for the interior, La Gritta is a somewhat traditional and old-fashioned place to eat where the cultured owner is represented in the antiquated design. Interestingly, the dining area faces out onto beautiful lawns with unrivaled views of Magdalena Island. In this sense, this is one of the more scenic restaurants in Palau and one where yachts and stunning ocean views provide a backdrop to a memorable food experience.
Da Robertino (Seafood, Italian Food)
🏠
20
,
Via Nazionale
,
Palau
,
Sardegna
,
07020
,
Italy
.
📱 Telephone:
+39 0789 709610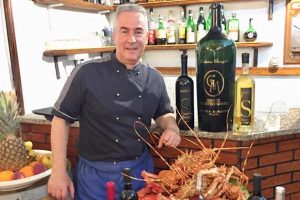 As with several restaurants in Palau, Da Robertino is a family owned establishment where affordable prices accompany quite a variety of dishes. Located in Palau at the very northern tip of Sardinia, this traditional restaurant is very popular and keen on attention to detail. With the above in mind, Da Robertino offers a quiet ambiance and relaxing atmosphere while the friendly staff is often the subject of glowing feedback. Online reviews are usually excellent in every other regard, and this is indeed true of the food. Featuring ample fish delicacies, delicate pasta, succulent steak and mouth-watering salads; you can find freshness at every turn. That is to say; these dishes consist of local produce so whether you opt for the friend scampi, a seafood platter or even just the pasta with tomato sauce, the cater put into every meal is obvious. Da Robertino is also a great place to enjoy an evening meal outdoors, and when it comes to price, this is also one of the most affordable restaurants in Palau.

Il Paguro
 (Seafood, Traditional Sardinian Food)
🏠
Ville Cala Capra
,
Palau
,
Sardegna
,
07020
,
Italy
.
📱 Telephone:
+ 39 0789 790307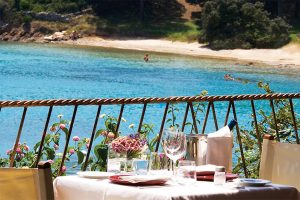 In many ways, the impressive sun terrace is one of the most attractive features of Il Paguro and a characteristic which seems to enable this restaurant in Palau to stand out. On the other hand, the panoramic views certainly help to make this all the more attractive and worthy of the reviews which touch on the setting. Although open for lunch meals, Il Paguro is most popular in the evening and best known for incredibly mouthwatering steak and lobster. Furthermore, the spider crabs are somewhat unique, and the shellfish never fails to impress guests. On the other hand, Il Paguro is also known for a particularly impressive gluten-free menu which uses the finest local produce to create some uniquely attractive options. 
Finally, the staff at this restaurant in Paula is friendly, and when it comes to an all-round experience where seafood and traditional Sardinian food can be found next to ocean views, Il Paguro is most certainly up there as one of the finest in the region.
How To Get To Palau
Have you thought about arranging a rental car in Sardinia?
For some great deals, check out our Sardinia Car Hire page!
The nearest airport to Palau is Olbia Costa Smeralda Airport, located about 33 kilometers south-east of the seaside village. To get to Palau via the fastest route by car, just hop on the Strada Statale 125 once you've left the airport. This road will practically lead you all the way to Palau. Once you're near Arzachena, you can either choose to go through the village by staying on the SS 125, or go around it by taking the Strada Provinciale 14 for a few kilometers. The SP 14 will lead you back on the SS 125 eventually. The total trip shouldn't take you longer than about 45 minutes.