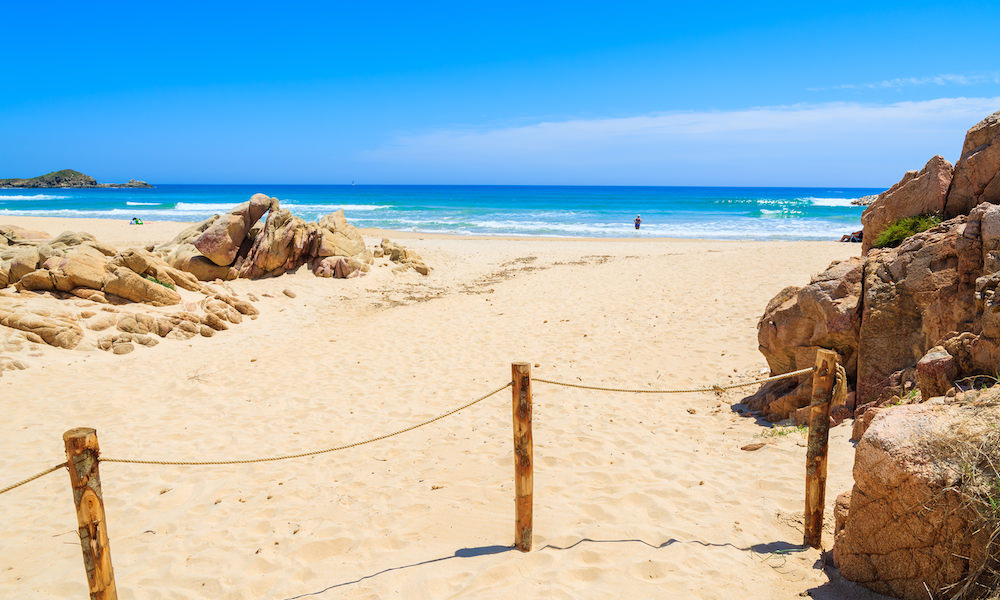 About Spiaggia Su Giudeu
Su Giudeu beach (Spiaggia di Su Giudeu, also called de s'Acqua Durci (fresh water)) is located just 1 kilometer south of the renowned Chia beach, near the southernmost point of Sardinia about 50 kilometers from Elmas airport in Cagliari. Su Giudeu is one of the best beaches in the Cagliari area, and arguably one of the best beaches of Sardinia. A popular beach for the alternative and surfing crowd of the island, Su Giudeu features several reefs just above the surface of the sea that make it good scuba diving spot. There's a diving center in the nearby Chia Laguna Resort. Apart from dudes with surfboards hunting for the highest Mediterranean waves, flocks of flamingos have chosen the area of Chia Su Giudeu as their playing ground in the lagoons nearby. In Setti Ballas, the 18-hole Chia Golf Club lies just behind the dunes of the beach, and the area has several hotels with restaurants.
Places to Stay near Spiaggia Su Giudeu
Chia Laguna - Hotel Village
A 4 star Resort near Spiaggia Su Giudeu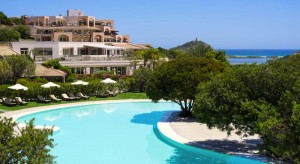 Just a few hundred meters from the beach you'll find the recently completely renovated Chia Village - Chia Laguna Resort, an excellent four-star beach resort featuring an infinity pool, private beaches, a tennis club and a golf club. Its restaurants serve Sardinian dishes both indoors and outdoors. Rooms include air conditioning, internet access and garden views. The Chia Laguna Resort offers a shuttle service that takes you to the beach.
Chia Laguna - Hotel Laguna
A 5 star Hotel near Spiaggia Su Giudeu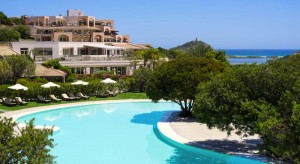 Set on the Chia promontory near the flamingo lagoon, you'll find the highly rated five-star Chia Laguna - Hotel Laguna. This luxurious child-friendly beach hotel is part of the larger Chia Laguna Resort and offers an excellent hotel experience near the sea, as well as access to a large variety of facilities and activities. All 72 spacious rooms and suites offer stunning sea views and have their own lounges. Bikes can be rented at the hotel, and jeeps, quads and horse-riding excursions can be arranged. Hotel Laguna has its own private beach.
Hotel Aquadulci
A 4 star Hotel near Spiaggia Su Giudeu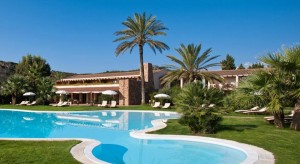 A little further south in Spartivento and directly behind Su Giudeu beach, you'll find Hotel Aquadulci. This four-star hotel offers 40 air conditioned rooms, a swimming pool and a fine restaurant overlooking a palm tree garden. Hotel Aquadulci offers free parking, a bike rental and sailboat rental service. From the hotel, it's easy to reach Cala Cipolla beach and Cala Zafferano, or go on a hiking trip in the green Cannoneris forest - one of the richest forests of Sardinia.
Hotel Su Giudeu
A 2 star Hotel near Spiaggia Su Giudeu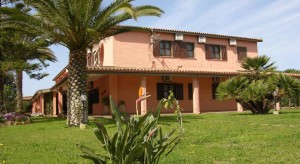 600 meters north-west of Campana beach, on Viale Spartivento, you'll find Hotel Su Giudeu. It's a cozy two-star family-run hotel that offers just 19 rooms, with views of the nearby beaches and the lagoon (Stagno de su Sali). All rooms are air-conditioned, and decorated in a simple Sardinian style. For guests, a buffet-style breakfast is served daily. The restaurant near the hotel serves traditional Sardinian dishes - often based on fresh fish and local products. Hotel Su Giudeu is an adult-only hotel, and its location makes it very suitable for an affordable seaside holiday in southern Sardinia, even if only for just one night.
How To Get To Spiaggia Su Giudeu
Su Giudeu beach can be reached from Cagliari by taking the SS 195 in the direction of Pula. After about 50 kilometers, turn left on Viale Chia and continue towards Setti Ballas. Turn left on Viale Spartivento, and continue towards Hotel Aquadulci and the lagoon. Continue for 500 meters and you will have reached Su Giudeu beach.
Map
Use the Google and Booking map below to explore the area.
Fill in your holiday dates to get an accurate view of available accommodations near Spiaggia Su Giudeu.
Beaches Near Spiaggia Su Giudeu