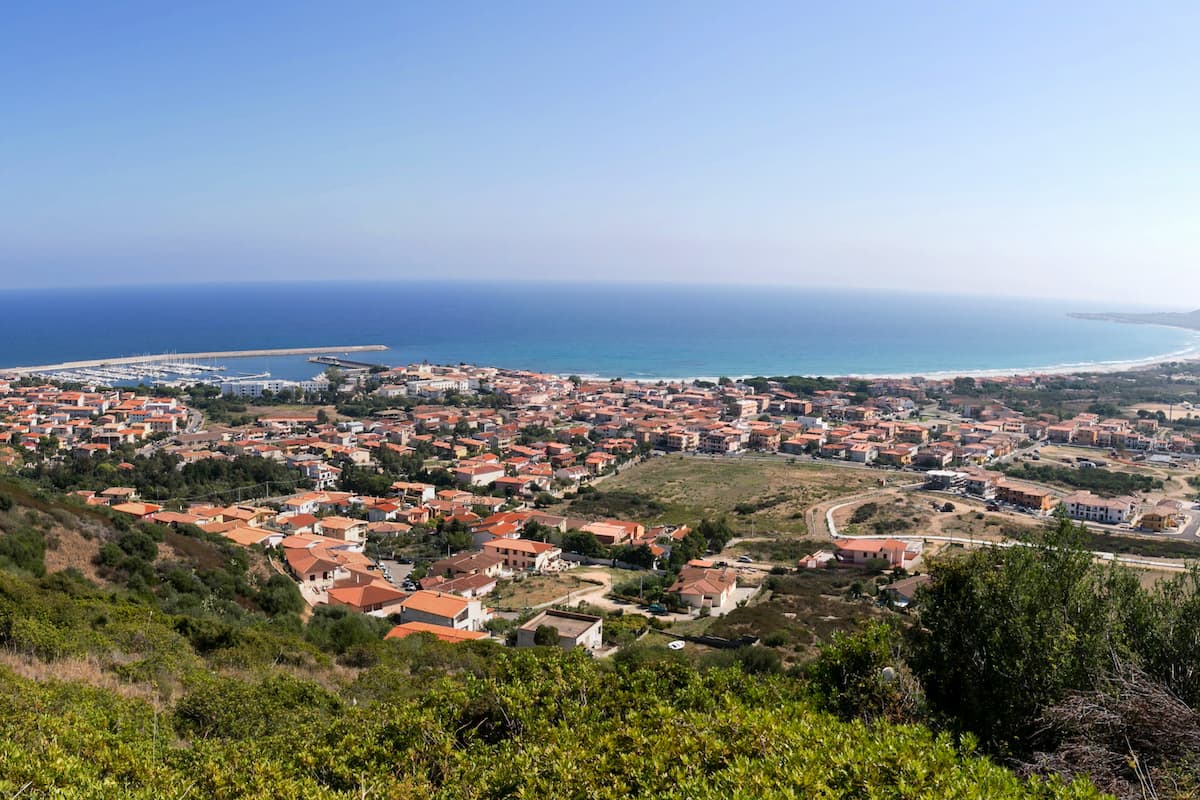 About La Caletta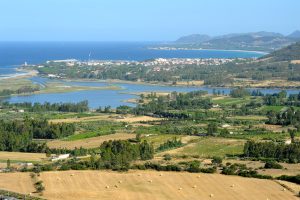 Located only 45 kilometers south-east of Olbia, La Caletta (English: "the Cove") is a charming seaside town in the province of Nuoro, where stunning beaches and azure waters offer the perfect getaway in east Sardinia. While this part of the coastline is especially popular with kitesurfers, La Caletta is also quite a traditional town with delightful cuisine and accommodations at every turn. The sandy beaches are the highlight of the area, more than ten kilometers of white powdered sand is right on your doorstep. In summer, the town can get quite busy with tourists. This is especially true during peak season when the village's population increases ten-fold. At the same time, tourists only add to the vibrant atmosphere on the island, and this allows for better infrastructure in La Caletta such as accommodation, restaurants, and amenities. There are also many things to do in La Calatta, a nearby Kite Surfing Club even offers Yoga classes and a wide range of water sports. Whether you opt for surfing, wakeboarding or sailing; these classes are led by experienced instructors, and the online reviews are always fantastic. The beaches of Spiaggia La Caletta, Spiaggia di San Giovanni and Spiaggia di Posada are free to enjoy, and the azure water is ideal for both swimming and snorkeling. Escaping the touristy side of La Caletta is rather easy as many isolated beaches are just a short drive from the edge of town. Santa Lucia, Capo Comino, and Posada are all close by. As for history and culture, La Caletta is a very traditional and cultured town. Although popular with tourists, this is only a recent transition, and the small harbor was actually transformed into a tourist attraction just thirty years ago. This has allowed La Caletta to maintain a very cultured reputation and the kind of warm welcome that you might expect in a small Sardinian fishing village. As you can see, La Caletta is such a cheerful fishing village and ideally located for exploring the eastern coast. There is often no reason to leave La Caletta itself, and the town is equipped with everything you could need for a memorable Sardinia holiday.
La Caletta Map
✔ Use the Google and Booking map below to explore the area.
✔ Fill in your holiday dates to get an accurate view of available accommodations near La Caletta.
Where to Stay in La Caletta - Our Top Picks
Hotel Village Fior di Sardegna
A 4 star Hotel in La Caletta, 1 kilometers from the center of town (about 0.6 miles.)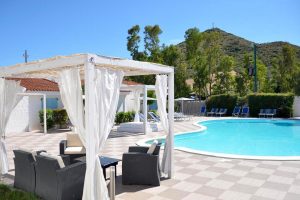 Located on the east coast of Sardinia and just a short drive from Olbia, this hotel in La Caletta is perfectly positioned on the doorstep of a private beach. Featuring a stunning swimming pool and various amenities, this is also the ideal getaway for a family or group of friends. That being said, the comfort, accommodation, and surroundings are suitable for just about any visitors, even couples. Hotel Fior di Sardegna is a four-star property so you can expect the highest level of comfort. The bright, spacious rooms are all located on the ground floor which makes access very convenient and then gives way to the "village" concept. The interior of these rooms is a particular highlight, and every room comes with Wi-Fi, air conditioning and a private bathroom. As for the amenities, Spiaggia di San Giovanni and Spiaggia di Posada are obvious highlights, and these are some of the most beautiful white powdered sands anywhere along the east coast. What's more, the tennis courts offer the perfect excuse to keep active, and several excursions can be organized through the hotel reception. All considered, this La Caletta hotel is an ideal luxury escape and a private hideaway next to one of the most beautiful beaches in east Sardinia.
Hotel Residence Hibiscus
A 3 star Hotel in La Caletta, 0.3 kilometers from the center of town (about 0.2 miles.)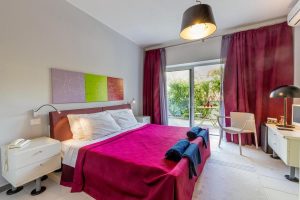 For many visitors, Residence Hibiscus is one of the best valued three-star hotels in Caletta. Situated next to the town Marina and a pristine stretch of beach, this is also one of the more conveniently placed hotels in the area. Featuring a modern design and various room options, Hotel Residence Hibiscus is also a convenient hotel with all the amenities you might expect to accompany a holiday in Sardinia. Each apartment has air conditioning, Wi-Fi, a fully equipped kitchen, and even a balcony with sublime views. Meanwhile, beautiful gardens surround this accommodation, and this is the perfect place to take refuge from the midday sun. As with many hotels in La Caletta, excursions can be organized from the front reception, and Hotel Residence Hibiscus receives some especially impressive reviews for its breakfast alone. With competitive pricing and friendly staff, this is undoubtedly one of the most appealing hotels on the east coast of Sardinia.
Things to Do in La Caletta
Spiaggia La Caletta is a top location in east Sardinia for kitesurfing and a fantastic place to learn given the two kitesurfing schools on this beach. Both located just a short distance from town, La Caletta Kite School and Kite Surf La Caletta receive positive feedback online. Featuring professional instructors, excellent equipment and a beautiful setting, the schools also offer the opportunity to go surfing and stand-up paddle boarding (SUP). What's more, the wind is present all year-round which makes it ideal for such activities. The beach itself is one of the finest stretches on the entire eastern coastline. All considered, this is undoubtedly the hub for outdoor activities in La Caletta, and with such an excellent reputation, both of these schools come highly recommended for those who wish to learn to kitesurf.
Learning to sail is another exciting and fun thing to do in La Caletta. It is very much an educational experience given that the course lasts for twenty hours and include both theory and practical guidance for every aspect of sailing. What's more, these courses are suitable for all ages and no experience is required to get started. Some of the sailing lessons take place on land but more than enough time is spent out on the ocean. Featuring a fine lineup of modern and robust sailing boats, students can take to the seas and have peace of mind in the presence of experienced instructors. The coastline accompanying La Caletta is stunning in every way which makes this a thoroughly enjoyable place to learn how to sail, and a fantastic way to take in a very different perspective of the island nearby.
More Places to Visit Near La Caletta
La Caletta Restaurants - Where to Eat
Ristorante Bar La Nuova Torre (Seafood, Italian Food, Pizza)
🏠
Viale del Porto
,
Posada
,
Sardegna
,
08020
,
Italy
.
📱 Telephone:
+39 0784 810388
Situated just a stone's throw from Torre di San Giovanni, this restaurant in La Caletta offers some of the most delightful cuisine in the region. Along with the beautiful outdoor seating area and view, this ancient defense tower is one of the main reasons why Ristorante Bar La Nuova Torre is best known. Featuring everything from pizza and pasta to seafood and Mediterranean dishes, Ristorante Bar La Nuova Torre has a wide range of food to suit all tastes. What's more, the friendly staff and comfortable dining areas ensure the overall experience is more than worthy of the cost. This restaurant is also competitively priced and has a variety of affordable local wines. Whether you wish to step on over to the tower or not, Ristorante Bar La Nuova Torre has fantastic views, sublime food and the kind of friendly service you might expect in this stunning part of Sardinia.
Locanda Fuffuraju (Seafood, Italian Food, Vegan)
🏠
67
,
Via Livorno
,
La Caletta
,
Sardegna
,
08029
,
Italy
.
📱 Telephone:
+39 0784 812069
Locanda Fuffaraju is a restaurant in La Caletta which specializes in both Italian and Mediterranean cuisine. You will find many gluten-free and vegetarian options along with seafood and certain barbecue meats. Meanwhile, pasta and the usual local delights are all on offer while croissants and coffee offer the perfect mid-morning snack. As for the interior, you will find some unique architecture with a nice blend of stone and wooden features giving it a rustic appearance. The restaurant almost feels like an old home of a fisherman, and this is especially true in the living room, where delightful aromas drift in from the kitchen. On the other hand, the terrace outside is beautifully presented and an ideal spot for lunch. Finally, the staff at Locanda are often the subject of praise in online reviews, and with competitive pricing, this is undoubtedly one of the best restaurants in La Caletta.