About Isola Maddalena
Isola Maddalena is one of seven main islands of an archipelago which is also home to the islands of Santa Maria, Razzoli, Spargi, Budelli, Caprera, and Santo Stefano. The archipelago is a designated national park and known to locals as "Parco Nazionale dell'Arcipelago di La Maddalena", or "Parco La Maddalena" in short. It's true; Isola Maddalena, the largest island of the archipelago, is overflowing with natural beauty, making it one of northeast Sardinia's most popular tourist hot spots.
The park is home to a wide variety of plant and animal species, including dolphins, sea turtles, and several species of birds. Many beaches and coves (Spiaggia di Cala Spalmatore, Spiaggia di Bassa Trinita, Spiaggia Testa di Polpo on Isola Giardinelli to name a few) around the island are accessible only by boat, which adds to the sense of unbound adventure and discovery. Once there, the journey continues because visitors can explore the park on foot, by bike, or by boat and enjoy the stunning natural beauty of the archipelago.
La Maddalena town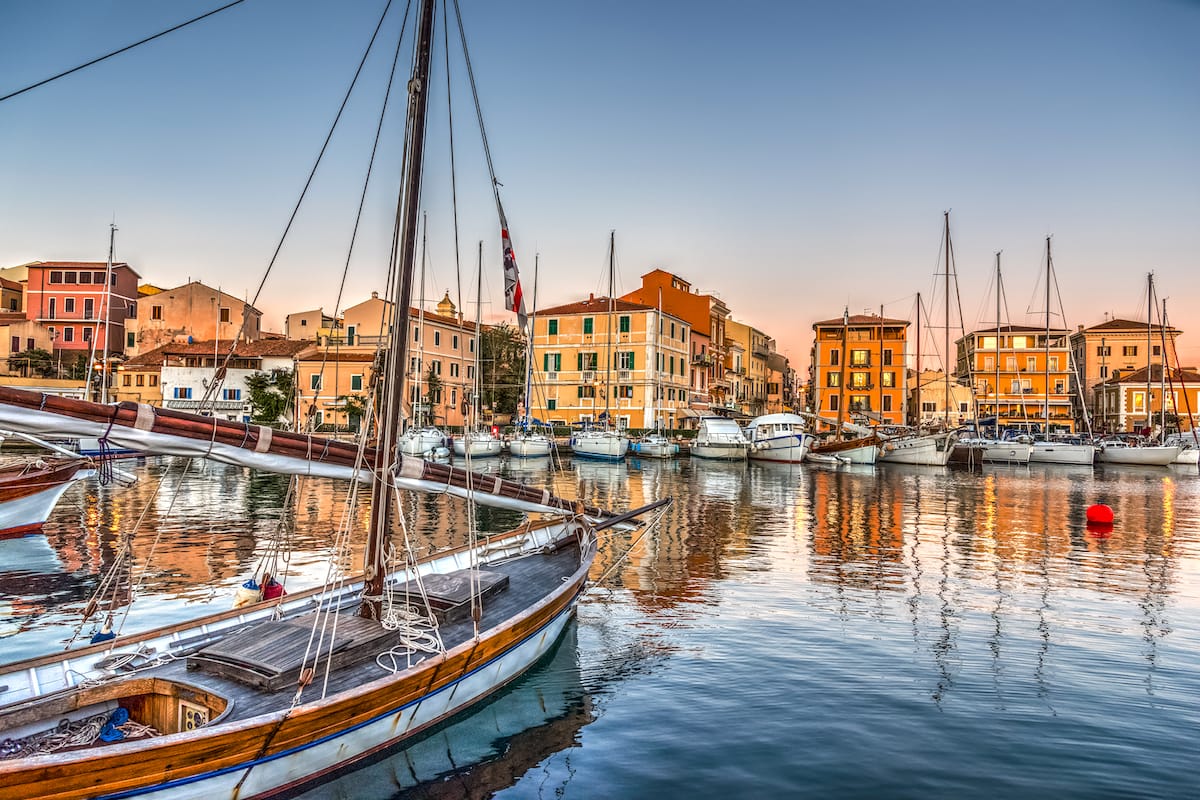 La Maddalena has a population of approximately 11000 people. It is the main town on the island and is only accessible by ferry from the mainland harbor village of Palau. Located 24 kilometers from Santa Teresa Gallura, Palau is the main port for trips to La Maddalena Archipelago. Maddalena village is best known for its rich cultural heritage, as several civilizations, including the Romans, the Byzantines, the Pisans, and the Genoese, have influenced it. You will find remnants of this history throughout town.
Visitors can explore these historic landmarks, including the 18th-century Church of Santa Maria Maddalena and the Forte S. Andrea, a historic fortress that now houses a museum. The cobbled streets are narrow and winding, and the houses are painted in bright, pastel colors. The town has many small cafes, restaurants, and shops selling everything from handmade ceramics to locally produced cheese and wine.


Isola Maddalena Map
✔ Use the Google and Booking map below to explore the area.
✔ Fill in your holiday dates to get an accurate view of available accommodations near Isola Maddalena.
Where to Stay in Isola Maddalena - Our Top Picks
Grand Hotel Resort Ma&Ma
A 5 star Resort in Isola Maddalena, a short distance from the center of town.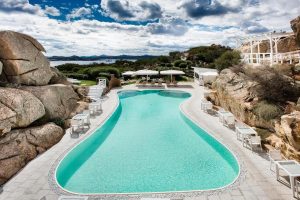 Located on the southwest coast of the island, the Grand Hotel Resort & Spa Ma&Ma features many high-end amenities and services to ensure a memorable stay on Isola Maddalena. It's the only 5-star accommodation on Isola Maddalena. Rooms are comfortable with sea or garden views. There is also a modern wellness center with a sauna, Turkish bath, indoor pool, a fully equipped fitness center, and several restaurants and bars serving gourmet cuisine and cocktails. The hotel is best known for high-end features, such as the Michelin-starred restaurant and the rooftop bar with stunning views of the surrounding landscape. Meanwhile, the elegant decor helps create a relaxing atmosphere, making it a popular choice for couples and families looking for a memorable vacation in a beautiful setting. Guests can enjoy various activities and excursions, such as boat tours of the archipelago, snorkeling and scuba diving in the crystal-clear waters, and exploring the beautiful beaches and rugged landscapes of Isola Maddalena. Overall, the Grand Hotel Resort & Spa Ma&Ma is a top-rated luxury hotel that offers a truly memorable experience with high-end amenities, beautiful surroundings, and excellent service.
Hotel Cala Lunga 


A 4 star Hotel in Isola Maddalena, a short distance from the center of town.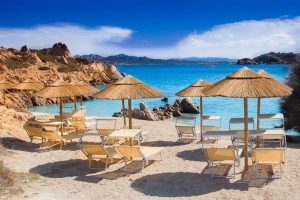 Hotel Cala Lunga is a charming beachfront hotel set in a beautiful natural Sardinian landscape, with views of the crystal-clear waters of the sea and the surrounding islands. You can expect many amenities and services, including comfortable and well-appointed rooms with sea views, a restaurant serving delicious Italian cuisine, and a bar serving various drinks and cocktails. A swimming pool and sun terrace allow guests to relax and enjoy the beautiful scenery. If you would like to explore the island and the surrounding archipelago, it's possible to take a boat tour of the area, go snorkeling or scuba diving in the clear waters, or explore the beautiful beaches and rugged landscapes of La Maddalena. Overall, Hotel Cala Lunga is a fantastic place to stay that offers guests a relaxing and enjoyable stay in a beautiful setting. The hotel's friendly and welcoming staff, comfortable rooms, and excellent location also make this hotel a popular choice for couples and families looking for a memorable vacation in the heart of Parco Nazionale dell'Arcipelago di La Maddalena.

Things to Do in Isola Maddalena
See Cappella della Madonnetta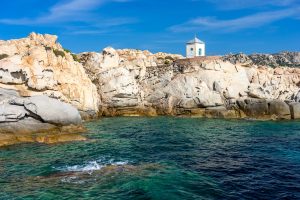 If you've arranged a rental car, driving around Isola Maddalena is good fun. For instance, you can visit Cappella della Madonnetta, the perfect place to say a little prayer or take a few panoramic pictures and selfies. Capella della Madonetta, located near Cala Francese on the west coast of the island, faces west, making it an excellent place to witness the sun set behind Isola Spargi. Standing on a granite boulder overlooking the sea, the little chapel was built in 1923 after fishermen found shelter near this inlet after a heavy storm. After many years, this legendary tale has engrained itself into Sardinian culture, and the chapel is still a destination of pilgrimages today. You can reach the chapel by car from the center of La Maddalena by taking the SP14 toward Cala Francese. The drive shouldn't take longer than 15 minutes. The last few hundred meters will be on a gravel road which is generally in decent condition. There's a dusty parking area 100 meters behind the chapel.
Fort S. Andrea Heritage Museum
The 

Fort S. Andrea Museum is located on a hilltop overlooking the sea and features incredible panoramic views of the surrounding area. Initially built in the 18th century to protect the area from invasion by sea, this historic fort was also used during World War II by the Italian Navy as a base for submarines. In 2003, the fort was restored and converted into a museum to showcase the culture and heritage of Isola Maddalena. The museum features a variety of exhibits that highlight the history and traditions of La Maddalena. Visitors can explore the fort's underground tunnels, which soldiers used to move throughout the fortress undetected. This incredible museum also includes a collection of historical artifacts such as ancient coins, pottery, and military memorabilia. The "Napoleonic Room" is another highlight which displays artefacts and information about the French occupation of the island under Napoleon Bonaparte. Visitors can see original documents and artefacts from the period and a replica of the bed where Napoleon allegedly slept during his visit to the island.
Museo Diocesano di La Maddalena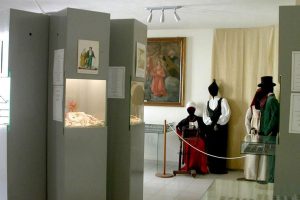 This fascinating museum showcases the island's rich cultural heritage. Located in the historic center, this beautiful 18th-century building was once home to the bishop of La Maddalena and features a long line of religious artifacts, including paintings, sculptures, and works of art. One of the highlights of the Museo Diocesano is the "Treasury Room," which holds a collection of silver and gold chalices, reliquaries, and crosses. The room also contains an 18th-century altar made of marble. The "Cappella del Crocifisso" is another exciting exhibit, and this small chapel houses iconic frescoes and a crucifix that is believed to date back to the 16th century. Visitors to the Museo Diocesano can also learn about the island's history and relationship with the Church. This fascinating glimpse into the religious and cultural traditions of the region helps provide a new perspective of La Maddalena and a greater understanding of the island in general. If you are interested in art, history, or culture, the Museo Diocesano is worth the visit and is one of the most exciting things to do in La Maddalena.
Full-Day Catamaran Trip from Palau to Maddalena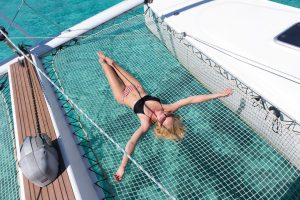 A catamaran trip from Palau to Maddalena is an unforgettable experience with stunning views of the coastline and crystal-clear waters of the Maddalena archipelago. The tour begins in the harbor of Palau, a picturesque town on the northern coast of Sardinia. From this area, you will board a catamaran and sail across the Strait of Bonifacio to the island of Maddalena. During the boat trip, you can relax on deck and soak up the sun while enjoying the breathtaking views. A catamaran is such an enjoyable way to travel, but the truth is, most visitors fall in love with the stunning secluded beaches, turquoise waters, and unspoiled natural beauty on this trip. The captain will occasionally stop to allow you and other guests to snorkel and explore the marine life around the bay. The water is crystal clear so you can expect near-perfect visibility and conditions for swimming and snorkeling. You need not worry about food and drink because spaghetti with wine and other beverages is served for lunch. This full-day boat tour from Palau is popular in Maddalena and begins at 9 am daily.
More Places to Visit Near Isola Maddalena
Isola Maddalena Restaurants - Where to Eat
Ristorante L'Agriturismo (Italian Food, Traditional Sardinian Food)
🏠
Regione Gambino
,
Sardegna
,
07024
,
Italy
.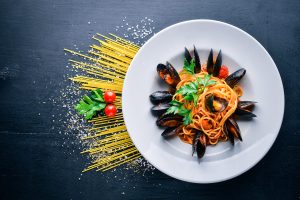 Ristorante L'Agriturismo offers guests a taste of traditional Sardinian cuisine, focusing on fresh and locally sourced ingredients. More specifically, the menu at Ristorante L'Agriturismo features a range of dishes that highlight the region's flavors, including seafood, meats, and fresh vegetables. Guests can enjoy classic dishes such as spaghetti alle vongole (spaghetti with clams), fregola con arselle e bottarga (a couscous-like pasta with clams), and seadas (honey and pastries, a traditional Sardinian dessert.) The restaurant is set in a beautiful rural part of La Maddalena, with a garden and outdoor seating area where guests can enjoy their meals in the sunshine. The atmosphere is warm and welcoming, and the staff is frequently cited as friendly and attentive regarding online reviews. All considered, Ristorante L'Agriturismo is an impressive restaurant that offers a true taste of authentic Sardinian cuisine in a beautiful setting. The restaurant's focus on fresh and locally sourced ingredients is also apparent. It makes this eatery a popular choice for visitors who want to experience the local culture and cuisine of La Maddalena.
Trattoria Dal Genovese (Seafood, Traditional Sardinian Food)
🏠
10
,
Via Manfredo Fanti
,
La Maddalena
,
Sardegna
,
07024
,
Italy
.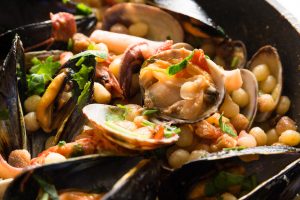 Trattoria Dal Genovese is located in one of the prettiest cobbled alleys in the heart of La Maddalena. It is best known for its delicious seafood dishes and friendly atmosphere. As for the menu, Trattoria Dal Genovese features a range of traditional Sardinian and Genoese dishes, focusing on fresh seafood. Enjoy classic dishes, including spaghetti with clams, mixed fried seafood, and lobster with tomatoes and onions. The eatery is decorated with traditional Sardinian decor, creating a warm and inviting atmosphere. The friendly staff also suggests recommendations and explains dishes to visitors who might need assistance. Trattoria Dal Genovese is regarded as one of the best places to eat in La Maddalena for good reason, and the focus on fresh seafood is one of those reasons. If you want to enjoy authentic local food in a very Sardinian setting, you cannot go wrong with this beautiful restaurant in La Maddalena.
Beaches Near Isola Maddalena