About Isola Maddalena
Isola Maddalena is one of seven main islands of an archipelago which is also home to the islands of Santa Maria, Razzoli, Spargi, Budelli, Caprera, and Santo Stefano. The archipelago is a designated national park and known to locals as "Parco Nazionale dell'Arcipelago di La Maddalena", or "Parco La Maddalena" in short. It's true; Isola Maddalena, the largest island of the archipelago, is overflowing with natural beauty, making it one of northeast Sardinia's most popular tourist hot spots.
The park is home to a wide variety of plant and animal species, including dolphins, sea turtles, and several species of birds. Many beaches and coves (Spiaggia di Cala Spalmatore, Spiaggia di Bassa Trinita, Spiaggia Testa di Polpo on Isola Giardinelli to name a few) around the island are accessible only by boat, which adds to the sense of unbound adventure and discovery. Once there, the journey continues because visitors can explore the park on foot, by bike, or by boat and enjoy the stunning natural beauty of the archipelago.
La Maddalena Town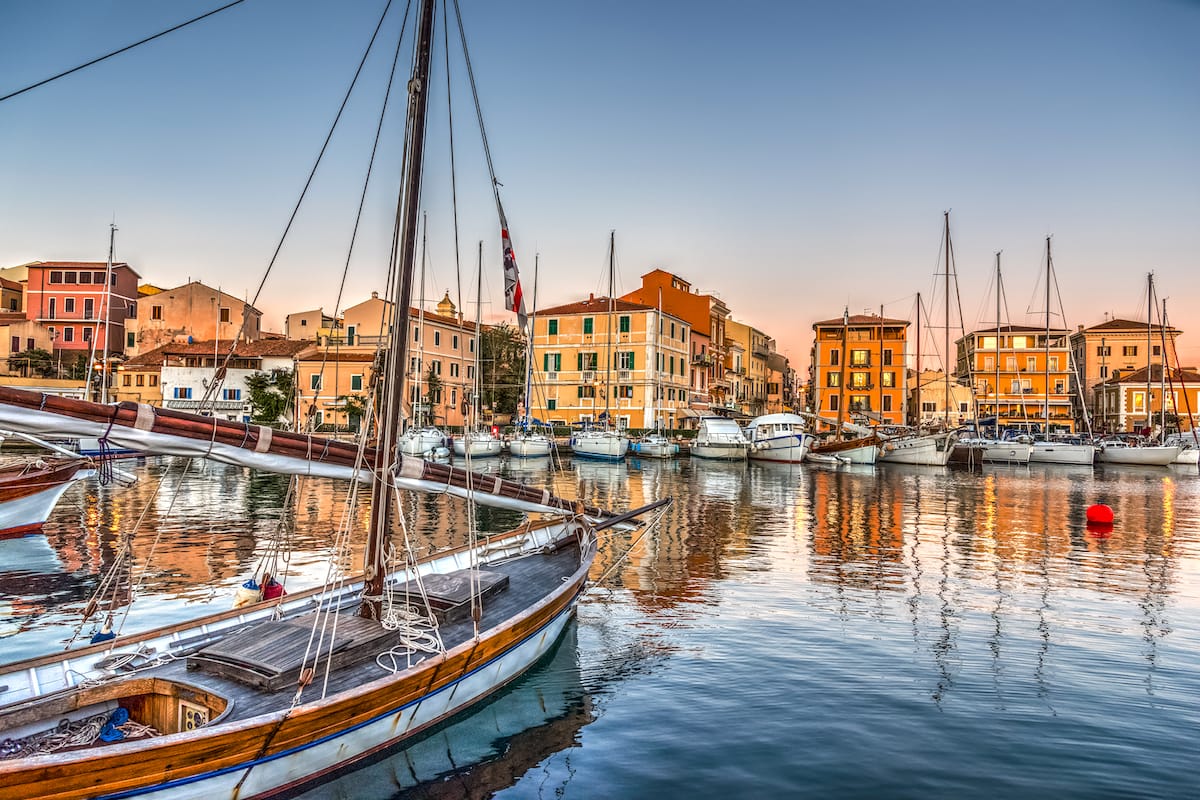 La Maddalena has a population of approximately 11000 people. It is the main town on the island and is only accessible by ferry from the mainland harbor village of Palau. Located 24 kilometers from Santa Teresa Gallura, Palau is the main port for trips to La Maddalena Archipelago. Maddalena village is best known for its rich cultural heritage, as several civilizations, including the Romans, the Byzantines, the Pisans, and the Genoese, have influenced it. You will find remnants of this history throughout the seaside town.
Visitors can explore these historic landmarks, including the 18th-century Church of Santa Maria Maddalena and the Forte S. Andrea, a historic fortress that now houses a museum. The cobbled streets are narrow and winding, and the houses are painted in bright, pastel colors. The town has many small cafes, restaurants, and shops selling everything from handmade ceramics to locally produced cheese and wine.
How to Get to La Maddalena
From Palau
All year round, there are active ferry connections available from the port of Palau to the island of La Maddalena. Several ferry companies operate this route. It takes only 15 minutes to cross to the port of Cala Gavetta in La Maddalena.
Throughout the day, ferries depart every 30 to 60 minutes. For one adult without a car or motorcycle, expect to pay between €2.00 – €4.00.

If you'd like to take your car to Maddalena, use the ticket configurator on the ferry website and specify your type and model. To ensure a smooth boarding process, be sure to reach the harbor approximately an hour in advance to purchase your tickets and embark. If you plan to bring your vehicle along, please note that the process may take a little longer. Pets are welcome to travel along but often must be paid for separately.
Regarding rental car availability and choice, arranging a vehicle on the mainland is better than on La Maddalena.
You can book a rental car in advance here.
Buy ferry tickets to La Maddalena online at ferry hopper.com You can compare schedules and fares of all companies.


Isola Maddalena Map
✔ Use the Google and Booking map below to explore the area.
✔ Fill in your holiday dates to get an accurate view of available accommodations near Isola Maddalena.
Where to Stay in Isola Maddalena - Our Top Picks
Grand Hotel Resort Ma&Ma
A 5 star Resort in Isola Maddalena, 1.5 kilometers from the center of town (about 0.9 miles.)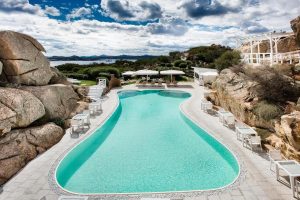 Located on the southwest coast of the island, the Grand Hotel Resort & Spa Ma&Ma features many high-end amenities and services to ensure a memorable stay on Isola Maddalena. It's the only 5-star accommodation on Isola Maddalena. Rooms are comfortable with sea or garden views. There is also a modern wellness center with a sauna, Turkish bath, indoor pool, a fully equipped fitness center, and several restaurants and bars serving gourmet cuisine and cocktails. The hotel is best known for high-end features, such as the Michelin-starred restaurant and the rooftop bar with stunning views of the surrounding landscape. Meanwhile, the elegant decor helps create a relaxing atmosphere, making it a popular choice for couples and families looking for a memorable vacation in a beautiful setting. Guests can enjoy various activities and excursions, such as boat tours of the archipelago, snorkeling and scuba diving in the crystal-clear waters, and exploring the beautiful beaches and rugged landscapes of Isola Maddalena. Overall, the Grand Hotel Resort & Spa Ma&Ma is a top-rated luxury hotel that offers a truly memorable experience with high-end amenities, beautiful surroundings, and excellent service.
Hotel Cala Lunga 


A 4 star Hotel in Isola Maddalena, 5.1 kilometers from the center of town (about 3.2 miles.)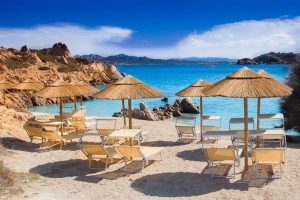 Hotel Cala Lunga is a charming beachfront hotel set in a beautiful natural Sardinian landscape, with views of the crystal-clear waters of the sea and the surrounding islands. You can expect many amenities and services, including comfortable and well-appointed rooms with sea views, a restaurant serving delicious Italian cuisine, and a bar serving various drinks and cocktails. A swimming pool and sun terrace allow guests to relax and enjoy the beautiful scenery. If you would like to explore the island and the surrounding archipelago, it's possible to take a boat tour of the area, go snorkeling or scuba diving in the clear waters, or explore the beautiful beaches and rugged landscapes of La Maddalena. Overall, Hotel Cala Lunga is a fantastic place to stay that offers guests a relaxing and enjoyable stay in a beautiful setting. The hotel's friendly and welcoming staff, comfortable rooms, and excellent location also make this hotel a popular choice for couples and families looking for a memorable vacation in the heart of Parco Nazionale dell'Arcipelago di La Maddalena.

Hotel Il Gabbiano
A 3 star Hotel in Isola Maddalena, 0.9 kilometers from the center of town (about 0.6 miles.)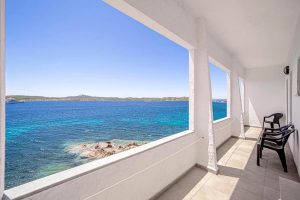 Built in 1955, Il Gabbiano was the first hotel on Isola Maddalena and is located near the port. You'll likely spot it when you're on the ferry from Palau to La Maddalena! At the 3-star Il Gabbiano, you will find lush gardens and unobstructed ocean views next to the hotel, which makes this an ideal place to escape the noise and embrace the natural beauty of Isola Maddalena. The 35 rooms at Hotel II Gabbiano are beautifully decorated with bright colors and traditional and modern furnishings. Each room has Wi-Fi, air conditioning, flat-screen television, and a balcony or terrace. These small outdoor spaces offer stunning views of the ocean and a great spot to relax and unwind before an evening meal. The restaurant serves a wide range of Sardinian meals and a selection of seafood dishes. You can also expect a rather large and delicious breakfast in the mornings and a large outdoor terrace overlooking the sea. There is also a hotel bar and an outdoor swimming pool where many guests can relax during the day. Overall, Hotel Il Gabbiano is an accommodation with peaceful surroundings and a beautiful interior that balances space, comfort, and style.
Things to Do in Isola Maddalena
More Places to Visit Near Isola Maddalena
Isola Maddalena Restaurants - Where to Eat
Trattoria Dal Genovese (Seafood, Traditional Sardinian Food)
🏠
10
,
Via Manfredo Fanti
,
La Maddalena
,
Sardegna
,
07024
,
Italy
.
📱 Telephone:
+39 379 244 7746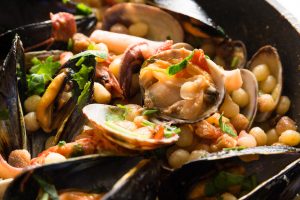 Trattoria Dal Genovese is located in one of the prettiest cobbled alleys in the heart of La Maddalena. It is best known for its delicious seafood dishes and friendly atmosphere. As for the menu, Trattoria Dal Genovese features a range of traditional Sardinian and Genoese dishes, focusing on fresh seafood. Enjoy classic dishes, including spaghetti with clams, mixed fried seafood, and lobster with tomatoes and onions. The eatery is decorated with traditional Sardinian decor, creating a warm and inviting atmosphere. The friendly staff also suggests recommendations and explains dishes to visitors who might need assistance. Trattoria Dal Genovese is regarded as one of the best places to eat in La Maddalena for good reason, and the focus on fresh seafood is one of those reasons. If you want to enjoy authentic local food in a very Sardinian setting, you cannot go wrong with this beautiful restaurant in La Maddalena.
Lo Strangolato Ristorante & Lounge Bar (Seafood, Traditional Sardinian Food)
🏠
Località Abbatoggia
,
Sardegna
,
07024
,
Italy
.
📱 Telephone:
+39 379 130 5799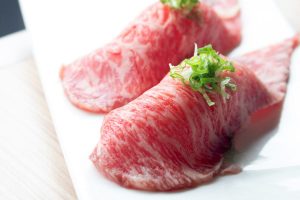 Located at Spiaggia dello Strangolato on the northern tip of Isola Maddalena, Lo Strangolato Restaurant is a charming restaurant with a friendly atmosphere and an impressive seafood menu. The restaurant maintains a rustic or traditional feel inside an ancient building while ensuring high comfort. Although the interior is nicely decorated, the outdoor terrace at Lo Strangolato Restaurant is arguably the main attraction as it sits right by the water's edge and features spectacular ocean views. The beachfront restaurant is family-run, which is largely why Lo Strangolato gives off a local vibe. The staff is also notably friendly, and the menu reflects the long Sardinian heritage behind the family itself. You can expect a nice mix of Sardinian dishes, seafood, and gluten-free and vegan options. This includes multiple fish types, octopus, shrimp, and a special seafood pasta called bottarga. Either way, the colorful menu has something for everyone, especially seafood lovers. This excellent restaurant ticks all the right boxes regarding character, personality, and cultural appeal, and the impressive line-up will impress. 
Isola Maddalena Nightlife
The Duke Cocktail & Lounge Bar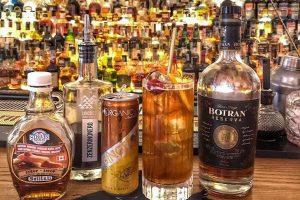 The Duke Cocktail & Lounge Bar is situated in the center of La Maddalena town and is best known for having an extensive menu of cocktails. The colorful cocktail bar is also characterized by an energetic crowd and atmosphere. The Duke is a very stylish place to go out and features dim lighting, up-market furnishings, and the kind of atmosphere where friends can mingle and converse without having to shout over the music! Getting back to the drinks, the Duke has an incredible variety of cocktails, from negronis and martinis to more innovative beverages with locally sourced ingredients. You will find wines from different corners of Sardinia and Italy, and the quality of these wines is notable. When it comes to food, the Duke also serves snacks and small plates of delicacies which go down well despite not constituting an actual meal. Meanwhile, the indoor seating area is cozy and comfortable. Still, many guests prefer to lounge on the outdoor terrace, where an ocean breeze and sea views can make for a memorable night at the Duke in La Maddalena.
Beaches Near Isola Maddalena