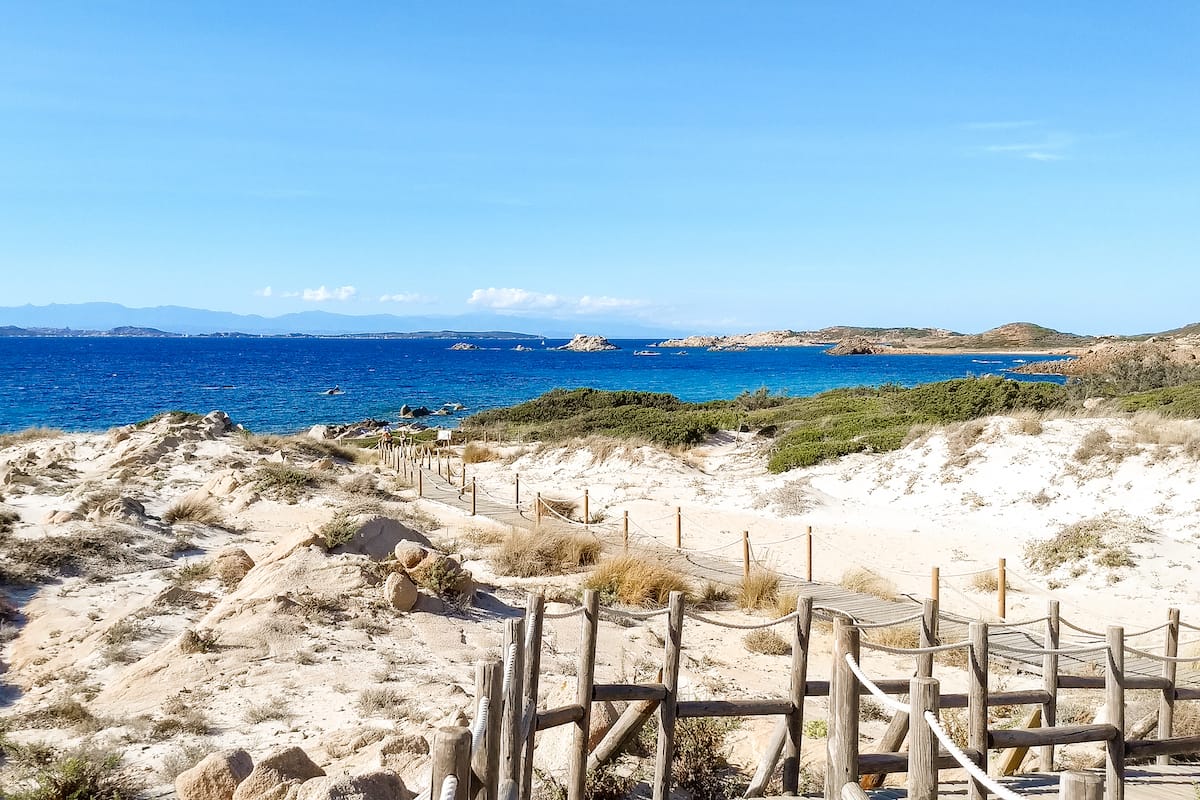 About Spiaggia di Bassa Trinita
near , Province of Sassari, North-East Sardinia, Italy.
parking, bar, restaurant, wooden pathway.
snorkelling.
17:50 PM
08:34 AM
80 meters.
suitable for families with children.
Spiaggia di Bassa Trinita is a beach just 3 kilometers from the center of La Maddalena town on Isola Maddalena.
It faces northwest toward Isola Spargi and Isola Budelli.
Although relatively small, with a length of 80 meters, the white sand and blue water is more than enough reason to visit this beautiful slice of the Mediterranean archipelago.
The calm waters make it especially ideal for swimming and snorkeling, and the islands mentioned above really add to the view from the shoreline. This is also a hotspot for other types of water sports and is just as popular for sunbathers looking to rest and relax.
The trees and vegetation next to Spiaggia di Bassa Trinita provide some shade, which is always a bonus when the hot midday sun arrives. You will also find large granite rocks running alongside the beach, which visitors often climb to get a better vantage point for photographs. If you come midweek, there are also fewer people, but regardless, this beach on Isola Maddalena is relatively quiet, even on the weekends.
But what about the nearby facilities?
There is a car park approximately 200 meters behind the beach, and you will find cafes and restaurants just down the road. In fact, with just 3km to travel to the center, this beach is one of the easiest to access and a must-visit attraction for any visitors to the magical island of La Maddalena.
Despite the small size, Spiaggia di Bassa Trinita is a quiet beach within easy reach of the main town where you can swim, snorkel and sunbathe.
Places to Stay near Spiaggia di Bassa Trinita
Grand Hotel Resort Ma&Ma
A 5 star Resort 3.4 kilometers from Spiaggia di Bassa Trinita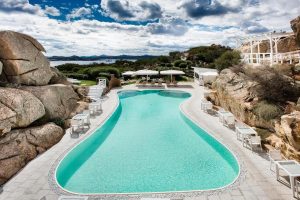 Located on the southwest coast of the island, the Grand Hotel Resort & Spa Ma&Ma features many high-end amenities and services to ensure a memorable stay on Isola Maddalena. It's the only 5-star accommodation on Isola Maddalena. Rooms are comfortable with sea or garden views. There is also a modern wellness center with a sauna, Turkish bath, indoor pool, a fully equipped fitness center, and several restaurants and bars serving gourmet cuisine and cocktails. The hotel is best known for high-end features, such as the Michelin-starred restaurant and the rooftop bar with stunning views of the surrounding landscape. Meanwhile, the elegant decor helps create a relaxing atmosphere, making it a popular choice for couples and families looking for a memorable vacation in a beautiful setting. Guests can enjoy various activities and excursions, such as boat tours of the archipelago, snorkeling and scuba diving in the crystal-clear waters, and exploring the beautiful beaches and rugged landscapes of Isola Maddalena. Overall, the Grand Hotel Resort & Spa Ma&Ma is a top-rated luxury hotel that offers a truly memorable experience with high-end amenities, beautiful surroundings, and excellent service.
Hotel Cala Lunga 


A 4 star Hotel 3 kilometers from Spiaggia di Bassa Trinita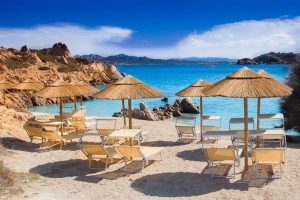 Hotel Cala Lunga is a charming beachfront hotel set in a beautiful natural Sardinian landscape, with views of the crystal-clear waters of the sea and the surrounding islands. You can expect many amenities and services, including comfortable and well-appointed rooms with sea views, a restaurant serving delicious Italian cuisine, and a bar serving various drinks and cocktails. A swimming pool and sun terrace allow guests to relax and enjoy the beautiful scenery. If you would like to explore the island and the surrounding archipelago, it's possible to take a boat tour of the area, go snorkeling or scuba diving in the clear waters, or explore the beautiful beaches and rugged landscapes of La Maddalena. Overall, Hotel Cala Lunga is a fantastic place to stay that offers guests a relaxing and enjoyable stay in a beautiful setting. The hotel's friendly and welcoming staff, comfortable rooms, and excellent location also make this hotel a popular choice for couples and families looking for a memorable vacation in the heart of Parco Nazionale dell'Arcipelago di La Maddalena.

Hotel Il Gabbiano
A 3 star Hotel 3.5 kilometers from Spiaggia di Bassa Trinita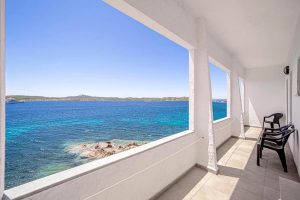 Built in 1955, Il Gabbiano was the first hotel on Isola Maddalena and is located near the port. You'll likely spot it when you're on the ferry from Palau to La Maddalena! At the 3-star Il Gabbiano, you will find lush gardens and unobstructed ocean views next to the hotel, which makes this an ideal place to escape the noise and embrace the natural beauty of Isola Maddalena. The 35 rooms at Hotel II Gabbiano are beautifully decorated with bright colors and traditional and modern furnishings. Each room has Wi-Fi, air conditioning, flat-screen television, and a balcony or terrace. These small outdoor spaces offer stunning views of the ocean and a great spot to relax and unwind before an evening meal. The restaurant serves a wide range of Sardinian meals and a selection of seafood dishes. You can also expect a rather large and delicious breakfast in the mornings and a large outdoor terrace overlooking the sea. There is also a hotel bar and an outdoor swimming pool where many guests can relax during the day. Overall, Hotel Il Gabbiano is an accommodation with peaceful surroundings and a beautiful interior that balances space, comfort, and style.
Map
Use the Google and Booking map below to explore the area.
Fill in your holiday dates to get an accurate view of available accommodations near Spiaggia di Bassa Trinita.
Beaches Near Spiaggia di Bassa Trinita