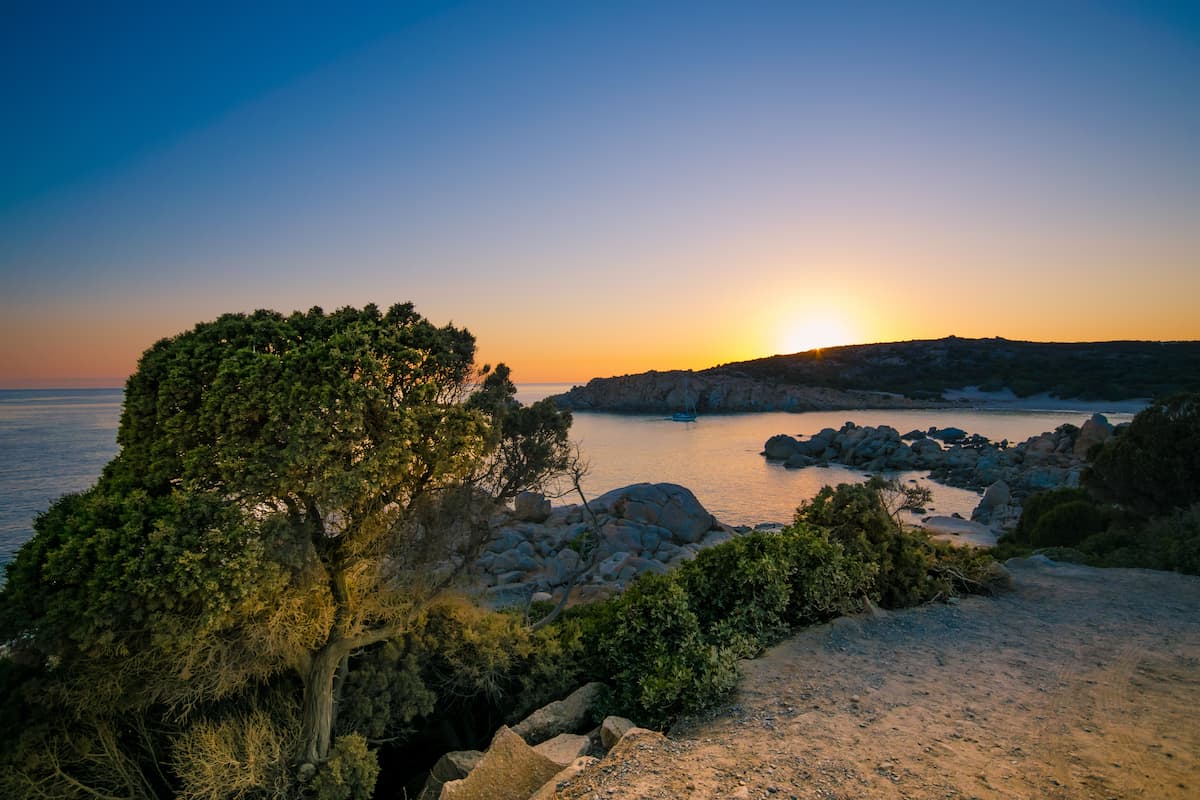 About Chia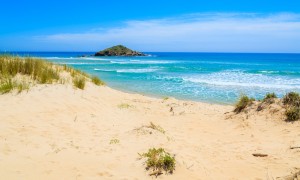 South Sardinia is a marvelous place to spend a summer vacation in Italy. Known for its beautiful scenery, pristine beaches, and great weather all the way up to October, this is a top destination for those who'd like to enjoy a relaxing holiday in a very special place. Read on for some of the tempting reasons to make Chia your favourite destination this year. Chia Beach is one of the best places to go in the province of Cagliari. The turquoise sea and peach coloured sand is famous around here and a big reason to visit. There are sand dunes too, dotted with juniper trees. Chia Beach is also famed for its wildlife spotting opportunities, is perfect for families with children. Behind the beach, you'll find a picturesque lagoon where pink flamingos come to breed. Sometimes, dolphins head to Chia Beach and can be seen swimming out to sea. And there's more. The Torre di Chia is a fabulous viewpoint worth the walk, and ideal for some souvenir photos. You can also walk out to the island at Su Giudeu from this bay and enjoy the beach. Or why not spend time at the Baia Chia restaurant right on this beach? Campana Dune is another popular beach near Chia, and is famed for its 20 meters high sand dunes. Just east of Chia Beach you'll discover Su Portu, which is popular with families and wind surfers. Families with children will also enjoy Malfatano Beach near Cagliari. There are many sandy places to choose from all along this beautiful coastline. If you like the outdoors, then Chia is the perfect destination. You'll find all kinds of water sports in this area and the Chia Classic attracts visitors each year for the kitesurfing competition. As well as kitesurfing you'll find kayaking, snorkelling and sailing in and around Chia Beach. Other activities include windsurfing at Su Portu, paddle boating, and surfing. Su Giudeu is one of the best beaches around for water sports including surfing, scuba diving and snorkelling. You'll find horse riding in this area too, and there are some fantastic rides close to the resorts and in the neighbouring countryside. Walkers will discover some wonderful trails in and around Chia with spectacular views. Bike rental is available too and is a good way to get around the area. There are several golf courses to be found around Chia which are very popular with visitors to the area. Chia is far enough away from Cagliari to be a peaceful place for a vacation but near enough for a day visit. This is a historic city famed for its ancient amphitheatre and the Cittadella dei Musei. There are old piazzas and a beautiful Duomo too. Find a restaurant by the waterfront, or just wander through the narrow streets marvelling at the architecture. It is easy to get to and is perfect for a day away from the beach. The airport is just outside Cagliari, making it an easy destination to travel to when visiting Sardinia. In Chia you'll find art and craft shops and galleries which are a delight to browse after a day on the beach.
Chia Map
✔ Use the Google and Booking map below to explore the area.
✔ Fill in your holiday dates to get an accurate view of available accommodations near Chia.
Where to Stay in Chia - Our Top Picks
Things to Do in Chia
Horseback Riding at Maneggio di Giancarlo Cabras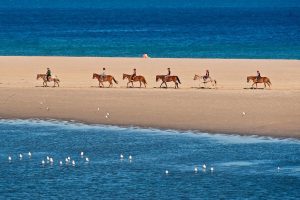 Something strange happens when you take to the saddle for the first time. Instead of yearning for a particular destination or an objective of any kind, you learn to appreciate your immediate surroundings. That is to say; horse riding is the perfect way to feel present and take in the natural environment in Chia. From the stunning beaches and iconic lighthouse to the enchanting trails and luscious trees; there is much to see in Chia and horseback is simply the best way to encounter these attractions. At the same time, horse riding is one of the most popular things to do in Chia for other reasons. After all, the owner is rather famous in the region and the horses are nothing short of immaculate. Giancarlo Cabras takes time and care of these beautiful beasts to ensure the guests are provided with healthy companions. Furthermore, the guides are highly professional and knowledgeable about the areas in which you will travel. For this reason, horseback excursions are an excellent way to gain insight into the local area while uncovering Chia in a very unobtrusive way. As for experience, you do not need any to participate in a horseback excursion, and this is also one of the most exciting things to do in Chia for children. Whether you wish to join as a beginning or to gallop along the beaches, Maneggio di Giancarlo Cabras is usually able to accommodate any such preference. When you consider the very primitive nature of horses, they offer a unique opportunity to witness the ancient landscapes of Chia in a way that you are unlikely to forget anytime soon.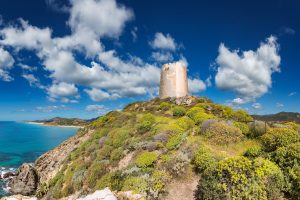 When it comes to the history of Southwest Sardinia, Torre di Chia is such an enchanting place to explore. Located on a hilltop with stunning views of the ocean, this popular attraction in Sardinia is, in fact, an iconic tower with a colorful past. Interestingly, even though the translation of Torre di Chia is "Spanish Tower", many visitors arrive at this area to enjoy the spectacular views as opposed to the story behind the structure. With this in mind, the tower can be an enlightening encounter and far more memorable than the expectations that most people are likely to have for their visit. Located right next to the beach in Chia, the tower sits on a promontory which was once the Acropolis for an ancient town known as Bithia. Built in 1578, the tower was equipped with many canons and used as a defensive structure for the Chia River. Interestingly, the tower was called into action on many occasions as pirates sought access to the nearby river but the vantage point and firepower were usually enough to fend off any invaders. You can see the tower from any beach in Chia and once at the foot of the hill; it should take less than thirty minutes to walk to the top. Torre di Chia is now one of the most interesting things to do in Chia and a worthwhile way to spend a morning or afternoon.
More Places to Visit Near Chia
Chia Restaurants - Where to Eat
Ristorante Mirage (Traditional Sardinian Food, Pizza)
🏠
10
,
Viale Chia
,
Chia
,
Sardegna
,
09010
,
Italy
.
☎ Telephone:
+39 070 9230249
Ristorante Mirage is home to one of the most significant reputations and largest restaurants in Chia. Situated in the midst of luscious Mediterranean scenery, at a walking distance from the beach, this stunning restaurant is part of an equally beautiful resort. Surrounded by gardens, the setting can feel private and remote while the rather vibrant atmosphere is symbolic of the colorful culture on the island of Sardinia. In many ways, Ristorante Mirage is also one of the more authentic places to eat in Chia, for the food is carefully prepared with only the finest local ingredients. From mussels and risotto to pasta and pizza; the menu is vast and varied which makes the restaurant particularly suitable for families. Guests usually find that this is a restaurant for all occasions with attentive staff, inviting décor and a general standard which more than meets the expectations. As already mentioned, the staff is amicable at Ristorante Mirage and symbolic of the locals in the region. You will find knowledgeable waiters and advice if needed, but overall, it is this detailed approach which can make all the difference. Furthermore, it is often from these members of staff that guests can learn more about the origin of their meal, for the ingredients are homegrown and delivered by local farmers and fishermen. Regarding the layout, Ristorante Mirage is divided up into three separate areas with one on the street level and another facing onto a wonderful terrace. If you arrive early in the day, the shade of nearby fig trees is an inviting place to enjoy lunch but either way, the experience is typically Sardinian from start to finish.
Ristorante Whiteluna (Italian Food, Sushi)
🏠
Viale Mediterraneo
,
Chia
,
Sardegna
,
09010
,
Italy
.
☎ Telephone:
+39 070 92391
Although the cuisine in Ristorante Whiteluna can be quite traditional, this is arguably the most contemporary restaurant in Chia. In fact, there are few eateries on the entire island which feature such an abstract and distinctly cosmopolitan vibe which also seems to filter into the menu. Located in the basement, the lack of natural light inside is more than made up for with beautifully bright decorations and furnishings. In many ways, the lightness of this design seems to contribute to a warm atmosphere while the friendly staff has a similar impact. The menu is just as impressive with a wide range of both Mediterranean and Japanese cuisine. From succulent steak and grilled potatoes to creamy pasta and delectable sushi; this menu is vast but also competent at every turn. That is to say, many restaurants in Chia can substitute quality for quantity on a menu whereas Ristorante Whiteluna ensures every dish is made to perfection. Aside from one of the most memorable restaurant settings on the island, the food is more than memorable, and with such friendly staff, you should understand as to why this is the most contemporary place to eat in Chia.
How To Get To Chia
Have you thought about arranging a rental car in Sardinia?
For some great deals, check out our Sardinia Car Hire page!
The nearest airport to Chia is Cagliari Elmas Airport. To get to Chia by car, just head south on the Strada Statale 195 Sulcitana, it's the fastest route. You'll reach Chia right after you've passed Santa Margherita di Pula. Total travel time shouldn't be more than about one hour.