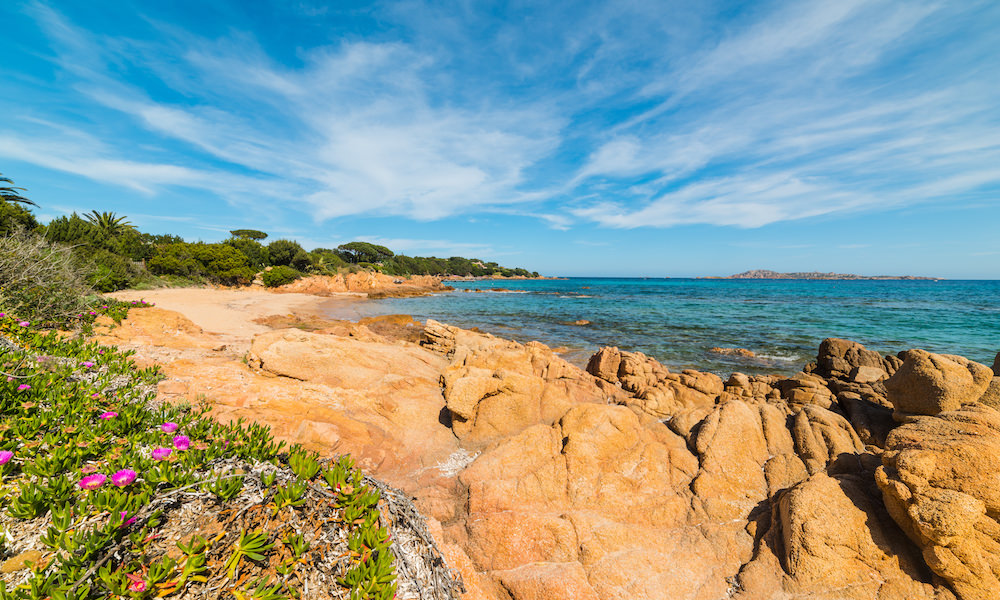 About Spiaggia del Romazzino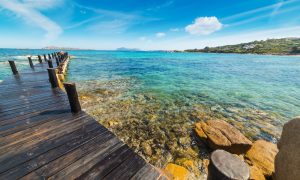 Romazzino beach (Spiaggia del Romazzino) is located right in front of the famously luxurious Romazzino Hotel, one of Costa Smeralda's best beach hotels. The hotel has its own garden with wild flowers, a private beach, and rooms with private terraces overlooking the Mediterranean Sea. The beach lies just north of the village of Romazzino, and 6 kilometers south-east of Pevero beach. Romazzino Beach is usually sheltered from the Mistral winds, and its shallow waters make it a suitable place for families with small children.
In the middle of the beach you'll find a pier, a nice spot to make panoramic pictures of the area. There is a car parking nearby, it is about 400 meters away from the beach. A full day should cost you no more than 7 or 8 Euros. Make sure you go early in August though, since this beach too can get crowded during peak season. Perhaps Romazzino is not the most beautiful beach of the Costa Smeralda compared to Principe, Liscia Ruja, Pevero and Capriccioli, but it's definitely worth visiting!
Places to Stay near Romazzino Beach
Hotel Cala di Volpe
A 5 star Hotel near Romazzino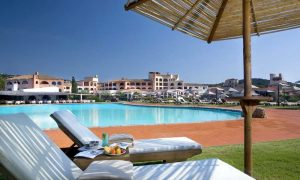 Located in a romantic spot in the heart of the Costa Smeralda, Hotel Cala Di Volpe offers a very peaceful vibe in the midst of the charming fishing village with Sardinian houses and villas. The five-star hotel surrounds itself with the unforgettable vibes of Mediterranean white sand beaches and tantalizing vistas of the mountains of Golfo Aranci and Isola Tavolara. Hotel Cala Di Volpe offers 124 guest rooms that include six suites, and an outdoor pool with a length of nearly 50 meters. The hotel offers an amazing experience of luxury and comfort with the classic double, premium double, superior double, and deluxe suites. The contemporary suites were created by Moinard Bétaille, the renowned Paris-based interior design agency that also created the Art Deco rooms of the Plaza Athénée in Paris, and redesigned one of Cartier's greatest flagships: the four-floor palazzo in the Quadrilatero d'Oro in Milan. The hotel features an intimate sanctuary that is filled with excitement with the amenities they provide right at your fingertips. There is complimentary WiFi, a private beach, three tennis courts, and two fitness centers available for hotel guests. Hotel Cala di Volpe also provides a wellness center to ensure maximum comfort for every visitor. The Restaurant offers a Dine-Around Program which allows guests to experience the vast choices of meals a day around the fantastic accommodations.
Hotel Capriccioli
A 4 star Hotel near Romazzino
This perfect haven exudes beauty and isolation with its proximity to Capriccioli Beach, which is about fifty meters away. Hotel Capriccioli sits to the eastern coastline of beautiful Sardinia and is about 1.4 kilometers from Spiaggia del Principe. Guests can also visit Liscia Ruja Beach at 1.6 kilometers and the Giants Tombs Coddu Vecchiu at 13.3 kilometers. The 20.4-kilometer proximity to Olbia Costa Smeralda Airport makes the place even more charming for guests who want to enjoy the breeze of Sardinia at the most comfortable and affordable site. Hotel Capriccioli provides excellent choices for a double or twin room with side sea views, a small single room, or a small double room. A double room and triple room with balcony are perfect for guests' varying requirements. The hotel also provides both free and paid internet services. The private parking area ensures the safety of vehicles and does not require reservations. There is also an outdoor pool for additional enjoyment for guests during their stay. A wide range of activities that guests may pick includes canoeing, bike rental, golf, and tennis.
Hotel Romazzino
A 5 star Hotel near Romazzino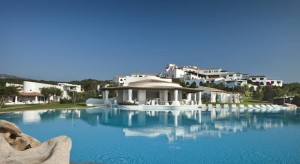 Originally built by the ambitious British film company The Rank Organization, and one of three hotels in Sardinia belonging to the "Luxury Collection" operated by the Starwood Hotel chain, the luxurious five-star Hotel Romazzino offers rooms with a private terrace overlooking the garden or the Tyrrhenian Sea. Rooms are elegantly decorated, and feature modern comforts such as an LCD TV and a CD and DVD player. The 94-room hotel also features 2 fitness centers, a salt-water swimming pool, and a spa that offers massages and other wellness treatments. The Romazzino Hotel has its own large garden with wild flowers and a small private beach. Other famous Sardinian beaches are in the direct vicinity of the hotel. The nearby Principe beach (Spiaggia del Principe), one of the best beaches of Costa Smeralda, is a beautiful beach with lovely clear water and certainly a very nice spot for snorkelling. On the beach, a small bar serves lunch, ice cream and cold drinks. Further south you'll find the long and wide Liscia Ruja with powdery white sands and incredibly blue water. The Long Beach Café serves breakfast and lunch can be enjoyed both at the restaurant or on the beach.
Hotel Il Piccolo Golf
A 3 star Hotel near Romazzino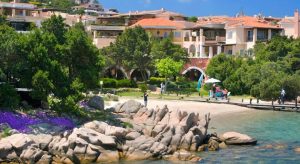 Together with Hotel Valdolia, Hotel II Piccolo Golf is the only 3 star hotel in Cala di Volpe. This accommodation is unrivaled when it comes to the location with beautiful coves and stunning coastline stretching for miles on either side. Situated just thirty kilometers from Olbia Costa Smeralda Airport, this 3 star hotel in Cala di Volpe is also easily accessed and has seventeen rooms of various types to cater for every preference. Featuring an American bar, Hotel Il Piccolo Golf is also the perfect spot to enjoy a cocktail, while the typical Mediterranean architecture embodies the absolute tranquility and peace which can be found throughout the Costa Smeralda. The rooms, seventeen in total, consist of standard, classic, superior, and superior rooms overlooking the Cala di Volpe Bay. These rooms never fail to impress visitors, but at the same time, this appearance could never overshadow the food experience. Every breakfast consists of a unique Sardinian flavor with sublime cakes, jams, and fruits on the side. Another highlight can be found in the delicious buffet at lunchtime when salami, cheese, egg, bread, coffee, milk, cappuccino, and more can be enjoyed. Things to do in Cala di Volpe include diving, cycling, hiking, biking, fishing, and playing golf at the Pevero Golf Club. Simply put, you can sit back and relax as the world turns or you can get outside and stay active at any time. Also, Hotel Il Piccolo Golf offers a daily maid service, car for hire, an express check-in and check-out, babysitting or child services, and room service. The free WiFi, parking, and garden are also popular with guests and all of this before any mention of a refreshing outdoor pool.
Hotel Nibaru
A 4 star Hotel near Romazzino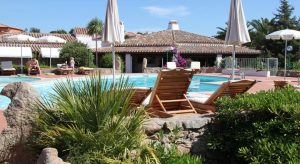 Among the hotels in Cala di Volpe, Hotel Nibaru is among the top choices for a summer vacation in Porto Cervo, with remarkable reviews from previous guests. Situated just two kilometers from renowned Sardinian beaches Spiaggia del Principe and Liscia Ruja, the hotel has a prime location with many significant landmarks nearby including the Giants' grave of Coddu Vecchiu. The jewel-coloured waters at the beaches of Capriccioli and Romazzino are just a few minute's walk from this popular Cala di Volpe hotel. Hotel Nibaru promises comfort and satisfaction at every turn with numerous options for rooms and amenities. Every room has a television, air-conditioning, and safety deposit box while there is also a complimentary airport shuttle for those deciding against renting a car. The swimming pool and wellness center include a shallow end which makes it perfect for families while there is also the hammam, solarium, fitness center and sauna for adults. Guests can enjoy a broad range of things to do including snorkeling, diving, cycling, windsurfing, and fishing. And then there is the golf course and tennis court which can be enjoyed at a very affordable rate. Overall, Hotel Nibaru provides a comfortable experience in idyllic surroundings with a strong emphasis on the little details in every room.
Boutique Hotel Petra Bianca
A 4 star Boutique Hotel near Romazzino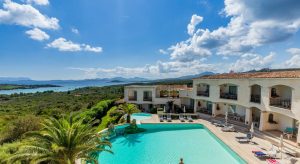 Hotel Petra Bianca is located next to the bay of Cala di Volpe, overlooking some of the most famous beaches in Sardinia. Featuring an intense focus on detail, every room in this hotel has been furnished in such a way to help guests relax and feel at home in an elegant atmosphere with a touch of luxury. Regarding the rooms, you can choose between Standard, Superior, or a Junior Suite, while there is also the option of opting for the Executive and Deluxe Suites if you want to splash out a little more. Ideal for honeymoons in Sardinia, family holidays, or just a brief luxurious getaway, Hotel Petra Bianca has a reputation for meeting the highest expectations and never fails to delight visitors in every sense. You can relax and unwind without having to leave the hotel. Just spend the mornings lounging by the pristine private pool and enjoy some world class Italian cuisine as you dine in the à la carte restaurant overlooking the beach. Either way, this impressive small luxury hotel is equipped with a full range of amenities to entertain guests when they come back from the beach, including a gym and the nearby Pevero Golf Club. At the same time, the private beach next to the hotel is just too nice to pass up and what better way to start the morning than feeling the sand between your toes before heading back to the hotel to sip cocktails at the piano bar? Yes, if you yearn for a vacation in style, and to relax in the lap of luxury, Hotel Petra Bianca is a smart choice for visitors arriving in the Costa Smeralda. With a 24-hour reception, wedding and banquet facilities, this stylish and sophisticated hotel in Cala di Volpe can offer you the vacation of your dreams so get ready to escape the busy city and unwind in paradise, before dining in an incredible restaurant with panoramic views of the Sardinian coastline.
Porto Cervo Holiday Villa
A 5 star Villa near Romazzino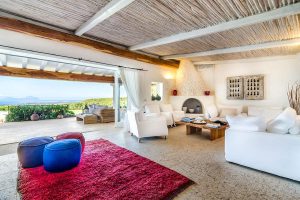 When it comes to ultimate privacy and luxury, the Porto Cervo Holiday Villa is right up there with some of the most impressive Sardinia villas. Situated in Abbiadori near Cala di Volpe, this villa has ample space and enough comfort to meet even the highest expectations. Featuring no less than five bedrooms, this is the perfect villa for a group or family vacation in Cala di Volpe, and the full range of facilities make it equally as accommodating. In the living room, you will find satellite TV, iPod docking stations, and ample comfortable seating while the fully equipped kitchen allows guests the freedom to cook and dine in whoever it suits. As for the rooms, they are just as airy and spacious as the rest of the house with modern furnishings, bright colors and great beds. Each of these rooms also features a private bathroom and a very enticing balcony with seating and tables. In total, the rooms can accommodate up to 10 guests with the sofa bed in the living room offering one extra space if necessary. And then there is the outdoor area, for this villa in Cala di Volpe is blessed with a luscious garden and scintillating pool. For many guests, this outdoor area is the highlight of the house, and this says everything about the view and beautiful surroundings. This outdoor area also accounts for a luxurious patio and seating area on the exterior of the house, the perfect place to unwind on a warm summer evening. Finally, the private spa center enables this Cala di Volpe villa to stand out from the rest, and it features massage tables, sauna, and an enormous bath. All considered, Porto Cerva Holiday Villa is fit for both celebrities and families and offers one of the most desirable places to stay in Cala di Volpe.
Holiday Home in Arzachena
A 5 star Villa near Romazzino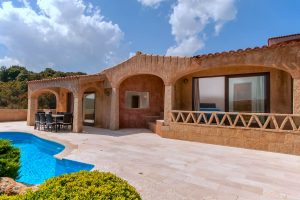 The rustic exterior of this villa in Cala di Volpe is often the first thing to catch the eye of prospective visitors to the region. However, the comfortable furnishings and convenient layout also make this an enticing place to stay while the outdoor area is accompanied by one of the most impressive views in the region. As you might expect, for a house with five bedrooms, the Holiday Home in Arzachena is ideal for large families or group bookings. At the same time, this is quite a quaint home, for the communal areas and garden are rather cozy regarding the size. That is to say, the house is extremely comfortable but also better suited for a tight-knit group or family. Featuring a long line of modern conveniences, the kitchen is fully equipped which makes cooking easy. Furthermore, there is an indoor and outdoor table which can accommodate up to 12 guests at any one time. In this outdoor area, you will also find a small yet charming garden, but a stunning pool and scintillating views of the region is arguably the highlight. As for the sleeping quarters, the rooms at the Holiday Home in Arzachena are quite comfortable and designed in a minimalistic way. In this sense, you may not find five-star luxury in every corner, but the quality is extremely high nonetheless. Although most of the rooms are equipped with private bathrooms, some of them also have balconies which offer beautiful views out onto the swimming pool. In short, Holiday Home in Arzachena is a charming villa in Cala di Volpe with ample space, subtle design and some of the most stunning views in the region.
How To Get To Romazzino Beach
To reach Romazzino from Olbia, take the SS 125 towards Arzachena. Next, take the SP 73 to Portisco. Once you have arrived at Portisco, take the SP 94 to Cala di Volpe. Turn right onto the SP 160, in the direction of Capriccioli. Once you see the sign for Romazzino, make a left turn. Lastly, take the fourth exit to the right to enter the car parking area of Romazzino beach.
Map
Use the Google and Booking map below to explore the area.
Fill in your holiday dates to get an accurate view of available accommodations near Romazzino Beach.
Beaches Near Romazzino Beach