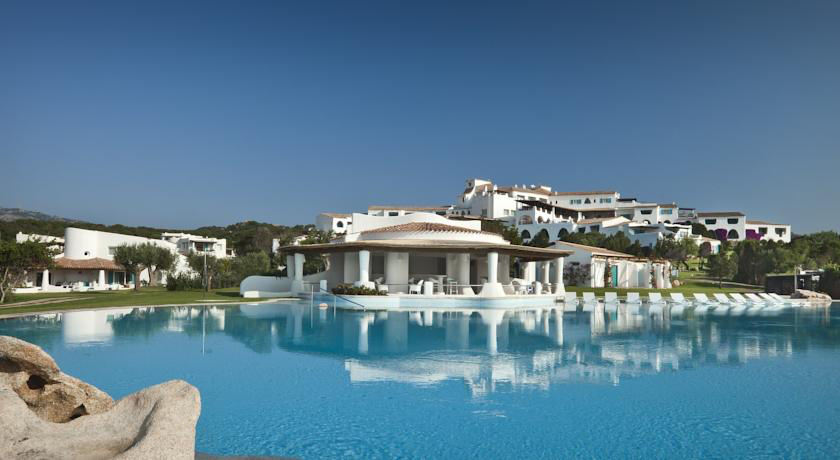 If you'd like to spend your holiday in a Costa Smeralda luxury hotel that's located close to the beach…
Look no further.
We have selected the best beach hotels of Costa Smeralda for you!
Luxury Beach Hotels on The Emerald Coast
Skimming the Emerald Coast from north to south – from Baia Sardinia to Porto Rotondo, roughly – you'll find a handful of luxurious beachfront hotels: the Luxury Collection Hotel Pitrizza with its private beach and world-class service, the Colonna Pevero Hotel near the renowned Piccolo and Grande Pevero beaches, the luxurious and elegantly decorated Hotel Romazzino with its private beach, and Hotel Cala di Volpe with its impeccably maintained 18-hole golf course – designed by the legendary golf course architect Robert Trent Jones – and a stunning private beach that's only a 15 minute walk away. On the southern outskirts of the Costa, you'll find the four-star Hotel Palumbalza with its private beach and marina.
Best Beach Hotels of Costa Smeralda – Hotel Pitrizza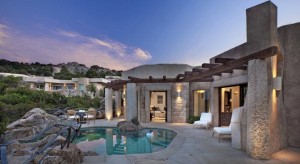 Hotel Pitrizza is the northernmost five-star boutique hotel and one of the best beach hotels of Costa Smeralda. Here you can enjoy service of the highest standards in a refined and inviting establishment, with dazzling views over the crystal-clear Sardinian sea. The Pitrizza hotel is located near the renowned resort of Porto Cervo, one of the most famous tourist destinations of the entire Mediterranean. The hotel has 56 rooms and features an outdoor swimming pool, a spa center, and a gym. The hotel's private beach offers splendid views of Liscia di Vacca bay and Isola Caprera in the far distance. The beach is intimate and very secluded, it is just 80 meters long, making it one of the most secluded private beaches of the Costa Smeralda. If you want to relax in beautiful, unspoilt natural surroundings, away from the big resorts, swim in clear blue water, spend all day lazing on the beach and enjoy first-class cuisine… Hotel Pitrizza might just be the perfect place.
Best Beach Hotels of Costa Smeralda – Colonna Pevero Hotel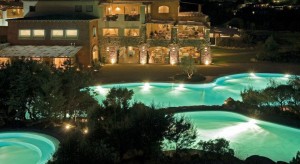 Surrounded by Mediterranean greenery, the five-star Colonna Pevero Hotel is located approximately 2 kilometers from Porto Cervo and features a private beach with free sun lounge chairs and sun umbrellas, and 5 swimming pools with waterfalls. Most of its spacious rooms overlook the gulf of Pevero. Regional, Italian and international cuisine can be enjoyed at 3 restaurants with splendid panoramic views. The hotel is located conveniently close to Piccolo Pevero beach (Spiaggia del Piccolo Pevero) and Grande Pevero beach (Spiaggia del Grande Pevero), both situated in what may very well be one of the most stunning areas of the Costa Smeralda. Backed by a pond and small dunes, Grande Pevero beach spans about 300 meters and faces north, often offering views of many a yacht resting in the Pevero Gulf in summer. Piccolo Pevero, in the small village of Golfo Pevero, is only 120 meters long and faces north-east offering views of Isole di Li Nibani in the distance. Both beaches have shallow waters, making them suitable for children.
Best Beach Hotels of Costa Smeralda – Hotel Romazzino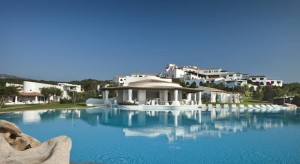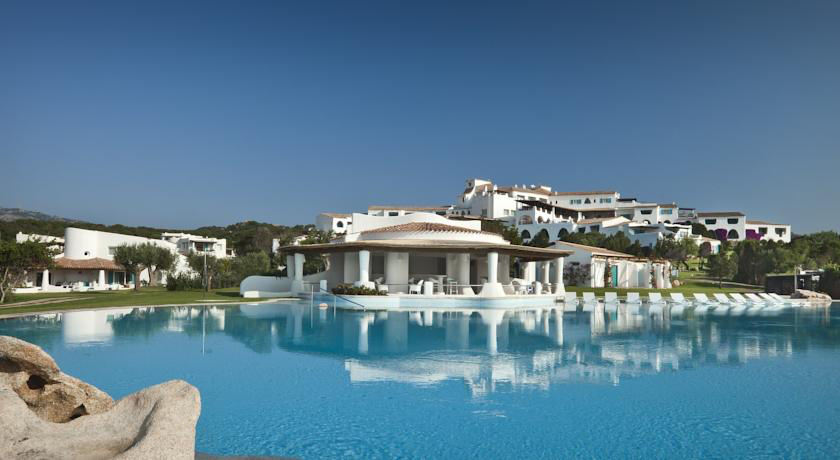 Originally built by the ambitious British film company The Rank Organization, the luxurious five-star Hotel Romazzino offers rooms with a private terrace overlooking the garden or Mediterranean Sea. Rooms are elegantly decorated, and feature modern comforts such as an LCD TV with pay-per-view channels and a CD and DVD player. The 94-room hotel also features 2 fitness centers, a salt-water swimming pool, and a spa that offers massages and other wellness treatments. The Romazzino Hotel has its own large garden with wild flowers and a small private beach. Other famous Sardinian beaches are in the direct vicinity of the hotel. The nearby Principe beach (Spiaggia del Principe), one of the best beaches of Costa Smeralda according to many visitors, is a beautiful beach with lovely clear water and certainly a very nice spot for snorkelling. On the beach, a small bar serves lunch, ice cream and cold drinks. Further south you'll find the long and wide Liscia Ruja Beach with powdery white sands and incredibly blue water. Liscia Ruja offers stunning views of the Soffi and Mortorio islands. The Long Beach Café serves breakfast and lunch can be enjoyed both at the restaurant or on the beach.
Best Beach Hotels of Costa Smeralda – Hotel Cala di Volpe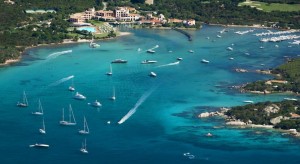 Surrounded by a lush, green Mediterranean landscape, Hotel Cala di Volpe has excellent sports and spa facilities and a stunning white-sand private beach that is a 5 minute boat ride or a 15 minute walk away. Air-conditioned rooms come with a private balcony, and a seating area with 42-inch flat-screen TV with satellite channels and a DVD player. Cala Di Volpe has 3 floodlit tennis courts and a big salt-water pool. At the spa you can book relaxing massages or rejuvenating wellness treatments. This five-star Costa Smeralda luxury hotel is conveniently located near the beautiful beaches of Liscia Ruja, La Celvia, Capriccioli and Principe, easily making it a top accommodation on our list of best beach hotels of Costa Smeralda.
Best Beach Hotels of the Emerald Coast – Hotel Palumbalza
On the southern outskirts of the Costa Smeralda, between Porto Rotondo and Marinella, you'll find the four-star Hotel Palumbalza Porto Rotondo. The elegant hotel is set directly on a private beach, and features a wide range of facilities including a 16 meter long outdoor salt water pool and a large garden with several tennis courts and a soccer field. Most of the 80 guest rooms and suites offer splendid views over the Golfo di Marinella. The hotel is family-friendly, and features a separate outpool pool for children. From Porto Oro, the hotel's exclusive private marina, boat and raft tours can be arranged to discover the beautiful bays of the Emerald Coast, or for a refreshing offshore swim in the startlingly blue waters.
Best Costa Smeralda Beach Hotels – Hotel Capriccioli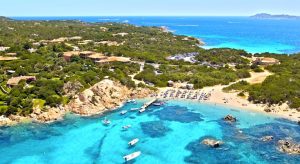 On the small promontory of Punta Capriccioli, just a few steps from the popular Spiaggia Capriccioli, you'll find Hotel Capriccioli. Originally built by the Azara family in 1973, this four-star beachfront hotel offers a sea-view Sardinian restaurant, an outdoor seawater pool and a tennis court. All rooms at the hotel are air conditioned and have satellite TV. Some rooms feature views over the garden, some over the Tyrrhenian Sea. At the family-run Il Pirata restaurant – the first restaurant ever to be built on the Emerald Coast – a buffet breakfast is provided daily. Local Sardinian specialties including the excellent Risotto Pirata are served for lunch and dinner. The hotel is closely located to some of the best beaches of the Emerald Coast, such as Spiaggia del Pirata, Spiaggia dell Elefante and Spiaggia del Principe.