While we were sitting on a catamaran just off the coast of San Teodoro, this happened…
A Magical Morning at Spiaggia La Cinta
On a late September morning in 2022, we were lucky enough to be on a catamaran in the calm waters of Spiaggia La Cinta, near San Teodoro.
The sun came up at around 5:30.
Still restless after a wobbly night, we got up at 5:00. Nature treated us to quite a spectacle. We started taking pictures while the waters were still calm and dark.
Slowly, the rising sun set the sky on fire. As sunrise progressed, the dark silhouettes of a few sailing boats became visible. The rocky giant named Isola Tavolara slowly awakened and revealed more details.
Here are some photos from our magical morning:
06:35 AM – First Light!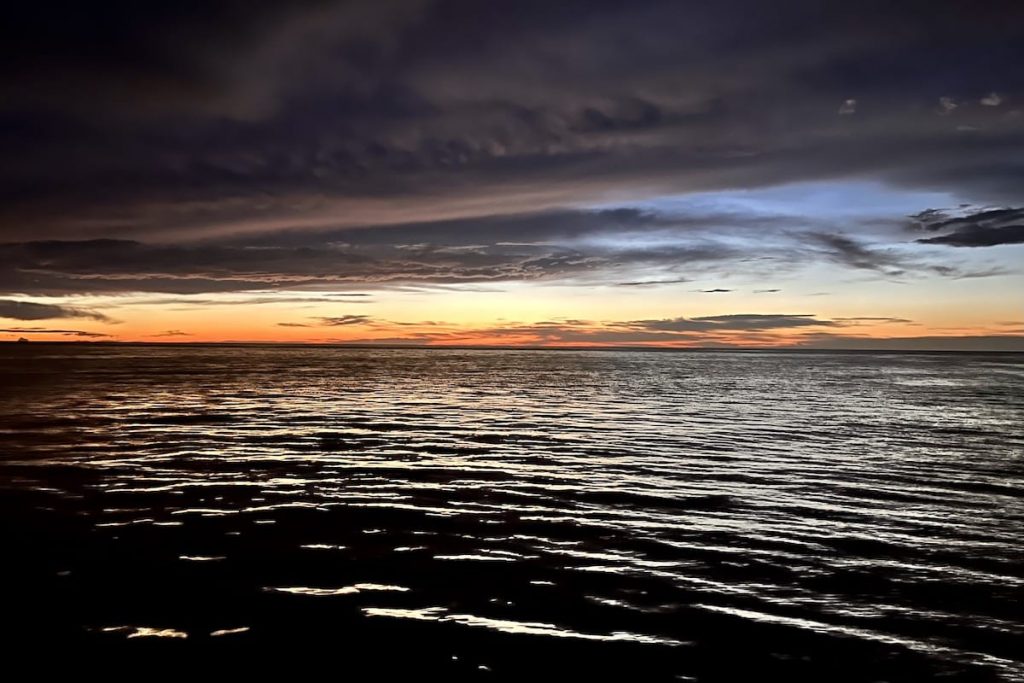 ---
With the first light breaching the horizon, the still waters of Spiaggia La Cinta helped showcase the sense of early morning peace that can be found here. Located on the northeastern coast, Spiaggia La Cinta is a fine stretch of beach with the ocean on one side and green hills on the other.
It is mostly backed by a pond named Stagno di San Teodoro, one of the places you can see flamingos in Sardinia.
While many visitors come here for the beach and water sports, or even horseback riding, sitting offshore on a catamaran offered a completely different experience that left us far away from all the crowds and activity.
06:38 AM – Sunrise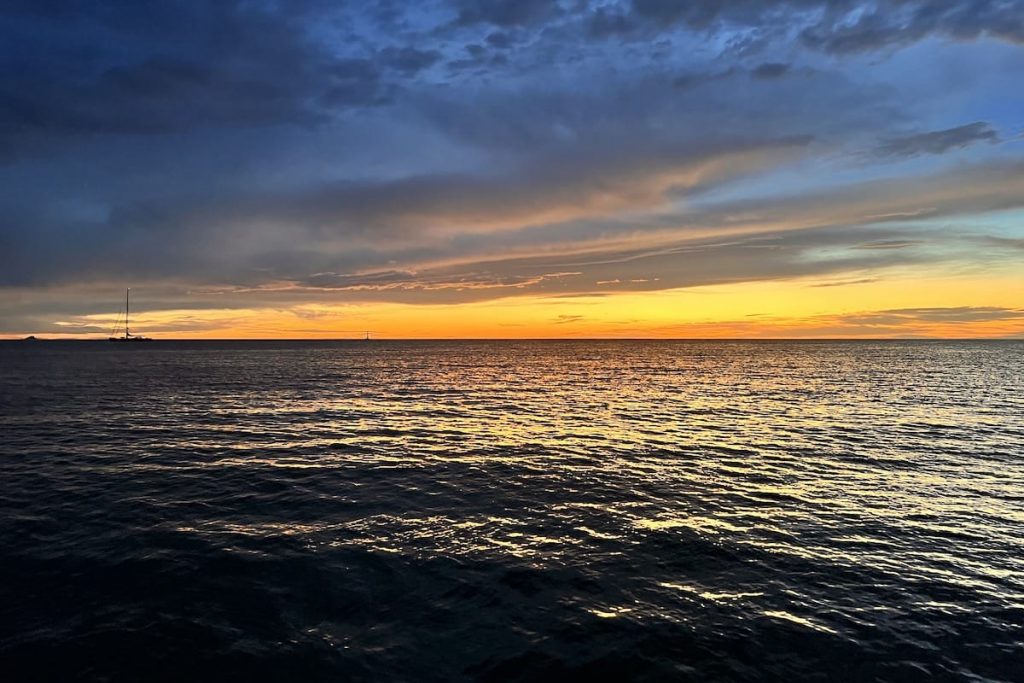 ---
Sunrise is a special time when the veil between light and dark is thin, and the world can start anew.
This particular morning, the natural beauty of Sardinia helped amplify this newness as warm light blesses the surrounding nature.
We had unobstructed views of La Cinta, and the shades of gold, pink, and orange reflecting on the water never failed to provide an unforgettable scene that seemed to change every second.
07:12 AM – The View from a Catamaran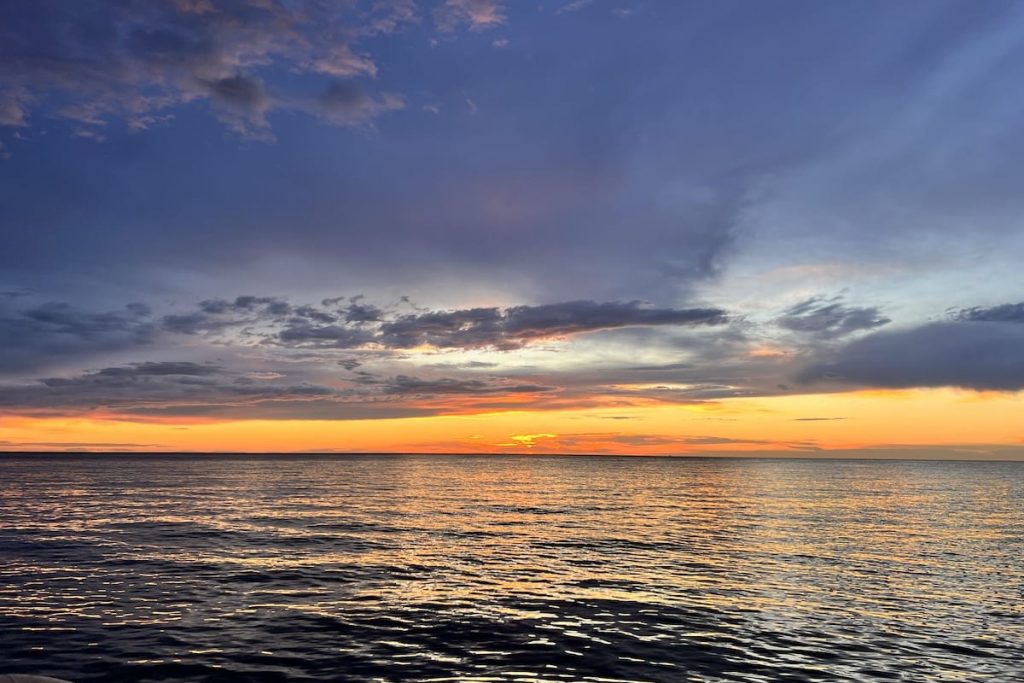 ---
Yachting is one of the best ways to experience Sardinia, as you can access many coves and hidden spots along the coastline. Aside from the convenience of getting around, it's easy to relax on a catamaran or yacht and embrace the calm waters off the coast of Spiaggia La Cinta.
That said, many of these boats come with a high level of luxury, and some will even have onboard chefs, cooking facilities, and very comfortable dining options, at the very least.
Make sure you check out these catamaran trips at GetYourGuide. These go to Isola Maddalena and the archipelago and can be anywhere between a few hours to a full day.
You won't regret it!
07:16 – AM Drinking in the Nature of Sardinia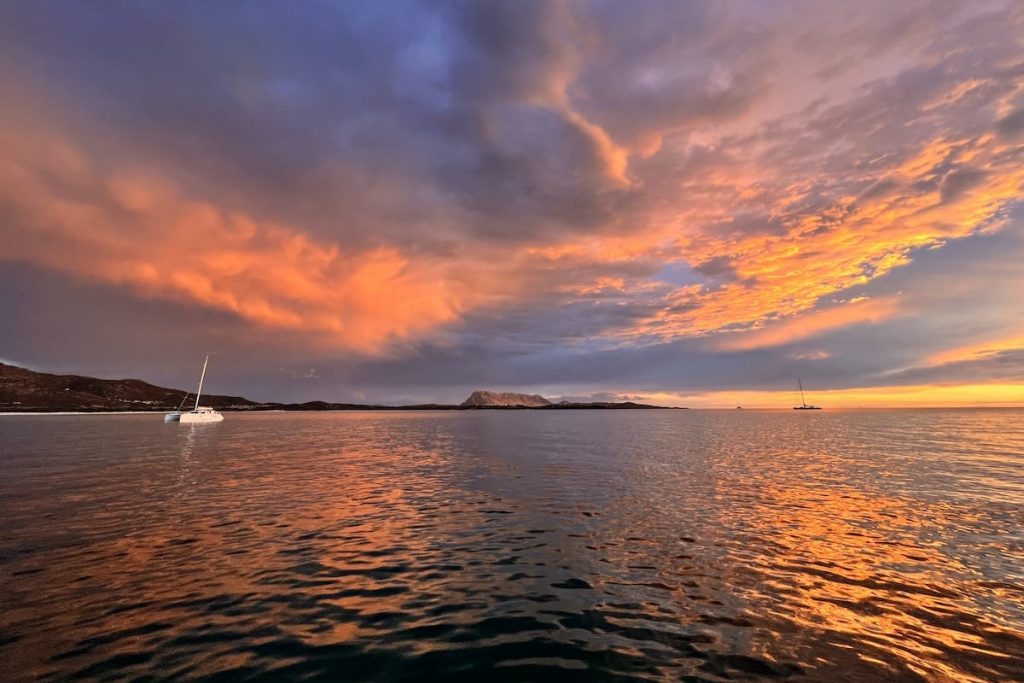 ---
Sardinia is a paradise for nature lovers and the perfect place to escape the noise. There are rolling green landscapes and rocky mountains inland and then striking rugged cliffs next to golden beaches and turquoise water along the coast.
Sardinia is also home to various nature reserves with diverse native fauna and flora. It also only takes a little to feel immersed in nature, which is true when you are on a catamaran as the sun rises!
07:20 AM – Isola Tavolara Awakens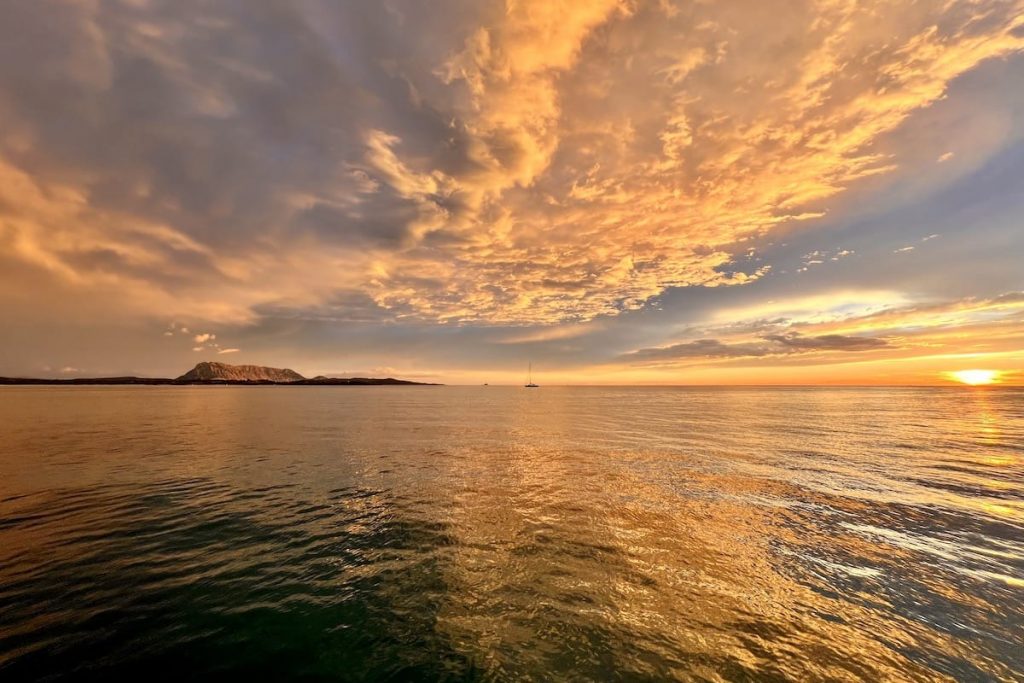 ---
Isola Tavolara is an awe-inspiring sight from any angle. Stretching for 5km, this island is essentially a limestone massif with sharp cliffs, and it rises more than 550 meters into the blue skies.
As the sun lights up the face of Isola Tavolara, we witness one of the most spectacular sights.
07:20 AM – Rainbows and Coffee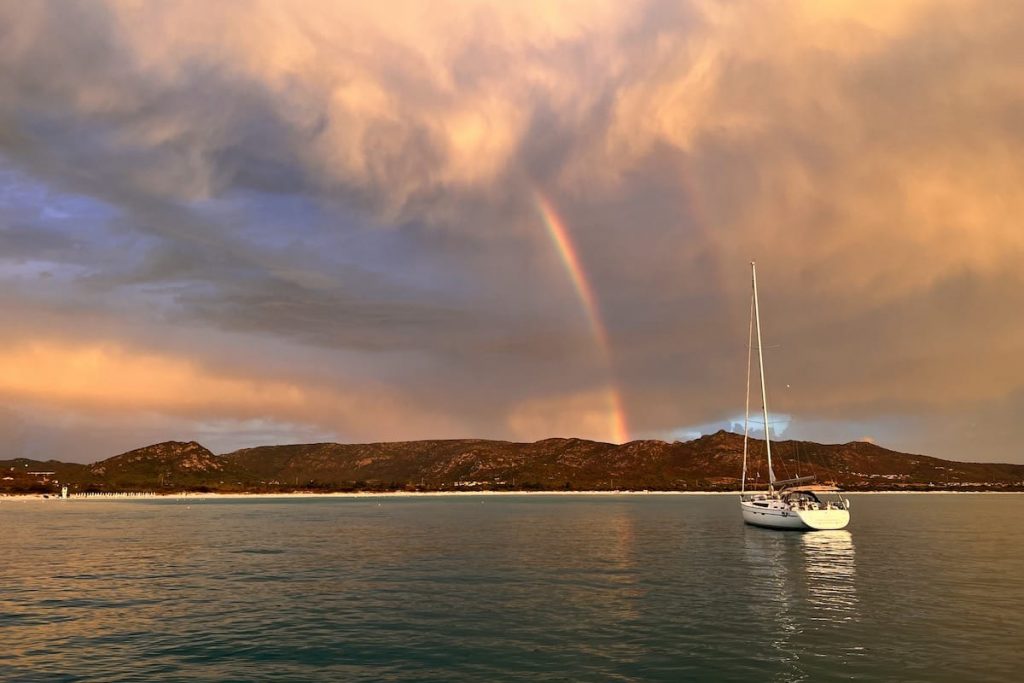 ---
As we sipped our first-morning coffee, we were treated to a rainbow.
We're already looking forward to spending more time on a catamaran for our next trip…
Until next time!