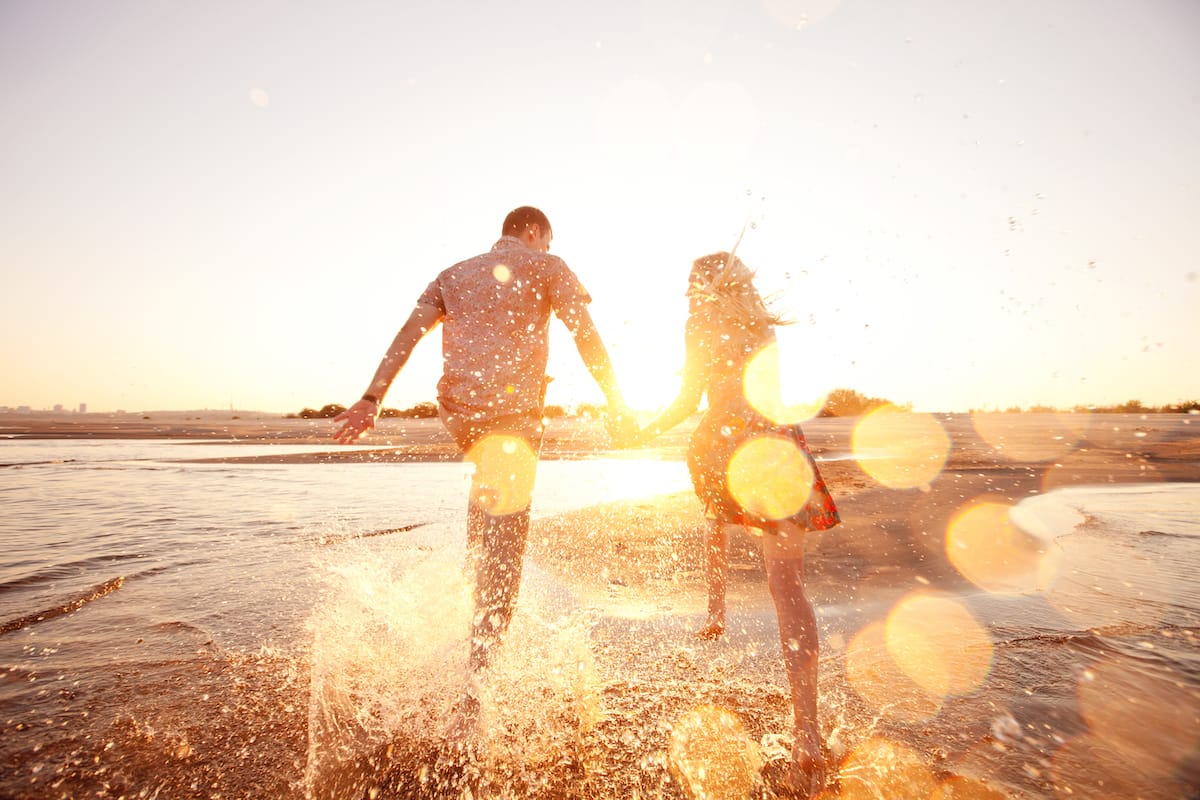 Introduction
Sardinia is often cited as one of the most romantic destinations in the world and home to some of the best hotels for couples. Surrounded by crystal blue waters, the island is blessed with many stretches of white powder sand and boundless nature. While you can find lively or busy spots in the bigger towns, many couples' hotels in Sardinia have a level of privacy that makes them ideal for honeymoons or a secluded romantic getaway.
But precisely what hotels should you know about?
Let's look at five of the top hotels for couples in Sardinia, shall we?
Hotel Villa Margherita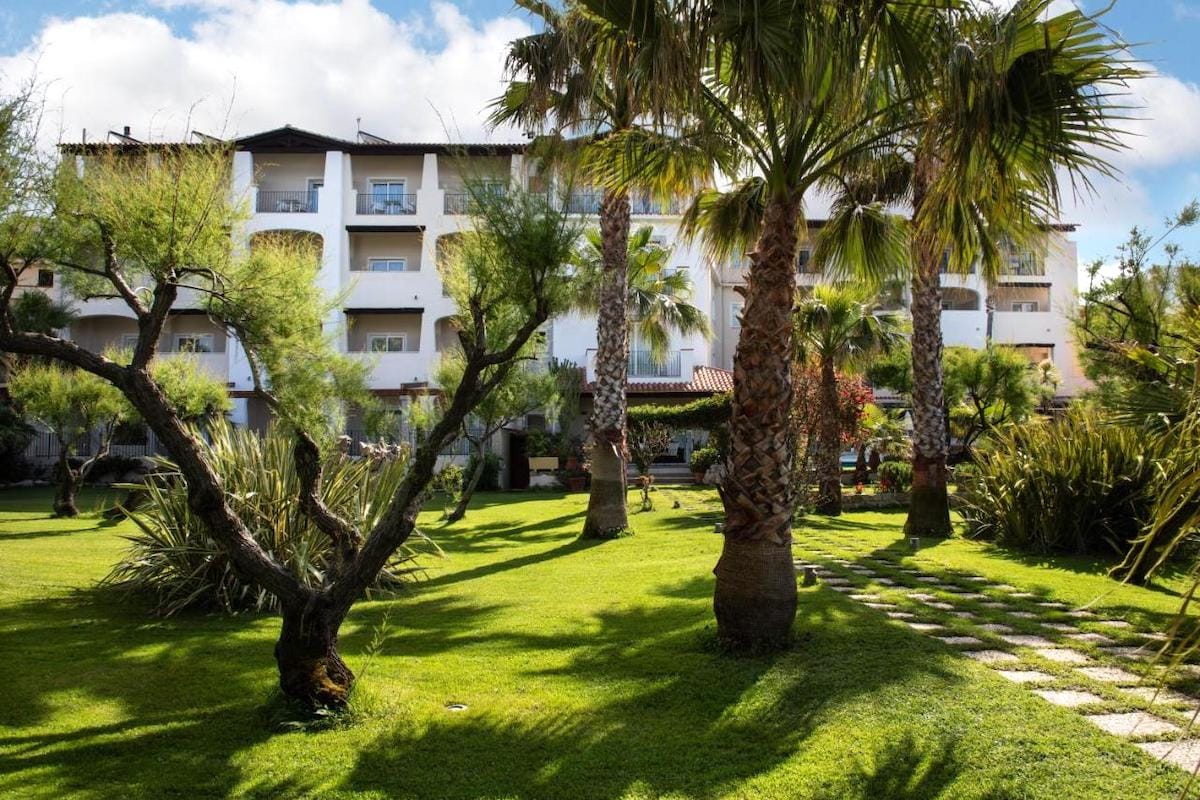 Situated right next to Golfo Aranci, Hotel Villa Margherita has some of the most desirable views in Sardinia. You will also find a stunning swimming pool, hot tub on-site, and natural surroundings at every turn. An outdoor terrace accompanies the large pool area with a beautiful lineup of palm trees, hibiscus flowers, and lush flora.
As for facilities, the hotel restaurant offers a range of Sardinian dishes and seafood specialties, and there is also a gym on-site. Massage and hammam treatments are available, and many guests rent in-house bicycles to explore the local area. Although family-run, this hotel is a boutique accommodation that caters to couples. The rooms are equipped with all modern conveniences, and the furnishings and decor tone add to the rather relaxing vibe at this couples hotel in Sardinia.
As if that's not enough, Hotel Villa Margherita is located on the waterfront and within just a short walk of a white sandy beach. Indeed, whether you travel for a honeymoon or not, this is the perfect spot for a romantic getaway in Sardinia.
Hotel Marinedda Thalasso & Spa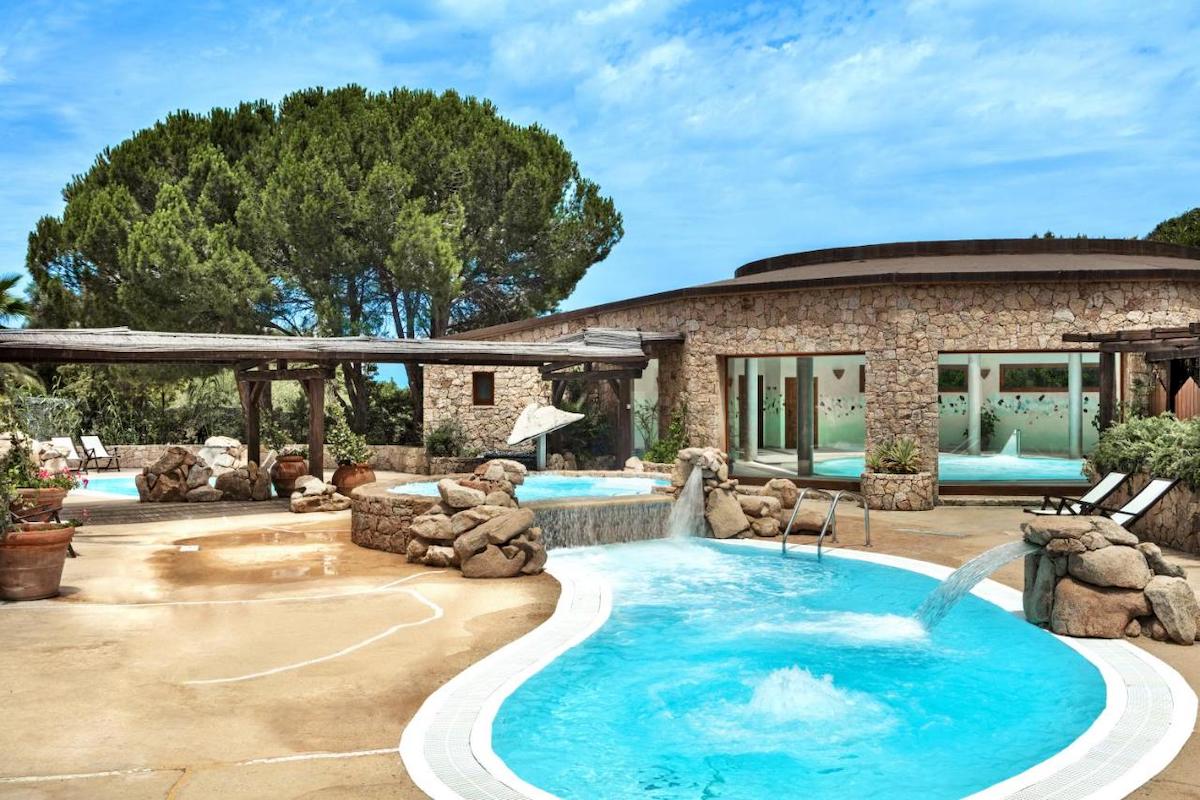 Hotel Marinedda is a five-star hotel for couples with some of Sardinia's best wellness treatments. Located next to a small village called Isola Rossa, the hotel offers sublime ocean views, and guests can upgrade to ocean-view rooms to make the most of these scenes. This location also ensures a peaceful atmosphere that would suit a romantic holiday. However, the facilities make this couples' hotel stand out!
It's true; Hotel Marinedda has no less than two swimming pools and a beautiful restaurant that caters to many seafood specialties, including oysters and lobster. There is a piano bar with cocktails and wine for after dark and a spacious lounge area to relax. For those wanting to keep up the cardio, guests also have access to a gym, and then there's the wellness center.
You often encounter a hotel wellness center of this caliber, but the five-star rating suggests you might with this one. Featuring a Turkish bath, sauna, and Thalasso pools, this center has everything you could need to unwind. Guests can also sign up for a wide range of therapies, and the variety of treatment packages is primarily why many couples choose this hotel.
Sant Efis Hotel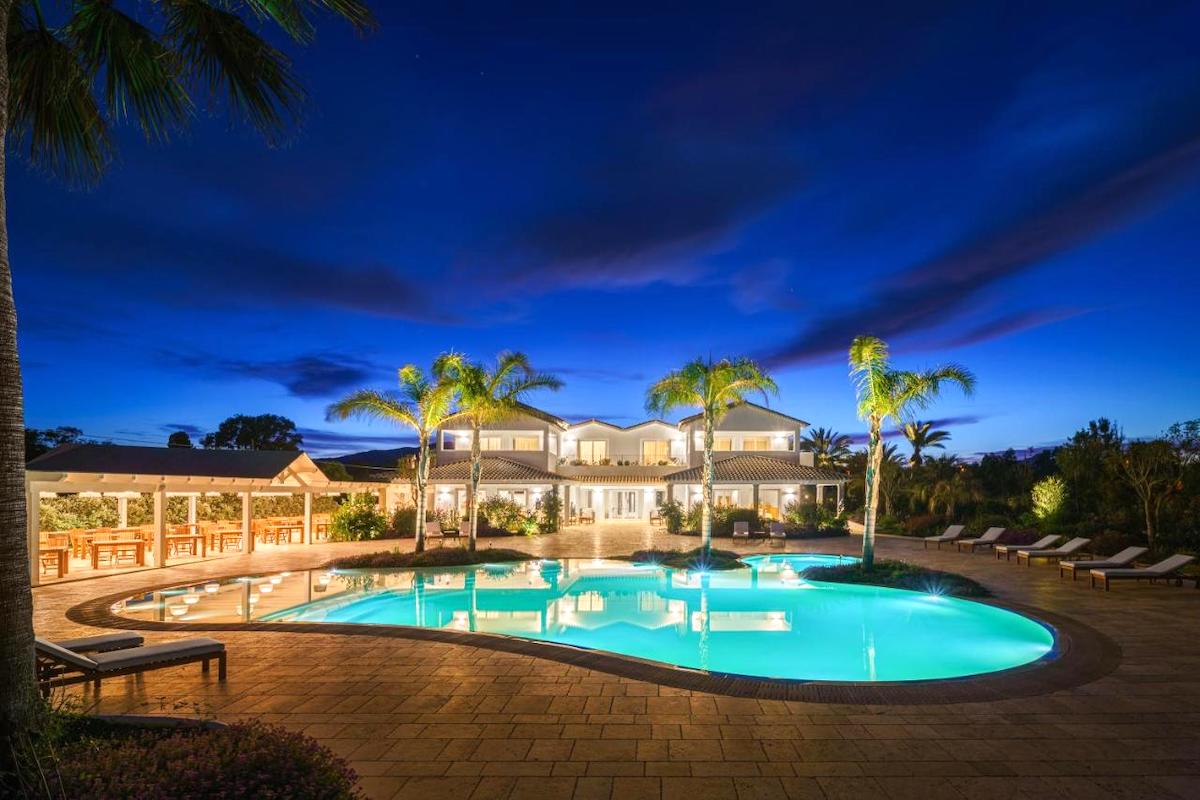 Sant Efis Hotel in Pula is a spectacular accommodation next to Spiaggia di Nora. Guests have special access to a private beach, and the view from here is breathtaking. You will also find a large swimming pool and gardens on-site, and the lush surroundings help create such an idyllic setting for a honeymoon or romantic break in Sardinia.
Like other hotels for couples in Sardinia, the interior is suitably decorated with bright colors. Rooms include all modern conveniences, including air conditioning, and online reviews often refer to the friendly staff. Sant Efis Hotel also has a restaurant that serves an Italian and continental breakfast and every other meal to ensure guests only need to leave the hotel if they wish. Interestingly, Nora's Archaeological Site is just a stone's throw from the hotel, and this speaks to the wealthy history guests can experience on a trip to Sardinia.
Alghero Resort Country Hotel & Spa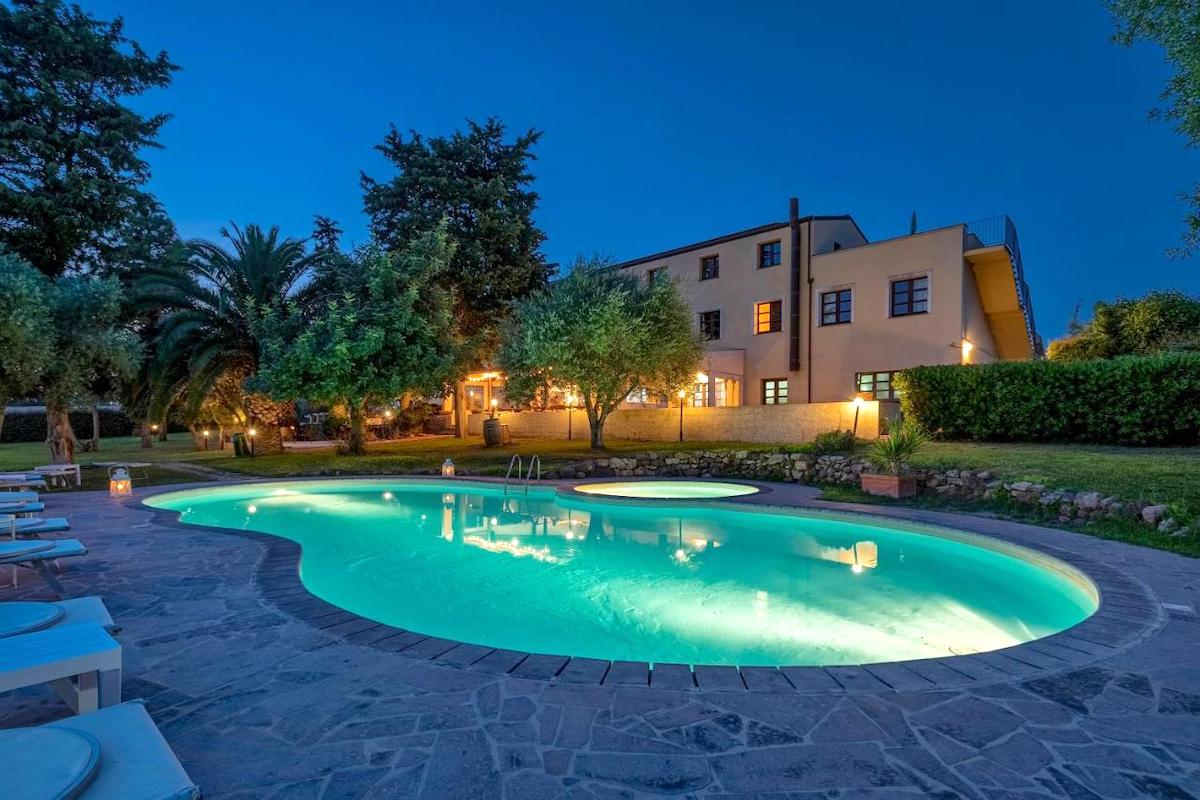 Surrounded by lush Mediterranean gardens, this resort in Alghero has a host of facilities to suit everyone's tastes, including a spa, tennis courts, a swimming pool, and an excellent restaurant with a panoramic veranda. WiFi is free throughout.
The history of this resort dates back to the 18th century. You can relax in the swimming pool and treat yourself to a spa massage and a hot tub session. It has several well-preserved original features, including wooden beamed ceilings. It combines traditional Sardinian architecture with modern comforts such as LCD TVs. You can also enjoy a game of tennis on the courts.
A horse-riding center and bicycles to rent are also available. Many common areas include the lounge bar, garden terrace, and TV/reading room. You can enjoy light snacks at lunchtime at the poolside bar while the restaurant serves a tempting menu of Mediterranean and local dishes at dinner.
Hotel Costa dei Fiori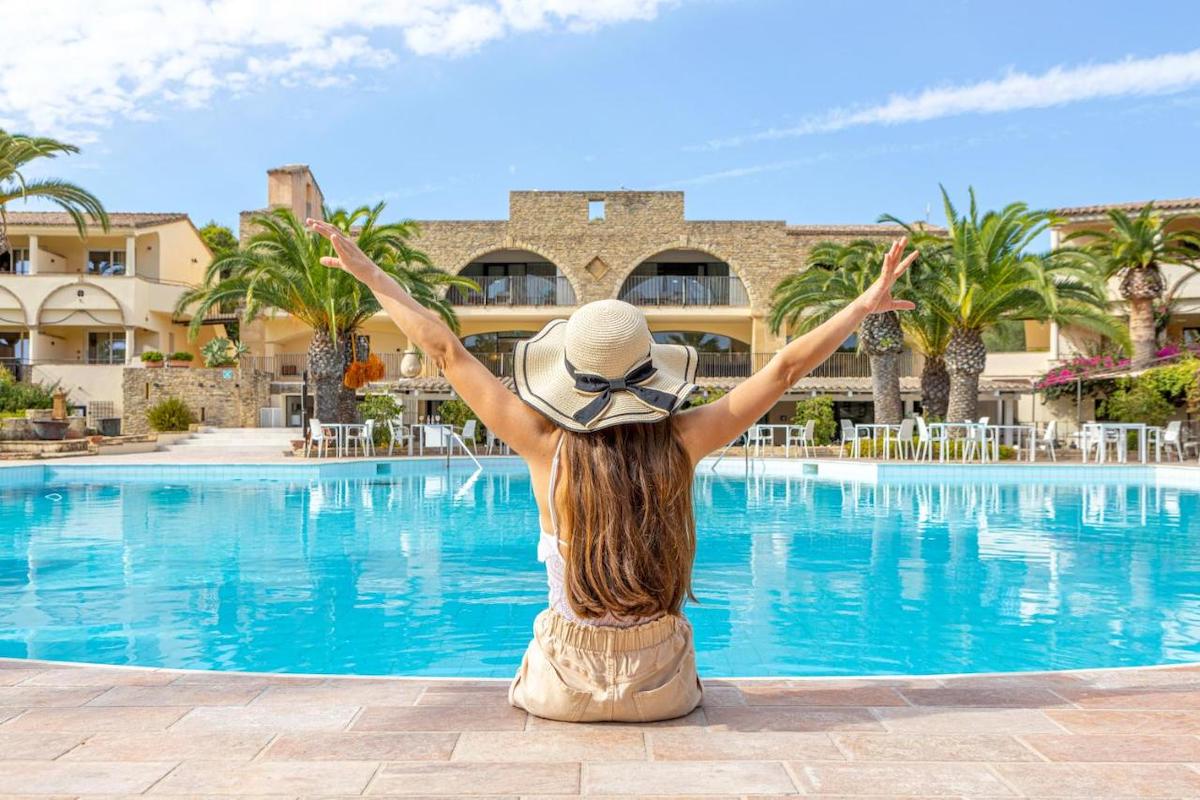 Hotel Costa dei Fiori is another suitable hotel for couples. Situated in Santa Margherita di Pula along the south coast, palm trees, and lush parkland surround the hotel, and there are many natural attractions to explore in the area. This includes white sandy beaches, hidden coves, and easy access to pristine blue waters. Swimmers will especially appreciate this hotel for couples because there are two "seawater pools" to enjoy.
Regarding facilities, you can also expect a lovely cafe and full-service restaurant, which both facilitate a hot atmosphere. Guests can use a tennis court and one of the most enticing swimming pools on the island. Indeed, the large infinity pool looks out over some spectacular scenery, and this feature always impresses guests on arrival.
All rooms at Hotel Costa dei Fiori come with air conditioning and cable television, while the bright decor and modern furnishings bring comfort to the experience. Each room is also accompanied by a patio or terrace, providing guests with the perfect relaxing spot as the sun goes down.
Conclusion
Whether you want a secluded spot, each of the above hotels for couples in Sardinia offers the ideal setting for a romantic getaway. Located next to sandy beaches and a stunning coastline, the scenery is second-to-none, while the facilities are sure to meet even the highest expectations.
Either way, Sardinia is waiting, and the above suggestions should help you decide where to stay!