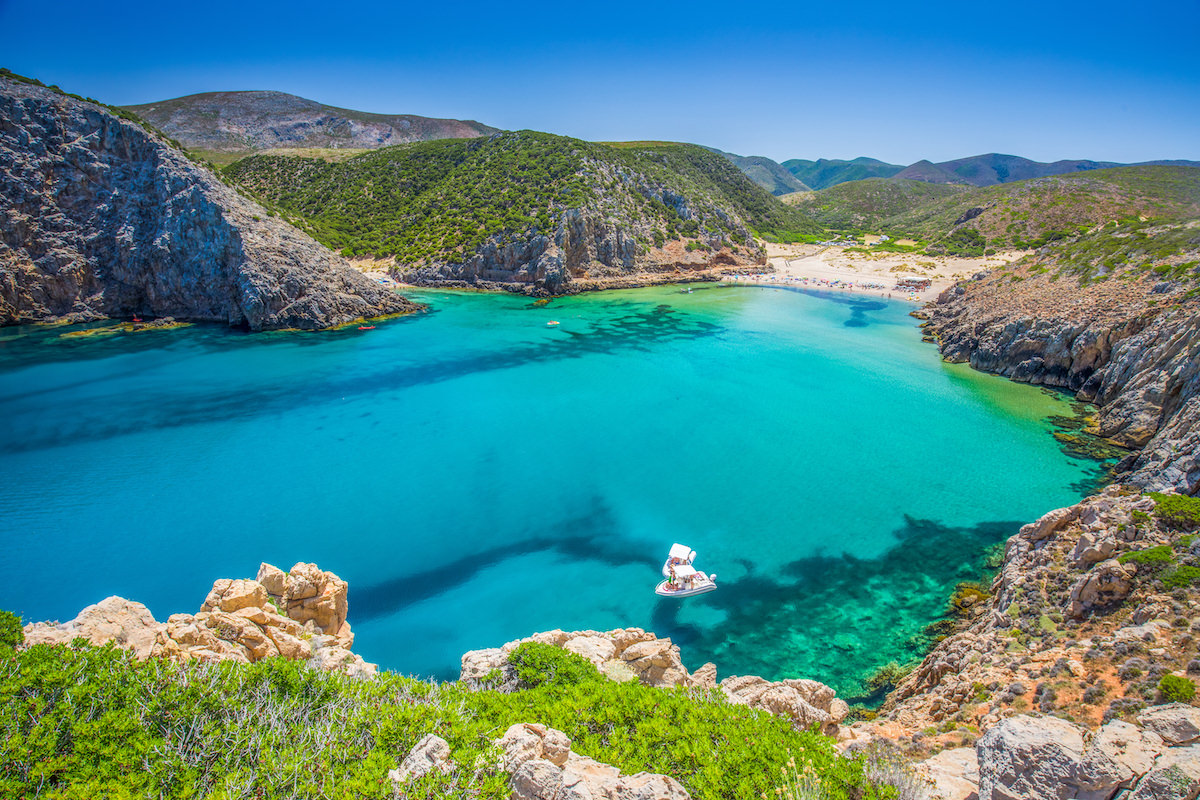 About Cala Domestica
near Buggeru, Province of Carbonia-Iglesias, South-West Sardinia, Italy.
parking, beach chairs, umbrellas, bar.
snorkelling, scuba diving, pedal boating, hiking.
17:59 PM
08:33 AM
60 meters.
The beach of Cala Domestica (Spiaggia di Cala Domestica) is located on the diverse south-western coast of Sardinia, 3 kilometers south-west of Buggeru, one of the mining sites on the south-west coast.
As you can tell by looking at pictures of this hidden gem, this is one of the best beaches of south Sardinia.
The beach is just 60 meters long, and nearly 260 meters at its widest. It's surrounded by limestone cliffs and low sand dunes that carry the ubiquitous Mediterranean vegetation. Cala Domestica is situated in what used to be a mining area, and some ruins of the mining buildings are still visible.
The beach of Cala Domestica faces north-west. To the south it offers a view of Torre di Cala Domestica – an old Spanish Tower which makes for a nice landmark to explore. It is worth taking the path up to the tower to enjoy the splendid panorama.
There's a second cove that's worth exploring as well, if you go past a cave-like hole in the rocks on the right hand side of the main beach. Note that it's quite difficult to reach on foot, so bring proper footwear.
Cala Domestica is particularly popular with visitors who wish to practice scuba diving or scuba fishing. There's plenty of fish if you dive a bit around the rocks at the border of the crescent bay. Since the beach is not that big, on summer weekends it can fill up quickly in the early hours of the morning.
A must-see beach if you're in the area!
How To Get To Cala Domestica
Cala Domestica can easily be reached by car following the Strada Provinciale 83 provincial road. Just before reaching the small village of Buggerru, follow the signposts that will guide you to the beach.
Map
Use the Google and Booking map below to explore the area.
Fill in your holiday dates to get an accurate view of available accommodations near Cala Domestica.
Beaches Near Cala Domestica